BWW Review: OLIVER TWIST, Regent's Park Open Air Theatre

There is much about Charles Dickens' classic tale Oliver Twist to recommend it to children: the comic pomposity of Mr Bumble, the sinister actions of Fagin, the cheekiness of the Artful Dodger and, of course, the adventures and eventual salvation of poor orphan Oliver.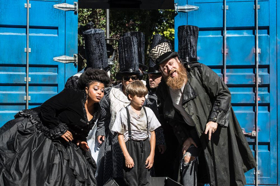 The publicity for this production states that Anya Reiss's adaptation is 'created for everyone aged six and over'. The potential problem is that Dickens' story also contains much darkness, brutality and violence. Aiming the production at a family audience requires a fine balance between the need to convey all the elements of the story without scaring younger audience members.
The main issue is that this darkness is essential to the story but has been all but erased in this production. Daniel Hoffman-Gill's Bill Sikes is physically imposing, snarling and snapping but doesn't convey enough brutalism to be the darkly vicious and frightening character that he needs to be. It is a necessary device that there is no violence shown by him on stage, including when he kills Nancy, but this and Bill's inadvertent suicide (using just his coat attached to a rope) is too subtle and loses vital elements of the story.
Three young actors share the role of Oliver, played by Lewis Fernée at the press performance. It is unfortunate that the part is so small, the audience must wonder who the play is really about. Fernée plays the role with suitable innocence and purity, but overall is underused.
Gbemisola Ikumelo is excellent and has great fun with the ebullient character of Mrs Corney, who she plays with a very exaggerated West African accent to great comedic effect. She eases into Nancy's big-hearted cockney charm, but we miss building sympathy for her as her backstory and violent relationship with Bill is glossed over.
The cast of eight play 19 parts and some are very adept at switching between characters; Michael Hodgson's sly Fagin and earnest Brownlow are completely different, both visually and in character. Unfortunately, the change is often not enough; Hoffman-Gill's Mr Bumble turns his hat around and talks in a deeper voice to become Bill Sikes, but this is not sufficient differentiation. Despite careful explanation in the £1 programme, younger audience members would definitely be confused by some of this.
Fly Davis's clever set design is deceptively simple using three stacked shipping containers and a revolving stage to reveal different scenes within the various sides and ends of the containers.
The overall look is a hybrid of intriguing industrial steampunk, with predominantly black and white costumes featuring Victorian top hats, aviation goggles and industrial grade boots. The female members of the cast have the boldest costumes, with stripy stockings, huge skirts and interesting accessories. It seems a missed opportunity to put the Artful Dodger and the child thieves in simple lacklustre black bomber jackets and caps, rather than embracing the steampunk theme completely.
Caroline Byrne's direction means that there is enough detail to be interesting, but not too much to distract. There is appeal for all ages here, but as an introduction to the story, it serves as a guide rather than a faithful reproduction of Dickens' story.
Oliver Twist Created For Everyone Aged Six And Over is at Regent's Park Open Air Theatre until 5 August
Photo Credit: Johan Persson
Related Articles