Review: MYTHIC, Charing Cross Theatre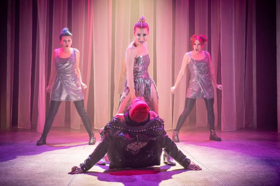 Mount Olympus gets a swanky revamp in Mythic, Marcus Stevens and Oran Eldor's new musical retelling of the myth of Persephone (Georgie Westall). Daughter of Zeus (Tim Oxbrow) and Demeter (Daniella Bowen), young P. has been brought up by her single mother - a very zen Mother Earth - away from the buzz and flashiness of the Gods. Now, she is striving to find her identity while Demeter struggles to accept that her offspring is growing up.
Set to Eldor's upbeat pop score, Mythic is a slender and catchy piece of theatre with plenty of showstoppers. From the very beginning, the writers determine the mood with humour and levity but are unafraid to hide deeper meanings behind the cheerful lyrics.
The characters themselves are fully into their own and play well with Stevens' words: Genevieve McCarthy's Aphrodite is a mix between Regina George and Paris Hilton with a hint of Kardashian, the flips of her high blond braid like whiplashes and a razor-sharp tongue.
Michael Mather makes his professional debut as Hades. A graduate of Mountview Academy, Mather is devilishly charming as he struts around in leather as the local bad boy. Fishnets under black ripped jeans and a fade haircut topped with bright red complete his emo look, which, with his clear rock voice, is guaranteed to make every young goddess fall to her knees.
The relationship between mother and daughter shines through all the snazzy music and hip Gods. Demeter's love for Persephone is stronger than the stability she's ached for for her entire existence; she confronts her fears and even goes against her principles to save her child, proving that a mother's devotion moves mountains.
Bowen is as regal in her frailty as Oxbrow is vain. By sitting at the two ends of the scale, they build a spectrum of examples for the younger generations in the show. Ultimately, they both want what's best for their children in different ways, eventually accepting their changes and volitions.
As Queen of the Underworld, Westall is impeccably rebellious. With purple streaks in her hair, fishnets, and a big voice, she rules the stage from beginning to end, largely establishing the pace of the events.
The ensemble - sometime Greek chorus, sometime Aphrodettes (Aphrodite's chorus girls), sometime residents of the Underworld - are a joyous accompaniment to the main actors. Clad more simply than the leads, they emphasise and populate the story with Sarah O'Gleby's clockwork choreography and direction.
Visually, it's all about mixing edgy and neon with lighter and more celestial tones. Lee Newby's set and costumes match well with the vibe given by Jamie Platt's lighting design, transporting mortal audiences through all the Greek hotspots.
With O'Gleby's contributions, Stevens and Eldor create a musical that's definitely story-lead but with enough focus on the music that feels swift. Effective power ballads give space to high-energy bangers that deliver the plot points efficiently. Essentially, it's a show where every element fits together like pieces of a puzzle: from the casting and the visual impact to the material itself, Mythic is a success of divine proportion.
Mythic runs at Charing Cross Theatre until 24 November.
Photo credit: Marc Brenner