BWW Review: MUCH ADO ABOUT NOTHING, Rose Theatre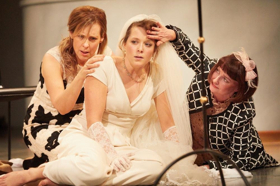 To kick off its 10th anniversary season, the Rose Theatre turns to Shakespeare to give it a needed boost. This new production of Much Ado About Nothing is not quite a hit, but still an entertaining if slightly manic evening.
Shakespeare's beautifully constructed comedy focuses on the courtships and relationships between two couples: Claudio and Hero and Beatrice and Benedick. Beatrice and Benedick are engaged in an ongoing war of wits and are both focused on giving the impression that neither is the least bit interested in the other. Claudio and Hero are less compelling, with a fairly standard marriage derailed by false accusations of infidelity.
In this new production at the Rose Theatre, director Simon Dormandy moves the action to slick, luxury spa hotel called Messsina, located in a Mafia-run Sicily in the present day. There is a nice touch of the mobile phone warning at the start of the play being in Italian.
Leonato has coiffeured grey hair, and wears a slick pink blazer completed with large gold signet ring. Beatrice is perma-tanned in structured tailoring and slick chignon. There are lots of loafers worn without socks and male ankles exposed by tight trousers.
The play portrays rich and complex characters who are at their most interesting when engaging in witty banter. This is not a play looking at love in a whimsical and idealistic way. Dormandy gives us a production that is often very funny, but it focuses on visual comedy rather too much and feels disjointed as it often misses some of the darker, more interesting aspects of the play.
The role of Beatrice is certainly a joker, but she also has deft insight and an underlying fear of becoming vulnerable by admitting her love for Benedick. Mel Giedroyc will be the box office draw here and she takes on the role with endless enthusiasm, but often fails to bring out the serious, more thoughtful side of the character. She pulls faces, falls on the floor and uses silly voices: some of it is very funny, but reduces Beatrice to simply a jester.
Giedroyc has a great chemistry with John Hopkins, who gives an engaging performance as Benedick. He too focuses on being the slapstick entertainer, but also shifts his tone to deeply analyse his own reluctance to commit to a relationship. The comedic side abruptly ends as he sides with Beatrice over Hero's reputation.
Calam Lynch makes his theatrical debut as an unlikable Claudio; he lacks any of the innocence and vulnerability within the role. He is aggressive, pulling off his pink Palermo football shirt as he gets ready to fight and violently pushing Hero across the stage as he rages at her apparent infidelity.
He is a street-wise wide boy; it's a well played performance, but there is no sympathy for the character and little understanding as to why Hero would still want to marry such a volatile man after he has shamed her so publicly.
There is always a risk that the character of Hero will come across as a little bit too sweet and good and therefore verging on boring. Kate Lamb does her best with the role, bouncing enthusiastically on her bed singing while wearing a Minnie Mouse costume for the ball, but both Shakespeare and Dormandy give her little to expand upon.
Despite being more of a peacemaker than a warmonger, Don Pedro is set up as a black-clad and cigar smoking Mafia Don. This foreboding image is at odds with the character, but Peter Guinness gives a consistently calm and measured performance.
The cast as a whole are buzzing with energy and enthusiasm. David Rintoul is an impassioned Leonato and Nicholas Prasad and Victoria Hamnett are both great fun as the crafty Borachio and flirtatious Margaret.
Naomi Dawson's set uses the full height of the theatre to construct the luxury beige blandness of a high-end hotel, replete with cream leather and gilded banisters. There is clever use of the space with an upper section used as balcony and Hero's bedroom and the lower one as hotel reception and bar area.
The first masked ball in particular is very well done. Set as a smoky rave inside the lobby of the hotel, where The Incredible Hulk jumps around with a Stormtrooper. Dormandy has the party going on behind glass doors, which open and close as the music booms and cuts off, thanks to Jon Nicholls' deft sound design.
Other parts disappoint as there is often too much going on and it becomes hard to hear lines. The pivotal scene where Beatrice finally declares her love for Benedick is overshadowed by the clattering of her stacking chairs.
Overall, this is a funny, energetic and engaging production. If the physical comedy could be balanced more with the verbal wit, it would only serve to enhance this great play.
Much Ado About Nothing is at the Rose Theatre until 6 May
Photo Credit: Marc Douet