Review: MR GILLIE, Finborough Theatre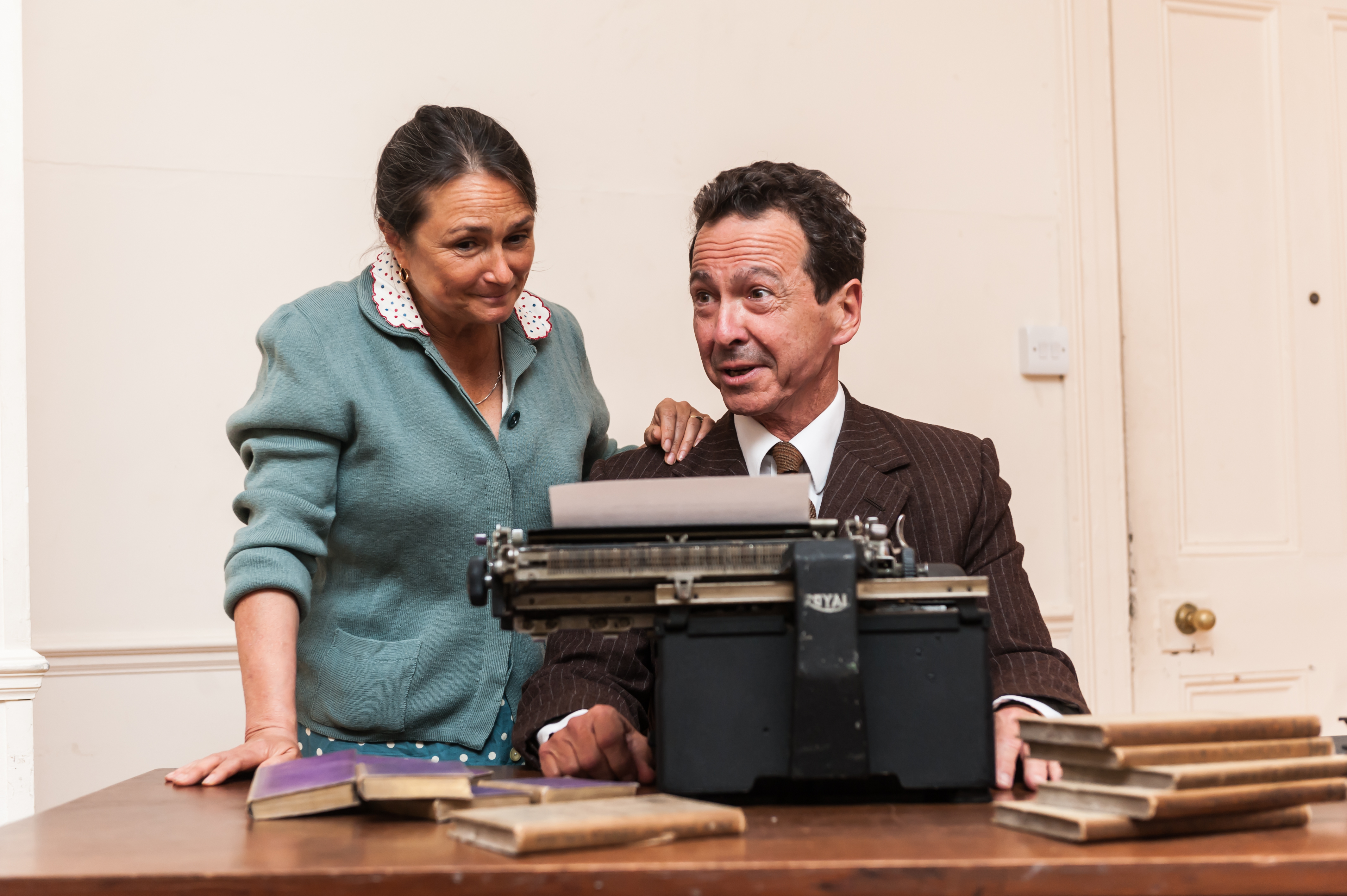 James Bridie's Mr Gillie comes to the London stage after more than 60 years. Helmed by Jenny Eastop, this production is a successful portrait of love and passion for art and education.
In 1950s rural Scotland, William Gillie (Andy Secombe) is the headmaster of the village school. After the Education Board decides to close it down, he is evicted and killed by the furniture van coming to move his possession.
A trial held by a heavenly Procurator (Ross Dunsmore) and a Judge (Drew Paterson) is meant to find out if he is worthy of eternal life by analysing his achievements. For his whole life Mr Gillie has tried to inspire artistic freedom and push his students to find their passions and be free, though never quite succeeding with the population of Crult.
Secombe's Gillie is ardently enthusiastic about his profession and the character's indisputable effort in trying to set his pupils free from the boundaries of a small and probably rather ignorant village, but never really achieving his goal, weighs heavy on him. It is thanks to his devoutly loving wife, played by Emma D'Inverno, that he managed to persevere.
Even after 25 years of marriage, the two are affectionate with each other, albeit with her nagging and sudden burst of rage when she criticises him for never wanting to move to a bigger school, despite his brilliance and potential; otherwise, she is the epitome of the supporting and devoted wife. "You think the world is full of pure and good characters," she sighs, gently reproaching him about his trust in the youth.
Tom (Andrew Cazanave Pin) and Nelly (Caitlin Fielding) are the latest example of Gillie's faith in the future. The young man showing a penchant for literature and theatre and the girl being a skilled violin player make Gillie believe they can have a future outside of Crult, so he spurs them on to try their luck in London, giving them contacts there.
The youngsters, however, take his advice too literally and move too fast, drawing the wrath of Nelly's father Dr Watson (Malcolm Rennie), and the move turns them into snooty, unlikeable characters: Tom has sold out, in Gillie's view, as a film critic, and belittles Gillie's lifetime of teaching.
Gillie's fondness for pouring his own passion and ambition into young people shines through in Secombe's acting - "the human soul isn't like anything else," he muses. Rennie's barking, drunken Dr Watson is a vivid counterpart to the poised and sober Secombe. It is through these well contrasted head-to-heads that we fully grasp Gillie's goals and aspirations.
Bridie's typically sharp and sardonic writing is well served by the whole cast. Sharing the same traverse stage as Food (which is running concurrently at Finborough), Eastop's production is warm and big-hearted, even though a tad too long, and shines a light on the importance of art and education, as well as debating what it really means to succeed in life.
Anna Yate's set conveys Gillie's soul - books are scattered everywhere, a typewriter prominently featured on the desk - but Mrs Gillie is present too, from her hat to her almost omni-present tea set, reminding the audience of the importance she holds in Mr Gillie's life.
Bridie's play is still pertinent in challenging our notions of success via someone who never sacrifices integrity and another who pursues money and fame. Both think of themselves as successful and fortunate while disdaining the other, fuelling a thought-provoking and witty evening.
Mr Gillie runs at Finborough Theatre on selected days until 11 July.
Photo credit: Lidia Crisafulli