BWW Review: LUCIA DI LAMMERMOOR, London Coliseum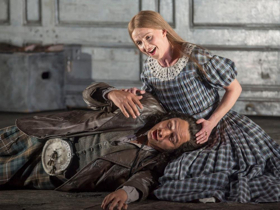 One is struck by how this woman (Lucia) resembles Sir John Tenniel's iconic drawings of Alice in Lewis Carroll's stories, the girl who would shrink and grow, who would hear screams of "Off With Her Head!", who was fortunate enough to wake up unharmed. Later, Enrico, Lucia's controlling abusive brother, addresses his remarks not to his sister, but to a rag doll, one of many toys she keeps in a bedroom in which she sleeps in a child's cot. Here is a woman denied adulthood, denied agency, denied hope, until she asserts herself in the most destructive way imaginable.
Gaetano Donizetti's opera is set in a Dickensian milieu, all top hats and dress coats, the colour palette a relentless monochrome bleeding into greys - well, almost relentless - an austere 19th century Scottish Calvanism clinging to the ruins of a grand house fallen into disrepair. The way out of this misery lies with Lucia's match with the wealthy, colourful Arturo, but she has promised herself to her lover, Edgardo, Enrico's sworn enemy, in penury himself, but bold and brave. Will Lucia drink the Kool Aid and grow wealthy? Or will she stay true to her love and herself, for all the doom that lies down that road?
As ever in Italian opera, the passions are dialled up to 11 from the moment bow touches strings and it stays there until the curtain falls one last time - in every sense. Sung in English (Amanda Holden's translation) with surtitles to ensure that there's no escape for us, we're in the emotional blender, whirled around at dizzying speed, for nearly three hours. But what did you expect?
Lester Lynch and Eleazar Rodriguez give us an Enrico and Edgardo who fight over "ownership" of Lucia through the competing calls of duty and love. Too late Enrico realises the price he has exacted with those few strokes bullied out of the quill and on to the marriage contract, and Lynch almost shrinks as a result, only his enmity of Edgardo reviving his ego. Rodriguez comes into his own with his aria in his final tragic moments.
There are a couple of fine turns from Michael Colvin as the dandyish Arturo, all flash money and entitlement, and bass, Clive Bayley, brilliant as the pastor whose deceit and hypocrisy proves sufficient to see off any crisis.
But this is soprano, Sarah Tynan's, show. She moves with a fragile grace and sings with passion and pain suffusing every note, Lucia's premonition merely telling her what she already knows to be her fate. Bloodstained in her madness (one thinks of Carrie in the classic horror movie, another womanchild destroyed by a controlling relative), she walks so slowly towards us, a soul lost, a victim too.
The voices work with the music (Donizetti as usual providing some killer tunes, many surprisingly upbeat to my ear), the richness of Stuart Stratford's orchestra underpinning the agonies on stage. This is the third run in the last ten years for David Alden's production and it's delivered with the efficiency of one of Lucia's clockwork toys.
Some of the air goes out of the balloon in Act III, partly because we know exactly what's happening, partly because Italian opera always seems to milk every last drop of tragedy from its plots and partly because, in any otherwise magnificent venue, you become painfully aware that the seats are showing their age.
Nevertheless, you leave afloat on opera's unrivalled capacity to flood the senses with stimuli, transmit emotion over time and space and wear you out with the sheer "opera-ness" of the experience. On emerging into London's busy streets, they look a little monochrome as the bleak Scottish ruins themselves after three hours of technicolor passions.
Lucia di Lammermoor plays in the English National Opera's 2018/19 season.
Photo John Snelling