BWW Review: HEISENBERG: THE UNCERTAINTY PRINCIPLE, Wyndham's Theatre

For the premiere work of new company Elliott & Harper Productions, director Marianne Elliott got the Curious Incident band back together, from playwright Simon Stephens to her acclaimed creative team. But it's in service of a much more intimate piece that - while strikingly staged - at times feels like an odd fit for a West End house.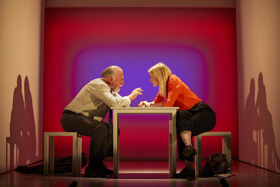 First seen in New York in 2015, Stephens' two-hander is an offbeat, elegiac romcom that toys with quantum physics - though without the formal fusion of something like Constellations. Fortysomething American Georgie startles 75-year-old Brit Alex by kissing the back of his neck in a London train station, claiming she's mistaken him for someone else. It sparks an odd-couple bond between two drifting souls.
Georgie is the kind of motor-mouthed, aggressively quirky character likely to prove divisive. A serial liar, she's constantly out to shock or force intimacy from her companion, and there are dubious shades of manic pixie dream girl in this younger, sexy mystery woman who reminds Alex that life is brief and he should embrace it.
More engaging are the elegiac sections, as the pair compares ghosts: Georgie's ex, and the teenage son who moved back to America and cut her out of his life; the woman who broke Alex's heart, and the sister who died when he was a child.
There are some beautiful lines from Stephens that evoke the visceral quality of grief: Georgie talks of missing someone "on a cellular level". Alex is uncomfortable with feelings - "I fucking think" - yet regularly has visions of his sister and is prone to fits of weeping.
The spaces between are also one of the things Alex loves about music, and Kenneth Cranham brilliantly reels off a long list of genres that his character is passionate about - ending, improbably, with dub step.
But the symbolism of a Bach piece is also over-explained, a recurring issue in Stephens' script. The title is carefully unpacked, with Georgie applying Heisenberg's uncertainty principle to the unpredictability of human behaviour - her son's departure came as a complete shock - and the element of chance oft cited.
The piece grips when it goes darker, whether introducing a more calculating motive for Georgie's actions, framing loss with post-apocalyptic visions, or having butcher Alex coolly explain that he likes knowing where the seams are in animals' bodies.
Cranham is excellent as the lifelong bachelor gradually unthawing and rediscovering his playful side, while retaining some wary caution. He's particularly poignant recalling a happy memory of his ex, now tempered with the knowledge that she was already in love with someone else.
Anne-Marie Duff has the tougher job making Georgie palatable, which she does by conveying the insecurity and hopelessness behind the barrage of quips and whimsy (the accent is more variable). While, by design, it's hard to trust Georgie's stories, the depth of feeling behind them certainly feels real, and achingly sad.
Elliott lends texture to the 90-minute play with a strongly expressionistic production that illustrates the infinite strangeness of human experience. Bunny Christie's white walls expand and contract to provide different viewpoints and framings, sometimes moving with the characters - reflecting their dance of seduction - or trapping them as they despair.
Paule Constable's coloured lights provide tangibly different moods, from a cool blue to a throbbing red and startling green, Ian Dickinson's sound design and Nils Frahm's music get under the skin, and Steven Hoggett's movement ranges from interestingly abstract to a sweetly tentative tango.
The latter signals these two drifting strangers, later in life, finding an anchor in one another and embarking on a shared journey. That spirit of adventure is certainly a hopeful note for the debut of this new and promising company.
Heisenberg: The Uncertainty Principle at Wyndham's Theatre until 6 January, 2018
Photo credit: Brinkhoff Mogenburg