Review: COUGAR, Orange Tree Theatre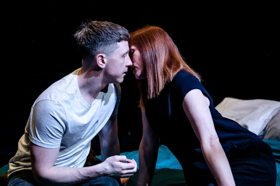 Possession, power and control, with climate change thrown in. Cougar is a new play by Rose Lewenstein exploring a dysfunctional relationship between younger ex-barman John and older, highly successful executive Leila set in the confines of a number of anonymous hotel rooms around the world.
It is an intense two-hander of 80 short scenes portraying snapshots into the lifespan of the relationship, with both actors onstage throughout. Leila and John are insecure in their own ways and what starts as a mutually convenient relationship comes an empty and morally bankrupt experience.
Charlotte Randle is a cold and self-assured Leila; she revels in the power and control she exerts over John. She is not a likable character, with a highly inflated opinion of her own self-importance and a sense that John is around only as long as it suits her.
Mike Nobel is more sympathetic as John; he is swept away by the money Leila throws at him and his opportunity to travel the world. In reality, he becomes invested in the relationship and says he is in love with Leila, despite the fact he doesn't even know if she is married or not. Nobel is very natural in the role and the more grounded of the two.
What is missing is emotional engagement; Leila becomes progressively consumed by her power and money and John is increasingly disillusioned by the life he is living. However, it is hard to care about either of the characters enough as the scenes are too short and stuttering. The deliberately disjointed nature of the play means that even when John finds out his father has died, there is no time for him to show any range of emotion.
The play is not the first two-hander to jump and stutter between different scenes of a relationship between two people; Nick Payne did it in the superb Constellations in 2012, but rather than the different scenarios of a relationship and cosmology of that play, here we have glimpses into the same relationship and climate change.
The inclusion of climate change in the play is somewhat problematic as it sometimes feels shoehorned into the story. It works with concept of consumption in the play: Leila effectively consumes John while lecturing companies about their own corporate consumption and the irony of Leila complaining that the air-conditioning is not high enough as she jets around the world to rally against global warming is not lost.
What feels laboured is how Leila's morality is skewed as she continues to earn more; she can only see the global picture and berates John for his small acts of kindness such as giving money to a blind beggar. The green credentials she tries to convince others of are continuously undermined by her capitalism, but this feels rather inconsequential to the story overall.
It also feels as though Lewenstein is trying to cram too much topicality into the play; there's a throwaway reference to Trump. Leila's desire to imitate a sex worker are dealt with too quickly, as is the allusion to a predatory boss and hints at #MeToo.
Director Chelsea Walker and Designer Rosanna Vise team up again at the Orange Tree after the brilliant Low Level Panic in 2017. The setting of the corporate hotel room magnifies the emotions and nuances of the relationship and there is a sense of claustrophobia; the detritus and mess in the room increases as the relationship breaks down.
There is a rapid pace to the show, helped by Jess Bernberg's excellent lighting design which skillfully defines the separate scenes, from low mood lighting to eye-watering brightness.
It is hard to define any distinctive message about climate change from the play, but there is an inherent, touching sadness and feeling of inevitability, performed with skill by two strong actors.
Cougar is at the Orange Tree Theatre until 2 March
Photo Credit: The Other Richard