Review: CARMEN, Royal Opera House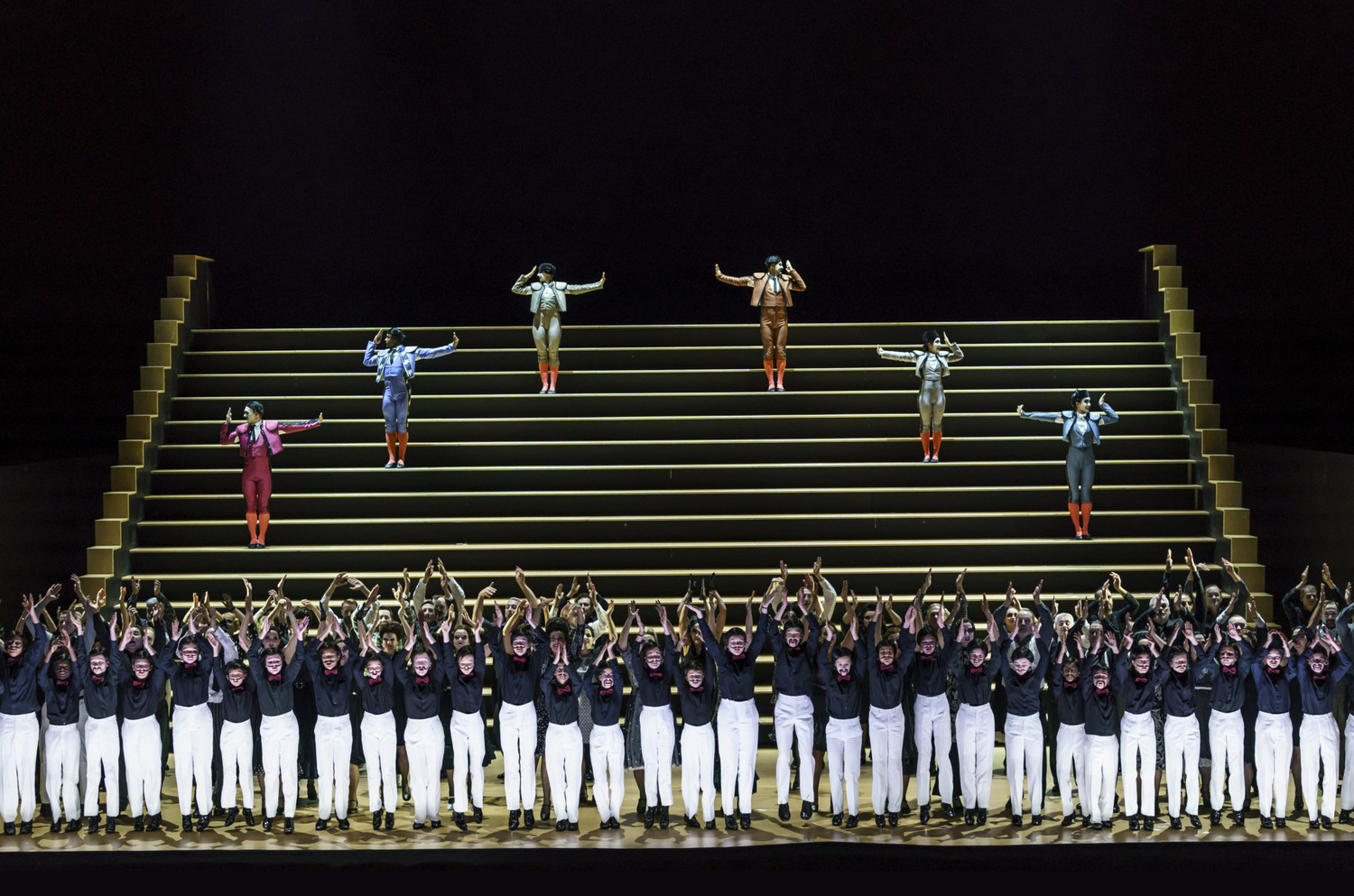 Pastiche could easily be termed the decade's trending and defining art form - with movies offering countless references to other films or books, reboots of long-gone favourites, or YouTube videos compiling lists of retro fads or landmark moments in entertainment.
With such a vast source of these cultural citations readily available, it's all the more confusing why director Barrie Kosky chooses to impose a layer of nostalgic imprints on the Royal Opera's production of Carmen, already in its first revival after debuting earlier this year.
Several avant-garde turns have been taken on the Carmen story - among them choreographer Matthew Bourne's 2000 male-based ballet The Car Man, as well as Soviet composer Rodion Shchedrin's Carmen Suite, written for his wife, prima ballerina Maya Plisetskaya.
In a different setting, Carmen could no doubt be staged as vaudeville or a cabaret show. Among operatic heroines its insubordinate protagonist, the hedonistic Carmen, is a salient pick. That kind of context could accommodate embellishments like voiceovers of source text from the novel and the supplements of Bizet's early drafts.
This is what Kosky opts to do in this monochrome, part cabaret-based, part-abstract spectacle; a show that also seeks to either mock - or else pay tribute - to the 1920s Charleston and outmoded dances of Madonna's early music videos.
The voiceover, narrating a story which should belong to the players, has the human qualities of GPS direction. Chorus singing is disrupted by the clops of badly choreographed routines by vaudeville dancers - when the extras aren't in fits of raucous laughter. Carmen awakens after being stabbed by Don José, shrugging as if to say: "What of it? All the world's a stage."
It isn't a bad concept to apply to the direction of a play or opera - if the work at hand is the parodic, self-alluding Falstaff. The character of Carmen very likely deemed the world to be a stage. But musically, the opera ends on minor chords; the sombre tale of Mérimée is tragic.
As Don José implores the police to arrest him - "C'est moi qui l'ai tuée" ("I'm the one who killed her") - it is he, not Carmen, who has the last word. Should it be so? Perhaps not. But this was what Bizet and his librettists crafted from the French novella.
Superimposing it with needless humour or derision through the means of quoting the film Cabaret by having Carmen sing the "Habanera" dressed as a gorilla, or attired in the pink fluorescent outfit of a circus ringmaster, merely detracts from Bizet's authenticity.
In the title role, Gaëlle Arquez manoeuvres her pliable voice with selective seductiveness; sometimes lengthening a sly diminuendo over an enticing phrase, sometimes haphazardly letting it drop. Like many singers, she struggles with breathing in trying to commence "tu ne l'attends plus, il est là" immediately after "l'amour est loin, tu peux l'attendre" in the "Habanera"; the middle register is best sustained.
Characteristically, Arquez enhances Carmen's irreverence and independence - flinging off with blunt insouciance the words, "Ils ne sont pas à mon gré" ("They are not to my taste") when she speaks of her suitors. What she lacks - in part because of the great physical and comical demands the staging makes of her - is a vehement passion and more moments to exploit the tantalising, lingering diminuendi that her instrument can doubtlessly procure.
Stylistically out of place in this production, Brian Jagde performs his Don José with the exaggerated yelled and cracked notes of the distant past's popular tenors. While characterisational conservatism could have granted this production the psychological backbone it stubbornly lacks, multiple technical faults deny Jagde this feat.
Referencing his mother and his hometown with the phrase "Ô souvenirs chéris" ("Oh, dear memories!") in his duet with Micaëla, Jagde's voice is so emphatic that it quickly falls into the pit of meek falsetto. The ode of devotion, "La fleur que tu m'avais jetée", begins on a clumsy, unnecessary slide up to its first note. Nevertheless, it's pitifully evident that Jagde's natural tenor voice is potent and could carry the entire role with fluent lyricism.
Endowing the subservient role of Micaëla with the verve and the volume she frequently lacks, Eleonora Buratto's silvery tone suggests vulnerability in its tremulous texture and metallic, pure sheen.
Although her unravelling of the part's rhythms and emphases alludes to the young woman's innocuousness, certain notes in "Je dis que rien ne m'épouvante" fall victim to exaggerated diminuendo - or else crescendo - too quickly; abiding obstinately in the affected style of old-school singing that is lower than her vocal pedigree.
With a bass voice as resounding and declamatory as a cymbal, Alexander Vinogradov's vocal timbre makes it easy for the listener to understand why Carmen would want to hastily throw pestilent Don José away.
Despite solid regularity of the middle register, Vinogradov slips into some struggling notes a little lower down the scale and hurls fortissimos to prove a bombasticity his instrument already owns. Some phrases are dropped brusquely, almost carelessly, so that the last notes fall rather than end.
Under the baton of Keri-Lynn Wilson the orchestra engages in a classic, conventional retelling of Bizet's score - a contrast to the stage's visual contents. However, many a baffled brass instrument, meddling strings which wrangle in attempts to intertwine and delayed entrances hamper the opera's sentiments.
In their "Parle-moi de ma mère" duet, Don José and Micaëla are sometimes out of sync with each other, other times with the orchestra. A clatter of unwieldy violins particularly undercuts the music's ominous portentousness shortly before Don José's impassioned murder.
Oversaturated with purportedly provocative effects, which nowadays look tired, the staging strips its players of their agency. A melting pot of scenic homages to musicals, movies and music videos, it's a dense, fan-made collage with familiar music playing in the background; a production whose tenacious presence at this opera house in this already-dated first revival will remain a mystery.
Carmen runs at the Royal Opera House until 22 December
Photo credit: Bill Cooper