BWW Review: CONFIDENCE, Southwark Playhouse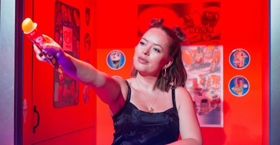 Boundl

ess Theatre's Confidence at Southwark Playhouse feels a bit lacking in, dare I say, confidence. The first UK revival of Judy Upton's 1998 play has plenty of 1990s nostalgia, but still feels shaky.
Confidence is a rather odd play, with fake dolphins, a dead hamster, and ice cream galore. British teenager Ella is desperate to make money through schemes and tricks to run away to LA and meet famous people. However, for the moment she's stuck in a sleepy British seaside town, hanging out with her friend Dean at the ice cream kiosk and trying to cheat at the game machine in the café.
Under the Artistic Director of Boundless Theatre Rob Drummer's direction, the pacing of the piece feels a bit off and the tension simmers but never comes to a full boil as Ella tries to manipulate everyone around her.
Lace Akpojaro only recently stepped into the cast to play Edwin, the owner of the resort who has a murky past. It's therefore forgivable that he doesn't seem completely comfortable in the role yet. Anna Crichlow gives a funny performance as the uptight café employee Ruby, who provides a foil to Ella's wily personality.
The best performances are by Rhys Yates and Will Pattle as brothers Ben and Dean, who are also looking for a way to make it rich but lack Ella's drive. It's amusing to watch them play into her hands and both help provide the humour in the play. Pattle, as the love-struck Dean, plays a teen who would love to party with celebrities in Hollywood but has no plans of his own for how to achieve it, impressively for his professional acting debut.
Tanya Burr is best known for her YouTube channel and this play marks her professional stage debut. Ella is a difficult character and Burr lacks the Machiavellian charisma the role demands. Her performance is jaunty and at times rather humorous, but she ultimately feels miscast. It's a daunting role for a debut, as Ella is in most scenes, and hopefully Burr can settle into it a bit better over the rest of the play's run.
Amelia Jane Hankin's design is delightful with deliciously 90s costumes and a charming set with a café and kiosks set up. It's an impressive set for such a small space and though I was born in 1994 and thus very young in that era, the carpet gave me serious nostalgia for the 1990s.
Confidence still needs to find its rhythm. Hopefully throughout the rest of its short run, the actors can become more comfortable and sink into their characters a bit deeper. Ultimately, however, some of its issues rest with the book itself which can't seem to decide if it condemns Ella's ambition and gold-digging completely or not.
Confidence is on at the Southwark Playhouse to 16 June.
Photo Credit: Helen Murray