BWW Review: BLONDEL THE MUSICAL, Union Theatre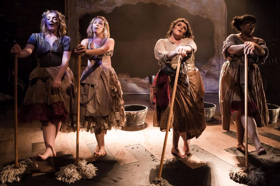 Perhaps putting on a musical has a element of a Crusade about it: the ambition; the unpredictability; the unshakeable faith needed to see it through - and the bloodshed too (it's only metaphorical in the rehearsal room: at least, I hope it's only metaphorical).
Sasha Regan revives Blondel The Musical, Sir Tim Rice's first venture without Lord Lloyd Webber, from way back in the 80s and takes us 800 years further back, to the time of Richard the Lionheart, when Europe was pretty much Westeros and the Game of Thrones was played out around Jerusalem, with religion its opium. This version has additional music by Mathew Pritchard and a few contemporary barbs for the Brexit-Trump watchers.
Sounds a bit grim and grimy? Not at all - Rice's book (with Tom Williams) is heavy (perhaps too heavy) on the japery and you're never far from a patter song or a clunking anachronism played for laughs. At its best, it's witty and clever, with a point or two to make about the world today. But it isn't always at its best and when it's not, I found myself transported back in time, but only for a matter of months , not centuries, to panto season, with its try-hard humour and running gag schtick.
Connor Arnold's Blondel is a buffed up troubadour in love with protofeminist, Fiona (Jessie May), who has gone crusading with Richard (Neil Moors, alpha-maling 24/7). While Richard's evil brother John (an alancumminesquely camp James Thackeray) sees to it that Olde England is anything but Merrie, Blondel latches on to an assassin (Michael Burgen in eyebrow-raising, fourth wall threatening mood) and they search for Fiona and Richard. They find them in Austria - and you know what references pop up there don't you - before, well, all's well that ends well, I suppose.
If that plot summary is sketchy, I'll claim that it's a sketchy plot. That said, the songs are pleasing. without ever quite finding a showstopper that pulls it all together. I enjoyed "Laundry Lament", the girls telling us what a hard knock life it is for a servant at court and "Saladin Days" was a lovely paean to the joys of fighting a worthy foe, delivered beautifully by Moors, who proved, with Burgen, to be the best of a variable set of voices. Even better were the Greek Chorus of monks, narrating events in close harmony - the Preach Boys, if you will.
A word too for the late Stephen Oliver's music, wonderfully and thrillingly played by Simon Holt's band, comprising strings, percussion and keyboards. It's an investment of time, money and emotional resources to pack so many musicians into such a small space, but it really worked - especially as the instruments did not drown out the voices (nor vice versa) as happens too frequently on the Fringe.
There's an hour of splendid stuff in this show, but it's somewhat buried, coming and going between so many songs (and they can't all be good) and a plot that feels like it was written on the back of a pantomime programme. But, rather as was the case for this venue's recent revival of Anyone Can Whistle, the flaws in the structure of the work become interesting in and of themselves, shedding light on how musical theatre works as a art form.
A curio - but entertaining and educational, if a little too long.
Blondel The Musical continues at the Union Theatre until 15 July.
Photo Scott Rylander.
Gary Naylor is chief reviewer for westend.broadwayworld.com and feels privileged to see so much of London's theatre. He writes about cricket at for 99.94 (nestaquin.wordpress.com) (read more about this author...)