BWW Review: ABSOLUTE HELL, National Theatre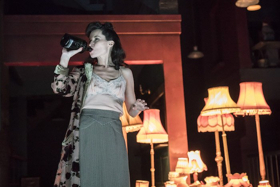 The original version of Rodney Ackland's provocative work, The Pink Room, had a bruising reception back in 1952, losing thousands for investor Terence Rattigan amidst furious reviews. Since salvaged by the Orange Tree in the Eighties, its rebirth was cemented by a Judi Dench-starring production at the National, where it now returns for an intriguing if not entirely convincing encore.
Set in a seedy Soho private club in 1945, the play's main challenge is one of scale: a mammoth cast and a dizzying number of story threads, several of which meander down blind alleys. Though the run time has apparently come down in previews, it's still an epic evening - light on plot, and with audience investment rewarded in some but not all areas.
The most compelling theme is the avoidance of trauma, with the regulars at La Vie en Rose clinging to various forms of escapism: drink, sex, art, even the founding of a new religion. The club owner's frantic sociability is really her fleeing from a terror of solitude. It's less Blitz Spirit, more blitzed.
References to life outside this soused bubble are swiftly batted away: political change on the horizon, with the Labour Party's headquarters just across the road; and, of course, horrific reports of wartime suffering, including the first images of concentration camps. But the relentless partying comes to feel increasingly hollow, and their refuge literally starts to collapse.
Freed from the Lord Chamberlain's scrutiny, Ackland makes elements such as the group's fluid sexuality and unconventional unions more explicit. Washed-up writer Hugh is in a long-term relationship with Nigel, who's being lured away by a woman with deep pockets; Hugh, in turn, finds solace in flings with servicemen.
Hugh has his hopes pinned on a commission from slimy film producer Maurice, but Maurice is more interested in making buff GI Sam into a star; Sam originally caught the eye of club proprietress Christine, and now forms an awkward trio with glamour puss Elizabeth and Austrian black-market trader Siegfried.
Since the play tends towards the impressionistic, it's really up to individual actors to flesh out these characters, and there are some excellent performances here. Charles Edwards' Hugh becomes the wounded soul of the piece: haunted by lost professional promise, reduced to cadging cigarettes and, in a hopeless panic, hiding failure from his well-meaning mother (a lovely turn from Joanna David).
Ackland gets his revenge on the critics by allowing Hugh to lambast one, and also gives him the eternally audience-pleasing line "What has a Tory government ever done for writers and artists?". But quick as Hugh is to blame others, his is really a malaise born of self-reproach.
Kate Fleetwood is a striking presence as Christine - slightly too sophisticated, but vividly communicating the way that companionship has become a desperate craving. That base needs takes form in the neighbourhood hooker, who circles the stage in a ghostly state, and in the nightmarish first half-closing bacchanalia.
Sinead Matthews is superb as the egocentric socialite Elizabeth, whose bohemian liberalism doesn't extend to actually getting around to voting, and there's good support from Danny Webb's stoical Siegfried, Liza Sadovy's oddball heiress, Eileen Walsh's religious fanatic, Prasanna Puwanarajah's fastidious Nigel, Patricia England's absent-minded Julia, and Jonathan Slinger's venal Maurice.
Director Joe Hill-Gibbins also uses the ensemble to heighten the action, from dances to a sort of voyeuristic Greek chorus. It provides welcome boosts of energy, but swallows up some of the intimate scenes, making them feel remote. Framing Ackland's work as a lavish epic also shows up its limitations.
Similarly, Lizzie Clachan's multi-levelled set is striking and provides variety, but sometimes distracts - we might have a key exchange happening in one corner, but also people traipsing up the stairs for dinner, or a Labour member hammering away on a typewriter. The supposed claustrophobia of the club dissipates, and it all looks a little too, well, clean.
Something of an imperfect rediscovery, then, but still resonant in the way it depicts circling patterns of self-destruction and an all-too-human messiness - the cynical, but ultimately empathetic, rejoinder to simplistic nostalgia about the nobility of the past.
Absolute Hell at the National Theatre until 16 June
Read our interview with Charles Edwards
Photo credit: Johan Persson