BWW Review: A WOMAN OF NO IMPORTANCE, Vaudeville Theatre

Dominic Dromgoole's new company Classic Spring kicks off its year-long celebration of Oscar Wilde with lesser-known 1893 work A Woman of No Importance. A starry cast, led by the incandescent Eve Best, makes a strong case for the play, though Dromgoole's reclaiming of Wilde in the proscenium arch theatre space for which he originally wrote is more of a mixed affair.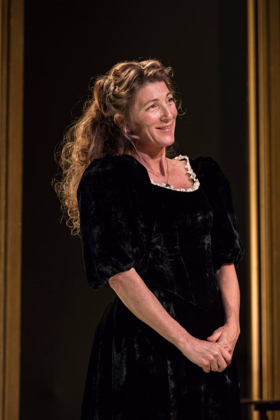 Rachel Arbuthnot was seduced by a man who subsequently refused to marry her; she's since been living in a remote country village, with her illegitimate son Gerald, under an assumed name. Now, circumstances reunite them, as the father - who has since inherited a lofty title - unknowingly engages his offspring as his secretary.
That melodrama plot is the spine of the story, but Wilde takes the scenic route to its commencement. It means a pleasant but overlong sojourn among well-dressed aristocrats exchanging pithy aphorisms, marking time until Best's Rachel finally makes her entrance.
The structure does have one benefit: allowing us to be seduced by the charm and wit of notorious womaniser Lord Illingworth, before exposing him as the callous creature who ruined Rachel. It makes concrete Wilde's sly exposing of a social double standard, whereby women are punished for indiscretion and men - if amusing company - allowed to flourish.
Current events of course lend dismaying resonance to that hypocrisy, and it's not hard to draw parallels between the performative aspects of Hollywood and those of the self-aware English nobles, who implicitly understand the roles they're playing and the absurdity of them.
Those who make peace with that unreality are happiest, chiefly Anne Reid's divine country-house party hostess Lady Hunstanton. Reid superbly delivers her seemingly benign but quelling putdowns, plays soused in delicious fashion, and offers some of the evening's highlights with surreal entr'acte musical turns - including a Temperance Society song about the evils of drink, with much vigorous tambourine-on-thigh thumping.
As quick-witted flirt Mrs Allonby, Emma Fielding is the most convincing and thoughtful deliverer of the spontaneous bon mot - and a smouldering sparring partner for Illingworth. There's a hint of Les Liaisons Dangereuses about their challenging of one another to seduce and scandalise in order to stave off boredom.
Dominic Rowan can't quite match Fielding's ease with a quip, but is very effective when Illingworth's reptilian side emerges. It makes the prospect of this man having influence over Harry Lister Smith's sweetly guileless Gerald genuinely disturbing.
But the melodrama wouldn't be nearly so affecting without Best anchoring it. Through her internalised shame and subsequent dedication to piety, Rachel has raised a son who will almost certainly judge her for her past - and yet not disclosing it will mean losing him to Illingworth.
It's a terrible dilemma given real heft by the emotionally articulate Best, as is her radical view that the sin was a price worth paying for giving her a fiercely beloved son. In such powerful moments, we can indeed see Wilde as a vital Ibsen-esque challenger to Victorian social mores.
The hollowness of the latter is also illustrated via the supporting characters: Paul Rider's shifty politician, lecturing on virtue while seducing young women; a running gag about Eleanor Bron's indomitable Lady Caroline smothering her husband (a perfectly beleaguered Sam Cox) curdling into melancholy as we see that their marital bond may actually be tenuous.
There are shrewd performances, too, from William Gaunt as an eccentric clergyman with a laugh like an overexcited seal, whose wife is in fact alarmingly ill, and Phoebe Fildes' earnest-to-a-fault Lady Stutfield. But Crystal Clarke struggles with the daunting task of enlivening the prim, puritan American Hester Worsley, who Wilde places at a disadvantage among the merry company.
Dromgoole's staging is also slightly problematic. Static tableaux emphasise the meandering sections, and an excess of people sitting or lying down creates sightline issues. The large cast competes for space with Jonathan Fensom's lavish painted flats - meaning the play, while returned to its natural habitat, sometimes feels a tad stifled by it.
Still, this is a confident opener to Classic Spring's season - in which the Wilde greatest hits are yet to come.
A Woman of No Importance at Vaudeville Theatre until 30 December
Read our interview with Emma Fielding
Photo credit: Marc Brenner
Related Articles