BWW Interview: Victor Oshin Talks Touring OTHELLO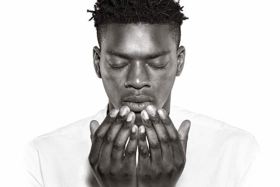 Richard Twyman's critically acclaimed production of Shakespeare's Othello is set to tour the UK with the upcoming English Touring Theatre revival. Victor Oshin takes on the title role as his professional stage debut.
When did your love of acting start?
I was a member of the National Youth Theatre and I took part in a social inclusion course to get people who are not in education to experience and enjoy acting - it was called Playing Up.
I'd done a bit of acting beforehand, while at school, but I never had any of the main parts in the plays or anything like that.
Once I got onto the Playing Up course and saw people from all different backgrounds - some the same as me and others not - it made me fall in love with acting. Everyone in the room loved acting and it was such an inspiring place to be.
How does it feel to graduate ALRA and go straight into a professional role?
It's insane! It's crazy and amazing and exactly what you want when you graduate. It's the role that you dream of. I am so excited to see where this show goes; it's terrifying but exciting. The cast and creatives are so talented - I've learned so much already, and I'm sure I will continue to learn while on this job.
You played Othello while training - how is it working on it again?
I played Othello while at ALRA, and we took our time with the language and the emotion that the language produced. I really enjoyed the process at drama school and it helped me coming into this production and taking on the role again.
Are there any elements of the character that you personally identify with?
With what is happening now in society with young black men losing their lives, I understand the sense of being in a community where you might feel ostracised or oppressed. Sometimes when you go to certain areas or live in a certain place you do feel like you have to not make too much noise and assimilate.
Have you seen another other Othello productions?
During my research, I looked at every production of Othello I could get my hands on - that even included a video in German. I also had a lot of audiobooks too and I just listened and listened.
I have to say that Eamonn Walker's Othello is out of this world. There are some fantastic productions out there where the actors get to such heights with their emotions. That's what I want to bring into the room and bring to the stage.
As an actor of colour, do you feel the industry is starting to change?
There is definitely a change happening and it's a welcome change. We need to make sure change continues to happen and in the right way.
Certain establishments and institutes are making more headway than others, as I feel in some places we're just there to fill a 'quota'. It's great that more parts are being played by actors of colour, but I don't want to just tick a box. I, as do other actors of colour, want to be seen as a hard worker and someone people value.
Do you have a role model?
The work that Lenny Henry is doing at the BBC is amazing - he's not scared to speak his mind, which is what we need. There needs to be a lot more individuals like that who are not scared. We need to be unmovable on it and stand up for people of colour.
It's the same for the LGTB community. I see a shift there with some of my friends, who are amazingly talented, getting roles they really deserve.
For any group or bracket, there needs to be more leaders within them. I am eager to become a leader and help find others to create and sustain that change.
What are you most looking forward to about touring?
I'm excited about where we go. We go to a lot of theatres which don't typically see a lot of Shakespeare.
Also, as part of the tour, there is the Othello Project, wherein each area that we tour there will be a project to connect with local artists, musicians and creatives in that area. I'm looking forward to seeing how our production of Othello affects these young talented people.
What makes the English Touring Theatre company so special?
The ETT goes to these areas that don't see theatre and helps to educate and enrich the audiences. I am lucky enough to live in London, which is a hub for theatre and culture, but so many people don't and the ETT helps to bridge that gap.
Are there any other shows on your acting bucket list?
I haven't thought that far ahead, but I would love to do Hamlet. I like complex stories, and at some point, I would also like to play a bad guy. I guess James Bond as well maybe? Whatever comes my way, I will take seriously and do to the best of my ability.
Othello opens at Oxford Playhouse on 20 September and tours until 24 November