BWW Interview: Stevie Basaula On His First RSC Season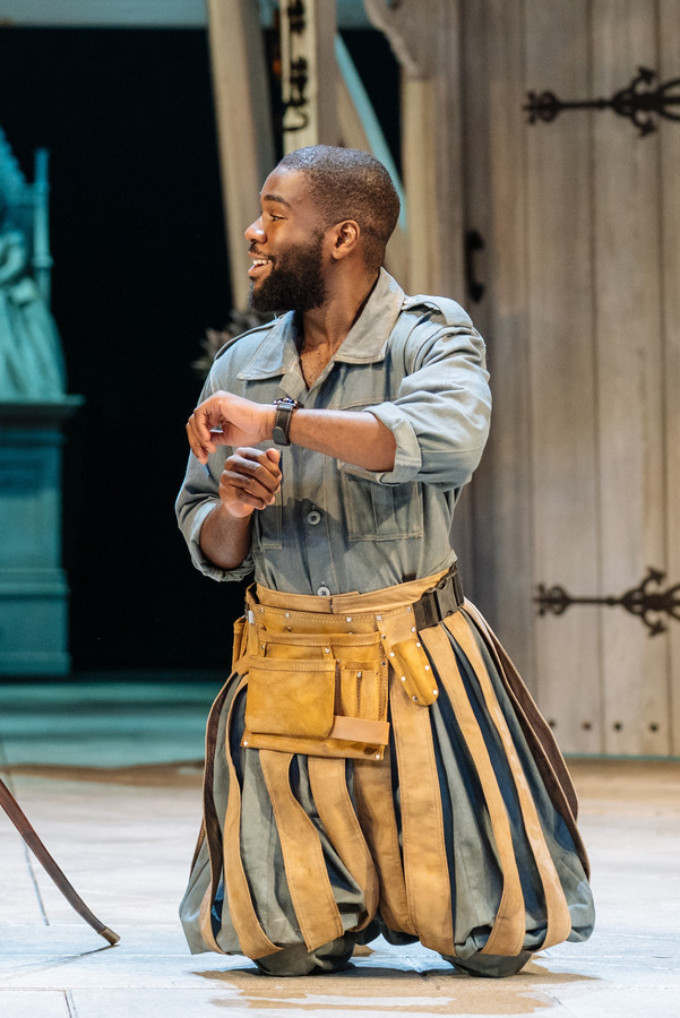 The Royal Shakespeare Company brings their latest season to the Barbican this Winter, made up of Romeo and Juliet, Macbeth and The Merry Wives of Winter. A number of the cast appear in one or two of these shows; Stevie Basaula features in all three, taking on more than ten roles.
Stevie spoke to us candidly about his first season immersed in the world of the RSC, from the challenges to the learnings and support.
What is one of your earliest experiences with Shakespeare?
My most enjoyable memory of Shakespeare was training at Intermission Youth Theatre, which allows young people to attend for free.
Darren Raymond is the Artistic Director and his work really helps to introduce young people to Shakespeare. We would do improvisations around the plays, we'd learn about the language, but he'd also allow us to use our language and access it that way.
Did you always know you wanted to get into acting?
No! I spent a long time doing other things: I worked with young people, because I felt like I could connect with them. I was a little shit when I was growing up! So I always felt I could understand the ones that were struggling. I wanted to be a child psychologist, but that didn't work out. Then I was like, "I'm 20...what am I going to do with myself?"
I remember watching Paul O'Grady interview Noel Clarke about the first film he made, Kidulthood. That was the first film I got to see made in London with a cast of people that could have quite easily been me, and I, them. They represented my London, my struggles, my anxieties as a teenager.
Noel was talking about why he decided to make the film and the choices the characters make and the choices that we make, as young men and women growing up in that environment. And a light bulb went on in my head and I thought I might choose that: acting.
So what was the journey from there?
I didn't know where to start, so I Googled "drama schools" and found the Identity School of Drama. I auditioned and got in, but then life took me in another direction and I didn't go.
Two years later, my friend Dominique was attending Intermission and she encouraged me to come along. Intermission has three divisions: the youth theatre for 16 - 25 year olds; the education department which tours schools with Romeo and Juliet and Macbeth; and then the professional division, which is for graduates.
So I joined in 2014 and Darren and the team welcomed me with open arms and I took part in one of the professional shows. I played a prison officer and that was my first time on stage.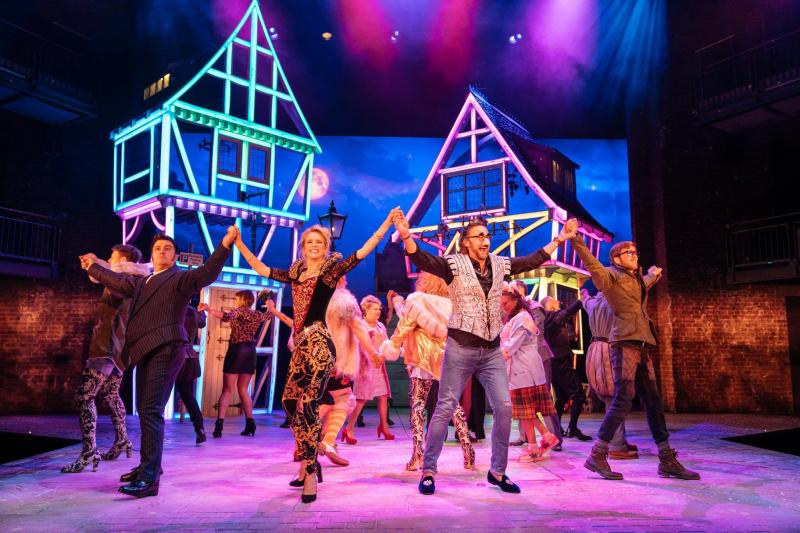 How did that road lead to the RSC?
I'm a big researcher, I watch everything I can and listen to everybody and read up. So I really began to care about the RSC when I learned that Lucian Msamati was playing Iago in Othello.
The following year, they also did Hamlet with Paapa Essiedu. For me, I was a kid in London who saw Paapa's face and thought, "Let me see what he's doing and see if I can see myself doing that". So I went to Stratford and saw it and I left feeling so inspired.
After that I spoke to my agent and we went via the normal route, seeing if anything was coming up. Hannah the casting director was amazing and said she'd try and get me seen and she did!
You mentioned Intermission did some work with Romeo and Juliet and Macbeth. How familiar were you with The Merry Wives of Windsor?
I wasn't at all. So I phoned Darren, I don't know what I'd do without him.
I usually go on No Fear Shakespeare and it tells you what's being said! But it doesn't have much for Merry Wives.
I didn't know the play that well either. But it's fun how you introduce the characters at the start, like The Only Way is Essex!
That's another thing: it's in that world of TOWIE and Essex and I'd watched one or two episodes...probably one too many! But I knew I had my way in.
And it's so fun. Especially coming off the back of Macbeth and Romeo and Juliet, they're quite heavy.
The stakes are so high in those worlds...
Yes, particularly with Romeo and Juliet. The stakes are always high, right from that first scene.
With the play, we wanted as much as possible to try and capture the world in which we live today. And unfortunately a lot of people are dying due to knife crime. People are at war with each other.
So I did a lot of work with Sampson, trying to understand this young man. Who is he in this world and who is he in our world today? Who is he in the London I know and amongst the young people I've had contact with?
And what did you discover?
To those of us who aren't in that world, it may seem like they're killing each other over nothing. But to them, it matters.
So I went to Sampson and thought, "What's there for him?" And there is really nothing in that world for him except one thing: reputation. The Capulets' reputation. He will live and die by that. My Sampson has nothing to lose and everything to gain, and sometimes it's just as simple as that.
You get the infamous "thumb bite" then.
I do! We were trying to figure out an equivalent for today, because it feels quite silly now. It doesn't feel as provoking as it is in that world.
He's really trying to say something and a lot of young people are forced to deliver on the things they say now. I might not want to and it might not be who I am, but people are listening, the citizens are hearing this, and Sampson now has something to prove.
How many other characters do you play across the season?
In Macbeth, I play The Bloody Captain and Second Murderer, and I understudy Lennox. I also understudy other parts like Fourth Murderer, because of the way covers work.
In Romeo and Juliet, I play Sampson and a serving-man called Charles, and I understudy Benvolio. With Merry Wives, I play John Rugby and a workman called Robek, and I understudy Robin and Slender.
So that's 10 roles at least!
There's a lot going on! It's great. Don't get me wrong: there are days when I'm pulling out my hair and asking myself, "Why did you do this?!"
But every experience is about me learning and getting advice and making mistakes. And I don't think there's a better place to be able to do that than the RSC, for me at this point in my career.
This is your first time at the RSC. What was the Stratford run like?
In all honesty, Stratford was tough for me. I'm a local lad, I'm London through and through. So when I got to Stratford, it was such a culture shock.
I felt very secluded. I felt like I was this kid who didn't go to drama school, and not everybody in the cast has been to drama school, but I didn't always feel I could relate. We rehearsed in Clapham for a few weeks, but I was always able to go home. But in Stratford, you can't. You just have the people you're working with. So it was hard in that respect, because I felt quite lonely.
How did you deal with that?
Niamh Cusack could tell something was up and she took me out for a picnic and we just spoke and she just helped me to be comfortable. Chris [Eccleston] as well, he really helped me.
Other people did too, but those two in particular pulled me aside and said, "What's happening? How are you doing?" And I had a little cry on Chris's shoulder one day and it was cool. It just allowed me to go, "Do you know what? I'm okay, I'm safe". From then, I just felt like I could do the work and be myself.
I think that's the hardest thing to do, particularly in Stratford. Because there are people who kind of look at you for all your otherness, your swag and style and who they think you are, and they're not used to that. So sometimes you may feel like you need to pull it back. But one thing I've learned is just be yourself. Be as loud and as big and as brave as you can. And if people don't get it, that's okay. Hopefully the right people will.
Now you're home: London. How do you feel the shows are playing here?
The audiences are so different. They really engage with what you're offering, they connect with it a bit more. Particularly Romeo and Juliet.
The most important people that I hope this play reaches are the young people, in the schools, in the youth clubs, wherever they are. Because they make my job what it is: they make it fun, they make it exciting, they make me feel safe.
How have they been reacting so far?
I remember the night after Press. It was always going to be weird, because the way you're feeling is different. And I went out on stage and I just felt naked. I didn't feel like they were with me like the night before.
But the next day, we had a matinee and it was a group of school kids. Me and Donna [Banya] went out there and did that first scene and they were with us and it was electric and I was like, "Yes!" That made me feel safe, I didn't feel naked.
The Merry Wives of Windsor at the Barbican, 7 December - 5 January, 2019
Macbeth at the Barbican until 18 January, 2019
Romeo and Juliet at the Barbican until 19 January, 2019
Photo credits: The Merry Wives of Windsor, Manuel Harlan; Romeo and Juliet, Topher McGrillis; Macbeth, Richard Davenport
Check out our other interviews from the season, with Edward Bennett and Charlotte Josephine