BWW Interview: Edward Bennett Talks MACBETH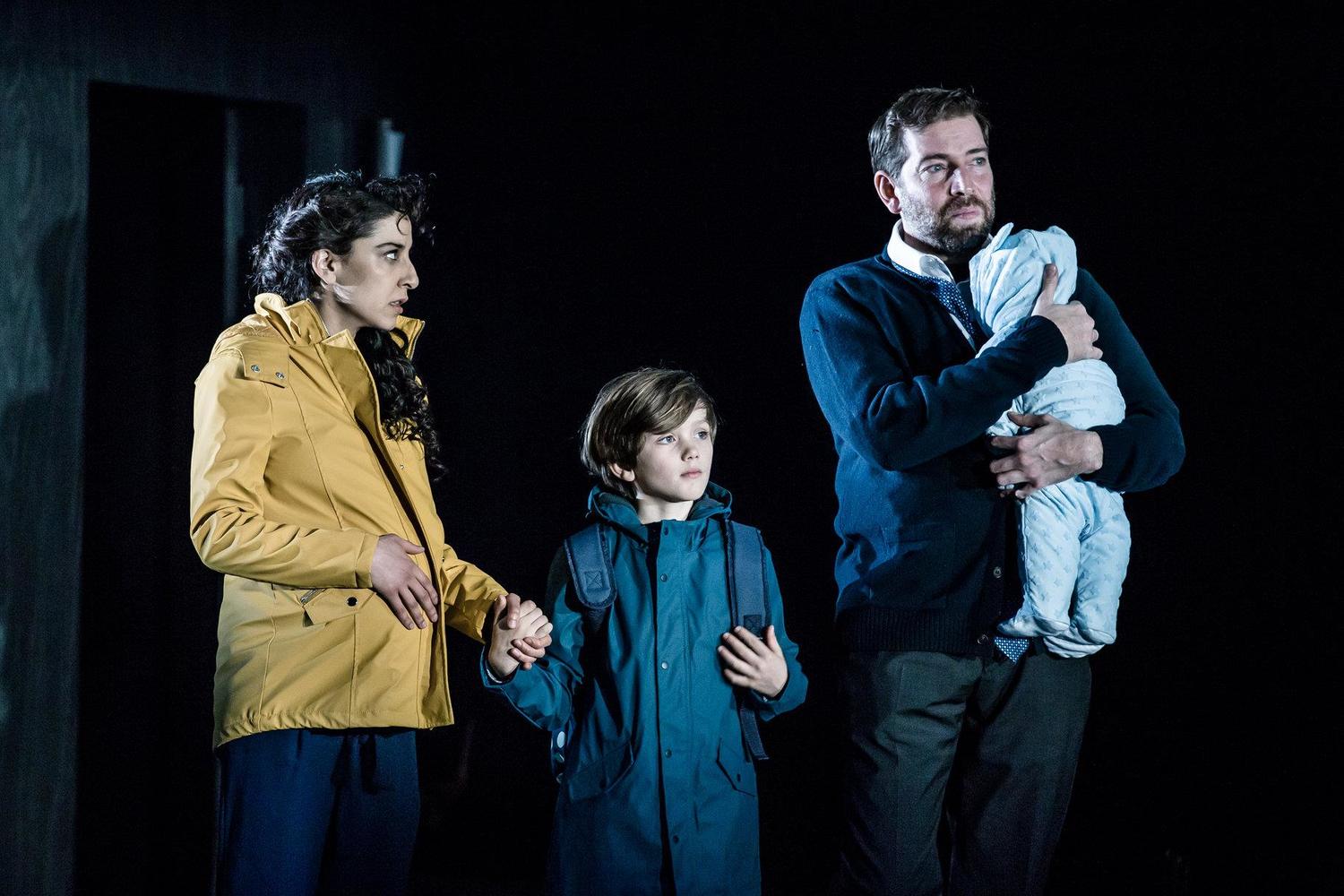 Edward Bennett returns to the Royal Shakespeare Company for his third season, appearing in Polly Findlay's Macbeth.
As the production comes to London, Bennett gives us an insight into Findlay's rehearsal room, discusses how Macduff is similar to previous roles he's played here, and also shares his own superstitions surrounding the Scottish Play and theatre...
What's your earliest memory of theatre?
I had a wonderful drama teacher called David Penhale, who took us to The Cherry Orchard at the Royal Shakespeare Company. And we sat in the front row at the Swan and David Troughton spat all over me and I just went, "I want to do that!"
And *cough* years later, here you are: doing that at the RSC!
Yes. And I always knew I wanted to work here. In 1998, I was working in Stratford and I got sacked from my job, and I went to the RSC's Stage Door and said, "I want to be an actor. How can I work here?"
The Stage Door Keeper said, "Well they're looking for extras in Measure for Measure, if you want to send in your picture". Now I didn't know that meant a 10x8 headshot, so I sent in a picture of me and my mates at my 18th birthday! And I got in and was part of Michael Boyd's show.
So what was the journey from there?
After that, I went to uni and did as much as I could there, including Romeo and Juliet in 2001 as an extra again. And that was the first time I worked with David [Tennant] before Hamlet.
That was an eventful run for me: I fell off the stage, I managed to have my own curtain call...
As an extra?
Well, I wasn't meant to...I came on too early for the curtain call and no-one else was on stage!
Then I went to RADA and graduated and every six months, I wrote letters for auditions, and eventually I got one for Hamlet, A Midsummer Night's Dream, and Love's Labour's Lost. And that was my first full season at the RSC.
Then 2014 was my last engagement there and we did Love's Labour's Lost and Much Ado About Nothing. To play Berowne and Benedick was amazing, so young lustful Shakespeare and then an older, wiser Shakespeare, and how his thoughts on love and relationships changed. That was a wonderful thing to try and access.
Another interesting pairing you've had was in Gregory Doran's acclaimed Hamlet, playing Laertes and understudying Hamlet.
Yes. I mean Laertes is really hard and in a way, I found it harder than Hamlet. With Hamlet, if you feel like you haven't done the previous scene right, you've always got the next one, the next soliloquy.
With Laertes, you get a bit at the beginning, and then you bugger off for most of the play, and then you come back hoping everyone remembers who you are! And Macduff (who I'm playing now) is a little bit like that, Shakespeare's formatted the character quite similarly.
So moving on to Macbeth, what were your initial impressions of the play?
Well I wasn't terribly familiar with it, to be honest. I'd only seen it a couple of times. But the distinct strands, that's what struck me first: the military side, the political side, the domestic side, and the supernatural side.
Our director Polly Findlay has been really good at differentiating those worlds with us in rehearsals. But the more I do it, the more I realise it's a family tragedy. I didn't realise reading it until we went into a bit more, but everybody's related to each other.
So from a personal point of view of Macduff, that connection to his wife and kids is the strongest. But Macbeth is your cousin, Duncan is your cousin, Ross is your cousin, Lennox is your cousin. You're all in that same world.
Can you take us through Polly's rehearsal room?
Well first off, Polly is so open about the process and experimenting and nothing being fixed. And that's so refreshing.
Sometimes, you've got incredibly creative, artistic people involved as directors and designers, who have so much more time to have a play in their head, before the actors even arrive. You know, if you've got something coming up for months or years, of course you're going to formulate the whole thing in your head!
Have you experienced that before?
I remember the first day of rehearsals for Much Ado About Nothing, and there was a massive Christmas tree in the corner. And I was like, "What's that?" "Oh, that's where you're doing the gulling scene". "Oh, right. Okay." And they've just spent £15,000 on that and you're like, "Right, well...thanks? I guess you've solved that for me!"
I think sometimes too much is already decided when you turn up. And that's when you can start to feel like a smaller and smaller cog in the working of it.
But not in Polly's room?
Absolutely not! And not just in the rehearsal room but on stage too, there's still a flexibility to it which I really enjoy. It's very brave of a director to go, "Okay, you know your parameters: now work within them". But I always know it's tempting for a director to say, "Just do it like this, because then I know it's safe when I leave".
And you see that more and more, others really making the actors integral to that process. I think that's one of the wonderful things that Michelle [Terry] is doing at the Globe, who I worked with on Love's Labour's rep: creating that genuine kind of process where actors are part of the whole journey.
Is there a particular scene you worked through with Polly, where that was the case?
So the 'England scene', where Malcolm and Macduff discuss the affairs of Scotland and its bleak future. That's one of a few that we could rehearse when Romeo and Juliet was rehearsing, as only Chris [Eccleston], Niamh [Cusack], Luke [Newberry] and myself aren't in both.
And it meant every time we came in, we could try something different in that hour. So I think it's great Polly started with a blank slate, that none of us knew how exactly we wanted to tackle it.
We did it like The West Wing walking down corridors, we did it like a court room, we did it like we were eating a Chinese, everything but sitting in front of a log fire naked on a sheepskin rug!
That scene is often cut, sometimes completely. What do you think it offers audiences?
I think it's usually cut because by that point, the wheel to the end is set in motion. That scene can seem like a strange hiatus, with so many questions. What does it mean? What's Malcolm doing? Does he mean what he says? Or is he trying to trick Macduff?
But that confusion can be the point of the scene and you have to invest in the fact that you don't know what is happening, because it's written to be a scene which is going in all sorts of directions at the same time.
I think if you asked Luke if Malcolm means what he says, yes he probably does. But then he probably also means that when he doesn't really. You know, as a human being, you're both sexual and not sexual, you're both intelligent and stupid, and that dichotomy of antithesis is perfect drama in a sense.
Now you're bringing it to the Barbican, after the Royal Shakespeare Theatre run. Does the change in space affect the playing of certain scenes?
Definitely. With the thrust in Stratford, the audience was always around you. So it always felt like it was being shared on some level. Taking that scene as an example, on the thrust stage it was all angular and more public (I kind of see the official and public as similar).
But now with the Barbican, you don't see the audience at all. We all feel very much more cocooned in the story. So that scene feels more private and there's more tactility between us, a closeness and that familial element I touched on earlier.
And this is your first time performing at the Barbican. What were your impressions, stepping out onto the stage for the first time?
Well, you stand there and you look out and for me...it does feel a bit like a cruise ship!
It's titanic-esque, like they're all cabins with the lights. It's like doing it on a big QM2 theatre (and I should know, I've worked in one for RADA!)
Finally since this is the infamous Scottish Play, do you have any superstitions yourself?
I used to (and I still do sometimes) put a penny backstage. I find a little crack in an old cross-wall and I put a little penny there. It's like putting it down a well or something, for good luck.
Macbeth at the Barbican until 3 November
Photo credit: Richard Davenport
Related Articles