BWW Interview: Ruth Mary Johnson Talks THE WINTER'S TALE at the National Theatre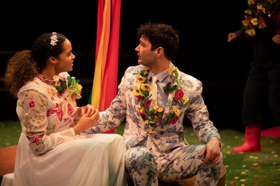 Justin Audibert's exciting version of Shakespeare's The Winter's Tale for young audiences returns to the National Theatre in February, and is the perfect introduction to Shakespeare. BroadwayWorld talked to the production's director, Ruth Mary Johnson.
How did you get here?
A rambling journey!
I always wanted to do drama in further education - but I chickened out and decided to do history. I always blame my dad because he was "You're not doing drama!", but actually I went against him on so many other things. It was only ten years after that I realised it wasn't him, it was me - I was scared of the rejection.
I swapped to English Literature and spent most of my time with the theatre society, and then did a Masters as well - because I didn't know what to do. I did some (unqualified) supply teaching and fell in love with it - "This is my vocation". I taught English for four years, at GCSE level at Cramlington Learning Village just outside Newcastle, and then became Head of Drama, setting up a new A-level.
I was going to the theatre every week with the young people and started doing a little bit of performing on the weekends. I got so excited teaching English and Drama - you feed off their excitement and discoveries, seeing things that you've never seen in a text.
It was when my A-level students were doing their UCAS forms that I advised them to do what was in their hearts. One student said to me "You still can". It was just a flip comment - but you know when you really hear something? I went to see the headteacher that day told him that I was going to leave in the summer and that I was going to be an actor.
Can you recall one or two specific things that you learned from the young people whom you taught?
Every day, six times a day, you would learn something! Teaching English, it was about ways of presenting texts that might be difficult or within which there are barriers, without discrediting the intelligence they have. It keeps you imaginative, on your toes. The job's never done - and I like that - and the fact that there isn't a straight answer.
There was a class, my first in that school, and they were hard (oft times, I'd be crying at the end of the day). But when we did Frankenstein and Blood Brothers and Macbeth and Romeo and Juliet, the journey from "This doesn't make sense - why are we doing this?" to "What's going to happen today?" really feeds you.
My first professional acting job was for under-6s - I was a penguin in a Christmas show. From then, I always seemed to be making work for young people. By chance, I started directing - again a piece for young people. But it was only about two years ago that I realised that this is what I really cared about and want to be doing.
There's still a hierarchy about work for children and young people, and it's an absolute falsehood. You have to be so succinct and, if you're self-indulgent in any way, the young people will let you know. That's good storytelling - they understand story more than anyone.
The first exercise I did with the cast here was to put together a continuum of what they knew about The Winter's Tale, from nothing at all to a presenting a PhD paper on it. Most of the cast were well down the scale - they'd read it or done some research, but no more. I said that's probably similar to our audience's knowledge too.
I also asked them to rate themselves as storytellers, and they placed themselves well up the scale. I said that's the same as our audience too. They know story - they're the experts, they've been doing it since they were born.
I really wanted our cast to know that we're not dumbing anything down - it's the opposite! The audience get good storytelling and they will let us know. It keeps you disciplined too, because there are things that I've cut that I've loved. With this production, we're working with Shakespeare's language and they get it, they absolutely get it.
The Winter's Tale is sometimes labelled as one of the "Problem Plays", so why did you make that choice and how have you approached it?
It wasn't my choice. It happened last year when I worked with the adapter, Justin Audibert, on a schools tour of Macbeth (he's the artistic director at the Unicorn Theatre). He then did the first version of The Winter's Tale with the same cast.
Yes, it's dark and yes, it's a play of two halves, but it deals with things that young people see at home. It's about sexual jealousy, adults making wrong decisions, and (what I love most about this play) it's the young people who get things sorted.
I only came on board in the summer and we wanted to reimagine this remount, so we have played with it quite a bit. The thing that interested me was that it's still seen from the point of view of Perdita, but this time starting at the end when she's about to get married to Florizel. She wonders "How did I get here?" - Perdita, the Lost Girl.
But, out of all the characters in the play, she's the least lost, happy with being a shepherdess, in knowing how the world works. It's the adults who are really lost, and it's only through her act of forgiveness that things turn out OK.
While Shakespeare has that reunion moment offstage, we need, as our guide through this tale, to see Perdita having a choice to forgive - that it's not just because Dad says sorry. So Perdita has explicit agency, and that's key.
I struggled with the question of why we forgive Leontes so easily. For young people, the choice to forgive solves everything, and we don't see that in the full version - though we do hear about it.
All the scenes are as found in Shakespeare's texts - edited, retaining the Elizabethan language - but Perdita speaks directly to the audience in contemporary speech. They help her through it, and it feels really powerful. The reactions we've had from audiences in post-show discussions are brilliant. Yesterday, the first question was "Is there a sequel?". We ask them about anything they haven't understood and what their favourite bits are.
How old are the audiences?
In Stratford, it's part of the Every Child a Theatre Goer scheme, with every Year 6 child in Newham invited free of charge - so that's 10 to 11 years old. When we go into schools and when we're at the NT, it's ages 8 to 11. Their comments, questions and thoughts have been so articulate and profound.
It's 65 minutes long and we have 300 pupils in for each show, with the space full and some on the floor. We were told at the last show that one particular lad might need to be moved after five minutes, but he didn't shift for the whole show!
I try to have a chat as they're going out, because some young people might not want to put their hands up in front of everyone. One said that their favourite bit was the tragedy, another said it was when it all came together and "I cried". They get the emotion - we don't shy away from the darkness. To sanitise it would be wrong and a discredit to them, because they get it.
When Leontes calls the baby a brat, there's often a shock reaction and you hear little chats starting about the stuff in the play. One lad talked about the passion and the jealousy of the king - "and he was wrong" - another young man said that he knew the baby wasn't real, but he still felt sad for it. They're engaging on the emotional journey.
That's a thing about Shakespeare - you might not understand every word (I don't - I have to Google some of it), but the rhythm of the language allows you to go with it and to understand what's happening.
There are lots of giggles. We have amazing puppets, and when Mamillius first comes on (played by a puppet) everyone is surprised and you hear things like "Is he real?". So when he dies, it's heartbreaking.
When we go to Bohemia, it feels like the right time - we need the light relief. We have live music in this version, which gives a sense of magic. Our composer, Jonathan Girling, is brilliant and we have a Bohemia band (called the Time Bandits) who play stuff all about Time. And we have a sheep puppet as well - Gina, The Naughty Sheep.
If a parent is reluctant about their child seeing this show (sharing some of your father's suspicion!), what would their son or daughter get from it that they couldn't get anywhere else?
Theatre is one of the very few things that make you part of a community within a live experience. We're all so good with our phones (and YouTube etc. are brilliant), but the access that young people have to such communication options drowns out alternatives. Theatre is one of the few things left where we can be in a room together and share a journey. Stories do help us make sense of the world.
Drama in schools is in danger, but, in terms of skills, it's one of the few subjects where team-building and teamwork, empathy, problem-solving, maths, angles, creating and communicating ideas and presenting oneself are properly learned. I don't know one employer who doesn't ask for those skills.
Who knows what our 8-11 year olds will be doing when they get to the world of work - their jobs probably don't exist yet!
How does outreach work in education (theatre education in particular) bring new opportunities to young people often denied chances?
It's great that [Joseph Adelakun], our Leontes, went to school in Newham, which he always mentions after the show.
After the run at the NT, we take it into primary schools and that (along with my other work in Newcastle) is all about going into spaces owned by communities. That welcome into a different space already makes the production a different thing. We then create a world in that shared space, putting a mad King and Queen into the place where they eat their jacket potatoes.
One of the things I'm interested in is that relationship between performer and audience, and the means by which the story becomes more owned by the audience. We're doing some experiments soon with that.
The cast really care about what we're doing and why we're doing it. We make that really clear in the audition process - it's not a glam job, it's early mornings and you've got to be on your toes all the time. You see it in the performances, and I love the connection that the cast get as a result. Every one of them was inspired by something when they were the same age as the young people in the audience.
My dad is moaning about coming to see the show - he likes a grumble - but he cries every time, because he often watches the audience as they watch the play. He built submarines, so it's all out of his comfort zone, but he really gets it.
It such a privilege to be working at the National Theatre, but I feel like every job that creates for young people is a privilege. It's brilliant that everyone at the NT gets it too!
What are you doing next?
I'm doing a bit of an experiment - Chicken Licken: a TaleJam.
I'm really interested in old tales being told in new ways. The idea is that it's a band and the lead singer has not turned up, but luckily I'm there to take their place. I can't sing or play an instrument, but I can tell a story - and the band become the characters in the tale. The audience and band then invest in the story as it appears, with the young people deciding the end of the tale, with a live download of the last song available instantly.
Starting on 29 March, we're touring community spaces in County Durham - ex-mining towns where there are still community centres (just). We've been growing audiences there for five or six years and they are completely invested in it. They're starting to make their own work, programming experimental stuff.
It's aimed at families - you always have to, with work for young people, hitting older brothers and sisters as well as the little ones.
Finally, I'd like to say that it's been such a privilege to do The Winter's Tale in the Dorfman, and it's just £9 for children to see it. Which is just mega!
The Winter's Tale is at the National Theatre 6-21 February
Photo: Ellie Kurttz