BWW Interview: Rebecca Lock Talks KISS ME, KATE at Sheffield Crucible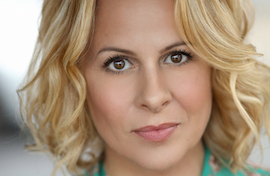 Rebecca Lock's previous work includes Mamma Mia!, Avenue Q, Mary Poppins and Heathers The Musical. She's currently starring as Lilli Vanessi in Kiss Me, Kate, beginning at Sheffield Crucible on 7 December.
Tell us about the show and your take on Lilli
Kiss Me, Kate is a Cole Porter musical about the inner workings of a travelling acting company, and in particular about the tempestuous relationship between the two leading actors - Fred Graham and Lilli Vanessi.
They're a newly divorced couple coming together for the first time in a year to play opposite each other in Shakespeare's The Taming of the Shrew. Lilli is such a wonderfully feisty character to play: her highs and lows, big comedic scenes, songs that are a bit of everything, and some delicate and poignant moments of intimacy...
And, of course, the incredible costumes! It's all within the glamour of Hollywood in the 1940s and is an absolute dream come true.
Did you have to brush up your Shakespeare at all?
Yes! I was in a production of The Tempest a few years ago, so it was nice to get back into the Shakespearean language for this - it's something I've enjoyed since drama school.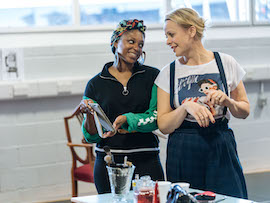 You get to sing some brilliantly funny numbers, like "I Hate Men", as well as romantic ones like "So in Love". Is it a challenge switching between those dynamics?
The somersault vocals as Lilli and Kate [in Taming of the Shrew] are taxing, but it's something I've always relished in all roles I've played in my career - it's a real diversity of style.
One second it's a lilting soprano for "So in Love", and the next I'm belting my head off in "I Hate Men", then finishing Act One with a coloratura that would fit nicely at the ENO. It's brilliant, and I'm loving every second.
Do you have a favourite number or moment?
Oh, there are so many! At the moment I'm really loving all the fighting me and Edward [Baker Duly, who plays Fred/Petruchio] are getting to do as our play-within-a-play characters - it's awesome. No holds barred.
Lots of work at the moment is being viewed or presented in a different way with #MeToo. How are you approaching the gender politics of Kiss Me, Kate?
I feel very honoured to have been trusted with a role like Lilli in today's world. We do tackle some scenes in the show of domestic abuse; there's a famous scene towards the end of Act One where Fred [on stage as Petruchio] spanks Lilli [as Kate] - which, in past productions, has been played for laughs with the exposing of frilly bloomers, but actually, it isn't at all hilarious that this man is hitting a woman.
In our production, the genius that is [director] Paul Foster has brought the situation right up to 2018 and tackles the scene in a new and very real way. Lilli definitely gives as much as she gets during the fight, and it'll be interesting to see how the audience react to this new and raw way of playing it - it's an important story to tell.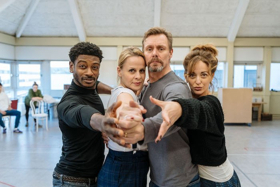 This production marks your return to Sheffield Theatres following Oliver!. What do you particularly like about performing there, and is it special coming back?
Coming back to Sheffield and the Crucible has reminded me how much I enjoyed working here with Daniel Evans [former Artistic Director] in Oliver! back in 2013.
This building has such a feeling of home and family, from the cleaners to the office staff and the actors on stage - we're all equal and working towards the same goal. It's a very special place and I'd come back to work here in a flash.
You recently appeared in Heathers the Musical - can you tell us about that experience? And why do you think the show struck such a chord with audiences?
"Being a part of Heathers was such an honour. To see that show grow and develop from the workshop to the production at the Haymarket was incredible. The audiences were unlike any I'd ever known; the connection with the material and the characters on stage was often so heartbreakingly touching.
Every one of those audience members identified with a story in the show. We all went to school, we all encountered a 'Heather' or a 'Martha', and the themes touched upon within the show were really important. I really believe a lot of kids came out of it feeling positive about themselves and their future.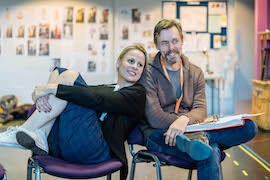 Your career has ranged from long-running favourites like Phantom and Mamma Mia! to new work like Moonfleet and Committee. Do you approach a new piece differently to a an established show?
I've been so lucky throughout my career that I've had the opportunity to play such diverse roles, but I approach every part the same.
Whether it's Rosie in Mamma Mia! or Carlotta in Phantom, I like to come at the show like it's never been played before, a new take. That's why I adore it when I get to create something from scratch - no preconceptions, just play.
What's still on your wish list?
Good question! Well, this show and playing Lilli has always been on my list. I'm lucky in that I don't really have a 'To Do' list - I just love working and playing, and hopefully will always have an opportunity to carry on doing so. Although, bagsy playing Norma Desmond in the next revival of Sunset Boulevard.
Finally, why should audiences come see Kiss Me, Kate?
This production is going to be a beautiful new, fresh and extremely funny show for a 2018 audience. I'm so excited for people to see it!
You have an exquisite score by Cole Porter, breathtaking choreography from Matt Flint, and working under the direction of Paul Foster has meant it's going to be one of those really special productions that I'm sure I'll look back on and remember as a firm favourite. Please come! I just know you'll have the BEST of times!
Kiss Me, Kate at Sheffield Theatres 7 December-12 January, 2019
Photo credit: Manuel Harlan