Interview: Peter Wight Talks THE BIRTHDAY PARTY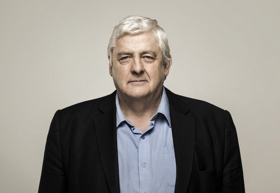 Actor Peter Wight's career varies from Robert Icke's recent Hamlet to a range of classical and contemporary work with the National Theatre, Royal Court and RSC, plus multiple Mike Leigh films. His current project is the 60th-anniversary revival of Harold Pinter's The Birthday Party, now in previews at the Harold Pinter Theatre.
Did you see a lot of theatre growing up?
Yes, my parents were great theatregoers. I started going to the local rep theatre in Derby when I was a child. It was a classic post-war, provincial rep - of some distinction, as that's where John Osborne was working when he wrote Look Back in Anger.
What did you love about theatre?
Initially the glow of the stage, the lights and the kind of glamour. And something about the actors fascinated me: they became larger than life. I was also appearing in school plays, so getting a taste of being on stage while watching these actors do it professionally. I became fascinated by the whole process.
Did you consider drama school?
I'd always wanted to study English literature, and the theatre scene in Oxford is very lively, so I thought I'd cover both by doing that. I rapidly lost interest in studying in an academic way, so my creative energy went into doing plays.
I was lucky enough to do a college Shakespeare production that went touring in America. That introduced me to some serious theatre people. So I thought "I've had some experience of being in plays - I'll just dip my toe in the water and see what happens".
Did you ever regret missing out on drama school?
I did apply to a drama school that had a post-grad course, but I couldn't get on the one-year course, and I didn't really want to do another three years. For a while, I didn't feel like a "proper" actor, but then I worked away doing whatever I could get my hands on - rep theatre, kids' theatre, community theatre. That's a brilliant way to learn. And I bumped into some excellent directors who were great teachers as well.
Among them Mike Alfreds of Shared Experience?
Yes, I worked with Mike on The Seagull at the Almeida. That's when I really learned to act. His wonderful seriousness and artistic courage taught me so much, and the way he approached a script. It was rooted in character, and once you've got that foundation, you're liberated to explore every single night.
Over the years, there was also Michael Boyd, Peter Gill, Bill Gaskill - great directors and extraordinary people.
What attracts you to a project?
I've never had a plan or criteria, other than instinct. Some actors talk about how they choose the thing that scares them most - I'm more of a cautious soul really. With theatre, it's usually the director, the venue or the nature of the play, and the other bits fall into place. I've done about six shows with Ian Rickson now, which makes this one a no-brainer. You're lucky if you build up that trust with certain directors.
Do you remember your introduction to Pinter?
I remember at university one of my fellow students was a marvellous director, and he helped me with some audition pieces. One was a Landscape and Silence monologue. I know a lot of people hate auditions, but I've always enjoyed them. There was another speech very close to my heart, and auditions meant I could perform it in front of an audience.
Then I did a production of The Caretaker a few years ago in Warsaw. That was a bunch of friends really getting it together, a bit rushed and all over the place, but it gave me a taste for his range of imagination. The Birthday Party is my first proper Pinter.
You mentioned working with Ian before. What do you enjoy about his process?
Ian is a wonderful director - one of the greats of our time. Some "great" directors aren't pleasant to work with, but Ian is both! Obviously he has a special relationship with Pinter - he knew him well and directed Pinter himself - so his understanding of the plays goes very deep. He's also assembled an excellent company; it's a very creative atmosphere.
What particular insight does Ian provide?
Ian can really reveal the play. Sometimes there are productions of Pinter that are so reverential they become like monoliths to be admired and quietly gasped at. Actually this play is full of life and humour, as well as being disturbing. Ian's always emphasised the human relationship - that goes against some idea of Pinter as an abstract, cold stylist.
Also, I knew Pinter had been an actor, but I thought it wasn't for long. Through this, I've realised he slogged away for years and actually wrote The Birthday Party while he was in rep - staying in grotty digs in provincial towns. So in form, the play is like the seaside boarding house thriller he would have been doing in rep, but then it has this depth and dreamlike quality.
It's a mistake to treat it as some po-faced canonical piece and miss that other aspect. But you also don't want to make it cartoon. There's feelings there under the surface that make it like a Chekhov play - Pinter had an instinctive sense of relationships and psychology.
Do you take your character Petey purely from the script, or fill in the blanks?
The latter definitely - that's what I love. I learned it from Mike Alfreds, who understood the Stanislavski method of building the world of a play and building a character. Mike Leigh, who I've worked with as well, does that too.
It's entirely to my taste as an actor. Some people prefer what's happening in the moment, but I've always loved that deep research, imagining someone's life before and after the play, so the character becomes distinct and detailed. Ian's very good at finding those biographical possibilities that inform the play, so there's scope to explore that reality without being inaccurate to Pinter's vision.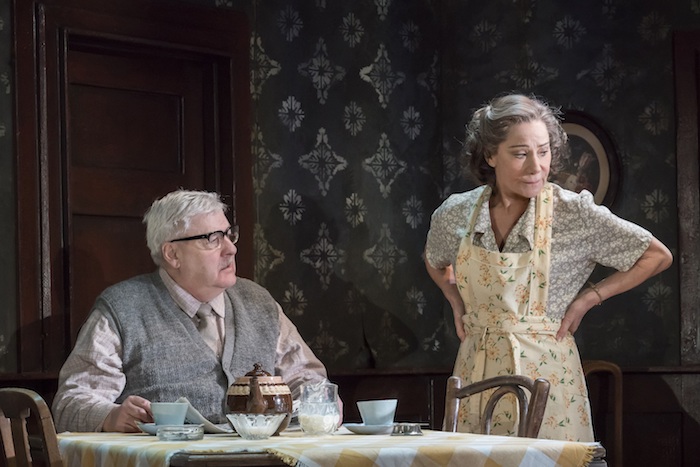 So you've worked out a backstory?
Yes, Zoë Wanamaker and I have thought about this couple's history, their boarding house, about them having children or not - that's very resonant.
And have you researched the place as well?
We all went down to Eastbourne for a couple of days on a research trip - that's where Pinter was staying when he met this lodger in a rundown boarding house. Pinter asked him what he was doing there, and he said he used to be a pianist, and then Pinter asked why he stayed in this place with a rather eccentric landlord and landlady, and the man replied "There's nowhere else to go".
That was the seed of the play. So it was very interesting to actually go there, and see the theatre where Pinter played in rep. Just being by the sea gives it a particular edge and colour, and staying in a B&B - albeit a much nicer one! - gives you that idea of these strange people thrown together.
Is this production in period?
Yes, we're in 1958. I'm the oldest in the company, so I can remember that time. Just things like the nature of the house - those undecorated, cold, dark basements or ground-floor rooms. Still a bit post-war, especially in bomb-damaged places - as Eastbourne was, so those scars are a part of Meg and Petey's immediate memories. Ian's great skill is to make it period feel real - closing the gap between then and now.
I also recall the theatres of that era very vividly, and I when I walked onto our set for the first time I really thought it was like the playhouse of the Fifties. I was back in Derby - we've come full circle!
How important is the period framing to the play?
Rooting it in that time is very helpful. According to Ian, Pinter wrote it very instinctively - furiously and fast, almost from his subconscious, while being this competent but frustrated actor, learning and doing other rep parts and writing on the run. So it's got this fury and otherworldliness beneath the perfect structure, but you have to treat it all as reality, and then the stranger parts and the humour both emerge organically.
I really enjoyed the recent No Man's Land that Ian McKellen and Patrick Stewart did, but I noticed one part that was played as a mini comedy sketch, and it stood out from the play. I thought that's wrong - you shouldn't play it as a music hall sketch, even though that's the reference. You play it like it's Chekhov. We get big laughs without going Carry On Up The Seaside.
Some people also get confused, in a good way, because it takes this turn into menacing and awful. But that's the whole point: when the most awful things are happening, sometimes it's funny or absurd as well. So you have to play it truthfully, and respect that the underlying feelings are real and titanic.
Do you put across a particular interpretation of the play's themes, or leave it open?
We leave it very much to the audience. Some people will always ask "What's it about, what does it mean?" Pinter wrote a very funny letter in response to a lady who asked him that, turning it back on her by questioning what her letter meant. The point is he refused to give one meaning.
I say "Follow the story". It's a classic trope: two strangers arrive looking for a man. It's like a Western. And they torture or bully him, and take him away, so you can consider the ramifications of that. If that story works, other mysteries will percolate through. Two men come to assert their power over another person - that can be a metaphor for lots of different things, like power and resistance, the individual versus the state, politics or relationships.
Someone came up to me in previews and said "Of course, it's all set in a mental asylum!". I didn't contradict them - I just thought "How interesting that that's what they took from it". Of course, with the original production, audiences would have just accepted it as a mystery thriller.
Some have questioned recently whether we need a more radical approach to Pinter - what's your view?
I really think you just play it truthfully and fresh things will always emerge. Actually if you look at Ivo van Hove's View from the Bridge, which is considered a radical take, it's very simple: stripping away everything but the characters, so that the play lives.
That's precisely what Mike Alfreds did with Chekhov. It was that Peter Brook approach - a bare stage, minimal costumes, no set, lighting or sound, just character. If you do that with commitment, wonderful things happen. You don't transform the play to make it abstract - you make it more real.
We did a Q&A after The Seagull, and we were discussing that moment when Arkadina looks across the lake and hears music. A woman said "That was so magical when we heard the music", and Mike had to say "There was no music!". That's what I feel about Pinter. Certain plays survive that stripped-down scrutiny, as long as they're done with integrity and depth. Our production has no tricks - it's naturalistic.
Can you understand why the play was a flop initially, and why it's since become so revered?
Of course - those are two sides of the same coin. The Birthday Party is a Trojan horse: it comes in looking like one kind of play and then becomes something else. It's set up like a crime thriller, but you never get a detective coming in to solve and explain everything - it just gets more elusive. That was seismic at the time, and it's still got unsettling power today.
It's very demanding - there are no resting places in this play. You're in a very intense place, playing the precision of it but with the emotional territory shifting all the time, and you have to hide your concentration, because even though nothing in the play is casual, you have to make it look like it is. You speak the lines naturalistically, not with obvious meaning, otherwise it becomes portentous.
Pinter wrote about the importance to him of your character Petey's climactic line "Stan, don't let them tell you what to do". Does that inform your playing of it?
We've done a lot of discussion - actually we're still discussing - finding the exact right tone that fits the hugeness of that moment. Pinter was haunted by that line. It's about the failure of Petey at that point, which suggests a haunting to come.
Do you have any advice for budding actors?
If you're thinking about acting, you must try it, because it's the only way you'll find out if you need to do it. With roles, 99% of the time it's better to be working than not, but the 1% of saying no is also important - so it's discerning that. I'm not very good at saying no, but some actors I know are very brave at turning down work so they're available for better.
But most of the time, keep working - get on stage and do it. It's not a theoretical trade. It's a chaotic, hazardous business, so you have to stay open to opportunity. When Mike Alfreds came to me, I initially thought "That part's a bit small", but you develop a nose for quality, and what will take you forward.
I don't have many regrets, but one is Sam Mendes, when he was at the Donmar, offered me the Jack Lemmon part in Glengarry Glen Ross and I said no, because I didn't feel right for it. But I should have done it. Who would have thought Gary Oldman would win awards for playing Winston Churchill? Don't count yourself out - as long as it's interesting or challenging or fun, have a go.
And finally, do you have any remaining dream roles or collaborators?
I'm not one for dream roles really. It's more the directors and the venues. I always love working at theatres like the National and the Royal Court. And people like Ian, Robert Icke, Mike Leigh - their vision is special. That means it's going to be a great experience, for you as a company and hopefully for the audience as well.
The Birthday Party at Harold Pinter Theatre until 14 April
Photo credit: Johan Persson