BWW Interview: Julia Burbach Talks COSI FAN TUTTE at the Royal Opera House
Born in Tokyo to German parents, Julia Burbach grew up in Milan, Prague, Munich, Bonn, London and Hong Kong. Before focusing on opera, Julia completed a short course at NFTS film school in London and worked in theatre, dance and film.
She directed a variety of classic plays as well as pieces of new writing, and worked as a choreographer and movement director, taking her to many of London's Fringe and West End theatres as well as the Edinburgh Fringe Festival.
She talks to BroadwayWorld about her role as Revival Director of the Royal Opera House's Cosi Fan Tutte and about her work as an opera director.
We're both graduates of University College London, you a lot more recently than me
The infrastructure provided by University College London (something not provided by German universities) is one of the reasons I was able to explore my directing skills. I knew that UCL had wonderful Drama and Dance Societies and, though I was studying very different things, I started directing and choreographing within those societies. I had a safe environment in which I could practise.
I have more friends from the UCL Dance Society and Drama Society than from my courses - we spent all our time together, going to Edinburgh for example. Not everyone ended up in the Arts, but some, including myself, did. Had it not been for those societies, I don't know what would have happened. It was a really significant time.
I'd like to go back and maybe give a talk, because it was certainly scary coming out of school with artistic ambitions and overcoming the initial fears about can I, should I and how? Everyone else was going into banking or to law school. I had a place at law school and deferred it for five years.
One forgets how difficult it was - the years of trying hard and working for nothing, having other jobs, having parents concerned about my getting into a profession, enduring the inevitable setbacks. I worked in film for a while, but the right doors did not open there and it was my mother's suggestion to try for opera, because she said directors work there too.
What is opera?
Opera, like many other art forms, is about storytelling: film is, theatre is. What makes opera very different and special is that you dissect the narrative strand into three different categories: the music, the text, and the body. What's amazing is the psychological dance between the three.
The music is the spinal cord of the truth - the most intimate, most private revelation of the story, the connection between the character and the audience, the sound of their soul. The text sits on top of that - it can work with or against the music. We don't always say what we mean nor mean what we say. The key to find where the meaning lies; it's the combination of the two.
The line could be "I love you" - and it could be true or false or a quote, it could be in a letter or a million different things. How you adjust the music and text makes that line, any line, work.
The last significant thing is the body, because it either goes with the music (and you see the character in harmony with their thoughts) or against it (and you see the struggle).
Let's say a tenor has a beautiful aria about sad content and he walks in time with the music. I shout "Stop!". The beauty of the music is what you aspire to, but you know you cannot reach it, and the body must show that struggle - so do not walk in time. The complete image alone shows the conflict.
Music is such an emotional trigger for everyone in the audience - it doesn't matter about a person's experience or knowledge of opera or what their cultural background may be, the music will speak to you as a human being - that conflict and tension is the spice of storytelling.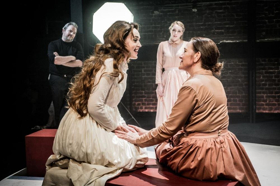 That reminds me of West Side Story and Hamilton, but they're in a box labelled musical, whereas Puccini is in a box labelled opera - but aren't they all the same thing?
There are differences, but, in the grand scheme of things, they are all doing the same thing.
Most musicals are structured differently with spoken text and song sections interweaving, the songs having a "numbers" feel. There's a different rhythm then, because the "numbers" feel makes it more representational and less intimate.
At the end of the day, all musically underlined theatre, if it's told beautifully, have much in common. I grew up with big Hollywood musicals and the format works because the power of the music is so emotionally strong.
Some of the smaller gigs that I do are very important (I've done three Grimeborn operas) because they do bring audiences in to see operas. For example, for The Rape of Lucretia at the Arcola (reviewed here), we did not have much budget, which all went into the orchestra, so a lot of people worked for nothing and they worked very hard. But it won an Offie Award.
The conceptual approach was very risky and demanding because I want to challenge an audience - and if I lose them, it's our fault. It was heavy! I wanted to find a way to make that opera (which I didn't necessarily choose) within the constraints. I wanted to tell the story in a way that's important for our times - it's about voyeurism in society, what it is to be "viewed". Why do we enjoy watching things that well, one might expect if you buy a ticket for a show called The Rape of Lucretia?
What do you do as the director of an opera?
In all the shows I've done (theatre and opera), there's a very simple question - what's the story about? You can't tell all the story, so you have to decide on a strand that's important to you.
It might come from changing the conceptual perspective - I did that in Butterfly and in Lucretia and others. That new angle opens up extra layers of psychological possibilities that may be more interesting, current, accessible, touching... You stay with it to find the human core that is honest.
How you execute it can be complex. For instance in Butterfly, she is such a stylised victim and the show can drown in Japanese kitsch - but I was born in Japan and know a bit about its culture, so I looked for a clue in the opera. And I saw that it was about ancestors, about ghosts - the thing becomes a loop.
The "ghost hours" are in the middle of the night, and a female ghost roams in Japan between 3am and 4am. So we put Butterfly in a prison and every night between 3 and 4, she relives her life. It empowered her as a character, because she (and us) had more knowledge, but it was not a traditional Butterfly in terms of her role - but it was traditional in its aesthetic.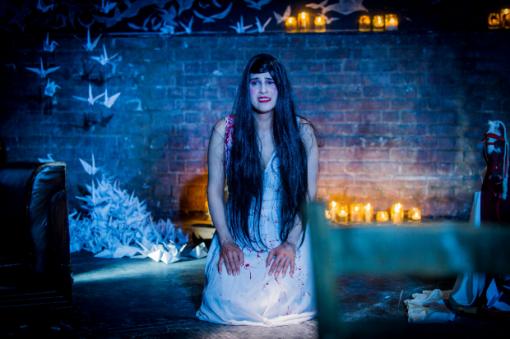 What's your vision of Cosi Fan Tutte, an opera that's been staged thousands of times?
It's a wonderful work, even though Mozart is very hard to direct well. The one we're currently doing is the first revival of an existing ROH production with its own challenging conceptual approach. We try hard to support that, so the audience can follow it.
In Cosi, it's already complicated enough - Mozart always is - but when you juggle with that structure to open up different possibilities of storytelling, then you have to be very careful to ensure that the logic doesn't get affected or the audience isn't lost. And you also have to service the Italian text, which is very bitty.
This is challenging! But we have a wonderful cast and conductor who have plenty of experience of versions of Cosi. So too in the audience, so those seeing it for the first (or tenth) time, go away having enjoyed an interesting evening of storytelling.
What I find interesting about Cosi is that it's very much about the internal relationship between the two girls and that between the two boys. The boys get into it through provocation by Don Alfonso and it's fun and they don't think about the consequences of their actions. It's all about winning. Then things get out of hand, there's a switch and one girl goes with the other guy. At the end, they're supposed to go back, but they can't because everything is different.
Often with Mozart, he seduces us with the fun and the beauty of the music and the sheer speed of things - he's a clever, cunning guy. You don't see the darkness coming. I think it's entirely deliberate. If you read the letters with his father, they're full of puzzles and wordplay - and that's what he likes. There's a dark core shielding a human complexity that seduces people into doing things that they shouldn't do with consequences that can't be undone. And it's all sugar-coated in this glorious, brilliant musical packaging.
I think he judges us - he loves people and understands them so well that he insists that we not pretend that we have desires beyond or interests outside. And the lure of the game is so great. It's done in an elegant and charming way, but he shows us that in the same person can reside loyalty, truth, love - but they might be different, just seconds later. It doesn't make them bad - just human.
Where does the recent #MeToo cultural shift (and its emphasis on women's agency) fit into an opera that is, at least in part, about men manipulating women - for fun?
I think manipulation of people goes in all sorts of directions - men to women, women to men, men to men, women to women.
The conceptual approach adopted in this version is that the girls find out about the boys' game at the top of Act Two (a controversial decision). The original director chose to do that to remedy some of those faults - it gives the girls agency. If knowledge is power, then the knowledge lies initially with the boys and Don Alfonso, but then it flips and the girls go to the top of the food chain.
That shakes up all the complications we have for Cosi in 2019, but it opens up a whole new set of questions for the text - which doesn't cater for such a change. This is what we've been doing for the last three weeks.
Let's say we didn't have this conceptual approach, a normal Cosi - it would still be about how you direct the Dorabella aria. Are they hysterical, are they extrovert, are they having a breakdown? Of course, I shy away from that.
If there's a woman (or man) in pain, I make it heartfelt and honest. If the singer's instinct is to go to ground, it's representational, done for effect, it makes them look vain and frivolous - then I sort it out and explain why it should be done differently. There are many things you can do.
I've done a lot of Puccini operas but I've never killed a woman yet - but I've not done La Bohème!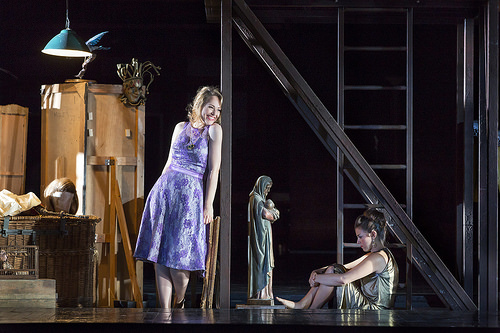 How common is it amongst directors to be as story-led as you are?
I find it hard to imagine how they would not be - what would they be guided by? Everybody has a different style but story is always critical.
Sets, costumes, lighting etc. informs the story - it's teamwork, of course. When I design a set, the set is another character facilitating the narrative, an active participant in the storytelling, coming with us. Same for the lighting.
You have to talk to everyone involved to ensure that they are all servicing the same concept, that they're on the same page.
What's the difference between working with the sets at the Royal Opera House and (say) those for Grimeborn?
I've done a lot of small shows with small budgets and the constraints open up great creative thought. For Butterfly at the Arcola, we got a few props from the National Theatre, but not much.
I was thinking about the prison cell, in which Butterfly would be drawing lines for each day on the walls, so my assistants and I drew the whole set with chalk. Butterfly had taught herself to become a great artist in her prison, drawing scenes from her life. It was a huge amount of work (it got ruined every night!), but it was effective.
When the audience has to make some imaginative leaps, it stays alive and they're more with you. Audiences are intelligent.
What are you doing next?
I'm directing Die Walküre in Bordeaux.
Cosi Fan Tutte is at the Royal Opera House until 16 March
Photo credit: Robert Workman, Stephen Cummiskey