BWW Interview: Daniel Boys and Simon Lipkin Talk NATIVITY! THE MUSICAL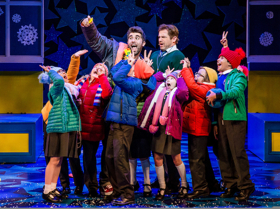 Actors Daniel Boys and Simon Lipkin lead the new stage musical version of hit family film Nativity!, which is touring the UK this Christmas season.
Were you familiar with the Nativity! film beforehand?
Simon: Four years ago I was asked to do the workshop for Nativity! The Musical, and I had literally just seen the film and loved it. I was a fan, like many other people, so I'm really excited to be a part of it.
Daniel: Yes, I was! I absolutely love the film - I'm a big fan of Martin Freeman, I think he's an amazing actor. I first watched it about five years ago and I probably watch it every Christmas, so it's really exciting to be in the musical version!
For those who don't know it, tell us a bit about the premise and your characters. And did you draw on any teaching experience?
Simon: My character, Mr Poppy, is a Peter Pan-like character and he's so much fun to play. There are 18 children on stage every night, and it's kind of like he's the 19th kid and gets Mr Maddens in a lot of trouble and causes a lot of pandemonium about the place, which is a lot of fun. Did I have any experience? Well, my Mum was a teaching assistant, which is what Mr Poppy is in the show!
Daniel: I play Mr Maddens, a primary school teacher who hates Christmas because his girlfriend dumped him at Christmastime. So he's a pretty miserable teacher who thinks his pupils are useless, and he's terrified of directing them in the school nativity show.
My brother is a primary school teacher in Devon, and I've been in his classroom watching him teach. He's a brilliant teacher and the kids love him, unlike Mr Maddens! So I guess I drew on his experience.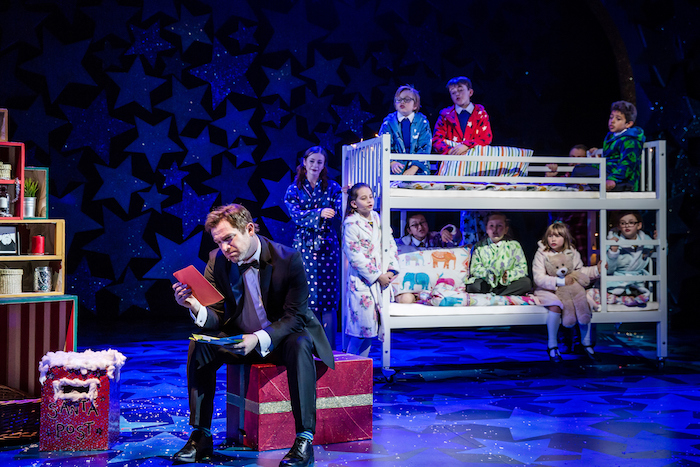 Has the story changed much in its transfer to stage? Any new elements?
Daniel: The story hasn't changed at all - it's still very much the story that everyone knows and loves. The only new elements are the new songs! All the original songs are in there too.
What sort of musical style is the show? Are the new songs in the same vein as the ones from the movie?
Simon: The music in the show is brilliant - it's kind of a pop/rock score. It's the same writers, Debbie Isitt and Nicky Ager, who wrote all the music for the film, and they're so in tune with it that all the songs fit so well and are such fun to sing. I love the songs from the film, but there a couple of new ones that are now my favourites.
Daniel: The new songs are very much in the same vein as the songs from the movie. The kids sing the majority of them and they're so catchy - you find yourself singing them all the time.
How much of a challenge is it mounting a production with a big child cast?
Simon: The children are amazing! I always think that acting is the same thing as pretending to play when you're a little kid, so being on stage with their imaginations, which are so intact, is wonderful.
They're so real and say the silliest, most ridiculous things, which have everyone in fits of laughter. We have the best time and we're so lucky to have such a talented bunch of kids - it's amazing.
Daniel: It is a challenge - we have 27 kids I think, and they all play St. Bernadette's School children or Oakmoor School pupils on different nights. They are wonderful kids and we all absolutely love them. They're real primary school kids, not stage school kids, which brings such a joy and innocence to the characters.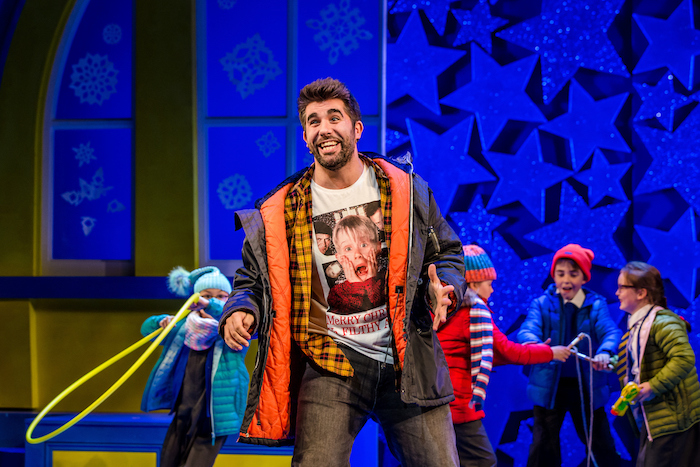 The story involves a rumour that gets out of hand - have you ever told a white lie like that?
Simon: Yeah, of course I have! Nothing that's ever really got out of hand though. Although, there was one time where there was a potential that maybe, years ago, I would be puppeteering on one of the new Star Wars films and it somehow ended up in a national paper that I was playing the lead! That did get out of hand, and that was very embarrassing.
Daniel: No! Lying is bad! [laughs] I don't think I have, or not one that has got out of hand anyway.
What was the first Christmas show you saw?
Simon: The first Christmas show that I saw was probably a pantomime. My parents used to take me to the theatre all of the time and it got me hooked. I always loved comedy, and when I saw Oliver! and Joseph I didn't want to be a serious part - I wanted to be Fagin or The Pharaoh, I like the funny people. Live comedy was what made the biggest impression on me and I loved it.
Did you do many nativity or Christmas productions at school?
Simon: I didn't do any Christmas Nativity productions, but that's largely because I'm Jewish! But we did school plays and they were brilliant, I think.
Daniel: I never actually did a Nativity, which is weird. At my primary school we did a lot of carol concerts and Christmas songs. I've got footage of me playing the piano, the glockenspiel, the triangle and all these fun instruments at carol concerts and also doing a reading about the Nativity as well.
Are Christmas season audiences different to other audiences, and is that fun as a performer?
Simon: I think that Christmas audiences are a little bit different, only because Christmas is fun and everyone is in a really good mood. Especially as they know this film and they know the vibe, so from the minute we come out on stage they are so with us. I think we're in for a really fun Christmas!
Daniel: I guess the only difference is that lots of children come at Christmas, and I love that. I sometimes feel very excited that this could potentially be their first outing to a theatre - I think that's brilliant. We can see their faces at the end smiling and dancing and singing along, which is a real joy.
Will there be any festive hijinks on tour?
Simon: We are quite a playful cast! The show is the same every night but we are allowed, in little bits, to improvise. So poor Daniel has to put up with me being very silly around him. I think there will be lots of fun, as there are some very funny people in this cast! But we'll all mainly be focusing on making the audience laugh, as that's our number one job.
Daniel: Yes! We are doing Secret Santa, I'm sure we'll be doing that on Boxing Day. A few of the cast are having Christmas day together, which will be lovely too.
Finally, why do you think people should come see the show?
Simon: I think people should come and see the show because it's just joyous! We live in a world where theatre is daring and different and brave and this is all those things, but at the base of it, it's full of heart and love, and is about friendships and relationships and teamwork.
The music is brilliant and fun to listen to, the kids are amazing. Whether you've seen the film or not, or whether you like Christmas or not, it's a funny show full of talented people, and hopefully you'll leave with a massive smile on your face, because we love doing it every night.
Daniel: I think this is probably one of the most perfect Christmas shows there is to see - children, a dog, Christmas songs, and it's a really fun and funny, heart-warming family show!
Find full tour dates and venues for Nativity! The Musical