BWW Interview: Composer Jim Fortune Talks PERICLES at the National Theatre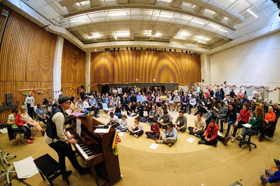 Following our journey with the company of Pericles at the National Theatre, we met up with Jim Fortune. The composer and songwriter talked about music, London, and how he found a musical voice for the different worlds of Pericles.
What got you into music?
Loads of us were forced at age seven to learn the recorder at primary school. Every other kid hated it, except for me. I loved it. I just continued playing.
When did you decide you wanted to do it professionally?
I think I've always known it might be the case, even though I've had a long journey towards that. At school, everyone assumed I was going to go off and be a musician because I'm a classically trained flute player, so that orchestra thing was a potential, maybe, career. Then I went to university to do something completely different - I studied philosophy - and then I came back to it after. I never really went away.
Why did you come back to music?
I came back to study flute and, with the guys that I'd met at university, started a band. Without becoming very successful we became very busy over a few years; we toured lots around the world and had a kind of joyful twenties without a care or family, just touring and playing.
How did you get into theatre? Was it something present in your life as a child?
It's not something I grew up with in terms of my family; that wasn't the introduction to it. But I loved listening to the cast recordings of musicals as a kid, thinking "This is very unfashionable but I kind of love it". And as a professional, it would have started at the tail end of my singing career. The first professional job I got, I think, was off the back of my being in a band and someone came to see us and went "Do the music for my show".
How did you get involved with Pericles?
I had a meeting with Emily [Lim], who's our amazing director. She described it to me and it just sounded like, and remains, like nothing else any of us has every done. It was immediately interesting and exciting.
How was it pitched to you?
It was certainly pitched as something ambitious, with lots of quite complex layers of involvement in terms of ability but also in terms of every aspect of London. What I drew from our initial conversation was that this is a big celebration of this incredible, multicultural, diverse, interesting city with people who maybe did some singing when they were little but didn't continue it, did some acting when they were young, and other who had never spoken a word on stage. Something that had the potential to be nice and messy and glorious.
What's your process been like?
From the start, it was lots and lots of meetings with Emily and Chris [Bush], our amazing writer, about the play and the treatment of the play and Chris's extraordinarily heartfelt take on the piece, and my matching the music world to Chris's adaptation and wonderful lyrics. Then it was all about trying to work out how each scene in the play sounds.
Pericles is this big, rambling epic - thankfully someone who works here at the National Theatre described it as "Finding Nemo meets The Odyssey", which was really helpful. It's got all the ambition of The Odyssey and there are lots of interesting places, danger, evil characters, but essentially it's a father looking for his lost child once you find the heart of it.
How did you build the musical world of Pericles?
Pericles is a bit of a wild travelogue; he goes to extraordinary locations, so once you discover what those locations are you match them with a sound world and then you match them with the way we want to do it. So with our community company, with our amazing partnerships, and with our cameo groups as well.
For example, when you decide that there are some pirates in the show, what do they sound like? They sound like a ska band. Okay, let's look for a ska band. So our wonderful producers found us various acts we could work with making these cameo appearances. We have a ska band from Lambeth who are extraordinary.
How would you describe the music?
It depends what part of the show you turn up to! [Laughs] The ambition is to make every scene or town Pericles ends up, in sound, quite distinct. We're representing Pericles' home with the wonderful London Bulgarian Choir, who make these otherworldly Eastern European sounds with these beautiful harmonies - they sound divine. That's the home sound for Pericles.
Then Marina - who I think in the original text is a sex slave, and that's gone in our version, because it's very much designed for families and we want everybody to come and enjoy the show - she ends up as a cabaret singer in a seedy club where she's forced to perform.
So, once you decide you're seeing the club scene, you fit the music to that... A quite dirty, kind of latin number. Every town has a very distinct feel. Pentapolis, which is our fishing port town, feels very acoustic and folky and wooden and open-hearted. Mytilene is the opposite of that.
Is the music being played on stage?
There are six people in the band, who are extraordinary musicians. They're kind of musicologists, these guy - they know every tune and every style of music in the world, they're really flexible. Which suits the ambitious London multicultural aspect of this play. Those bands know how to react to every bit of music we throw at them.
Then our cameo groups will appear on stage - they call it 'the ashtrays' in the Olivier, the platforms at the left and right of the stage. The Bulgarian Choir and the gospel choir called Faithworks from Elephant & Castle will be on stage performing, and our dance groups will be centre stage performing and they take a big role in our show. Most central to all of this is our community company.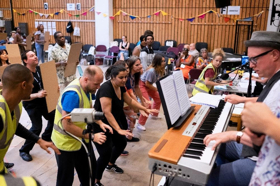 Is it hard putting music to Shakespeare?
I've done a fair bit of that. This has a lot of Shakespeare in it, but it's very much Chris Bush's take on Shakespeare. The lyrics are not from the original text - it's all Chris'.
There's a lyricism and a poetry to the language which, for me, fits nicely with music, and it doesn't need to be sung music necessarily. I think Shakespeare is pretty much a joy for every composer in this world.
What's the biggest challenge you've encountered in this project?
What I've learnt is that the community chorus are extraordinary on one level and just need a whole lot of confidence. It's just repetition and making sure that they begin the next rehearsal as they left the previous one. But they're nothing but a joy, those guys. We're not giving these people the gift of music and theatre - they're showing us their way. They are the heart and soul of this.
Have you been involved in community theatre before this?
I've never done anything quite like this. I've had workshops with young people and older people, but this is the first time I've worked on this scale. It's funny - now, when I'll go to a normal job, I will miss this, the reality that these people give you.
We were trying to work out how to do a ballad and we decided that it would be lovely if this older gentleman in our community company danced with his wife. You could never do that with another project, to have that absolute intimacy and reality on stage. We've got four-year-olds, we've got 84-year-olds... I will miss it hugely. Or demand it in any show I do!
How did you work your way to putting the show on its feet?
From the script, we workshopped it. Two, three workshops, some of which were for the music, while some others were for the script. One was with the band. You do those workshops, you go and see what you think about it, you learn, you rewrite. And then from then on it's a huge amount of time with Emily, Chris and me together shaping it, agreeing, disagreeing... Good old-fashioned collaboration.
Then you've got your rehearsal draft, and there will be tweaks. And it's continuing to be tweaked right now, very small tweaks. There are multiple rehearsal rooms too; downstairs, there's one where they're rehearsing the pirates right now. Divide and conquer!
What have you learnt from this experience?
I've learnt an awful lot about truth and real people on stage. It's not a compromise just because they've never spoken a word or acted before or sung a note. I don't care. They may not have the technical prowess of a West End singer, but they give a perfect character and soul and truth to everything they do. I've learnt the joy of that.
I've learnt a lot about my city. I'm a die-hard Londoner and this project has opened up London to me in a way that I haven't had for years. I'd never seen a ska band in Lambeth or the Bulgarian Choir in Kensington or a gospel choir in Elephant & Castle. I just feel very connected to London.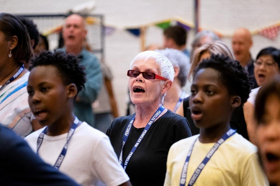 Chris said that writing nearly 200 roles was quite taxing - do you feel that with your music?
I think it's not quite as challenging as it is for Chris. Chris has got to play that numbers game and make sure that everybody's resourced and has a voice of some kind.
I tend to split them up in chunks of people. We worked out that we need 10 pirates? Okay, that's what we'll work with. The big chorus numbers with 130 people to them, I add a couple of harmonies, but it's not quite as detailed a job as Chris's.
How would you describe your personal style of music?
That's a hard question. I respond to every project very, very differently. If the audience aren't moved or they don't laugh... I don't really care about it. I think I'm probably interested in just going for the most beautiful, heartfelt way of telling the story.
Where does the inspiration for your music come from?
If I'm writing the lyrics myself then I always write them first, so it comes from that, from the story I want to tell. When you're responding to someone else's lyrics, you have quite detailed conversations about what might be in their head and they're often not musical conversations at all. They can be, but they can be just "What do you mean with this song?". To get to the depths of the lyrics...
What would you like the audience to take from Pericles?
I'd love them to come out with a massive sense of community and joy and pride in their city, a belief that maybe they could do something like that themselves, and a sense of home. What Chris has done so beautifully is make this play about home. And every time I see it, that's how I feel. I want them to think of home, wherever that might be.
Pericles runs at the National Theatre 26-28 August
Read our interview with Emily Lim
Read our interview with Chris Bush
Photo credit: James Bellorini
Featured BroadwayWorld Events
Check out these concerts...