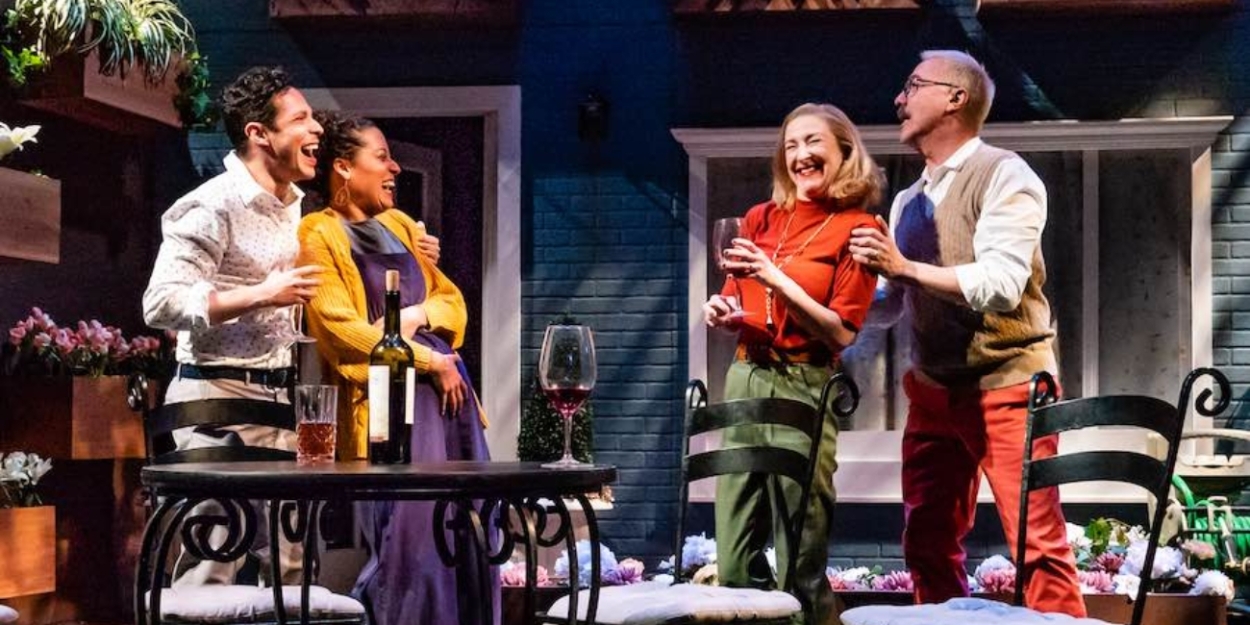 Review: JARDIN SALVAJE (NATIVE GARDENS) at GALA Hispanic Theatre
Spanish language premiere of Karen Zacarias' popular comedy set in DC
A play can't get much closer to its origins than Karen Zacarias' "Jardín salvaje (Native Gardens)" that opened at the GALA Hispanic Theatre.
The frequently-produced comedy is being presented at last in the very NW Washington DC quadrant it depicts - and where the 47 year old theater first started (in a brick townhouse probably not unlike the structures on the impressive set). Its adjoining backyards to a pair of row houses could be anywhere within a stone's throw of GALA's home at the historic Tivoli Theatre in Columbia Heights.
Likewise its city in-jokes, slagging "hippy dippy" Takoma Park at one point, play especially well to knowing local audiences.
As "Native Gardens," the piece had already played D.C. previously, in a 2017 production at Arena Stage, where Zacarias was once playwright in residence. In that staging - as in most of the others nationwide - it involved a young Latino couple who move next door to an older white caucasian couple with an English garden on a leafy historic street.
In a deft adjustment perfect for GALA, both couples are Latino - that big umbrella that gathers Spanish speaking peoples around the world - and adds to the comic conflicts those that sometimes arise from those of different countries.
Hence, the world premiere of Zacarias' Spanish language adaptation makes the elder couple Argentinian and Spanish to the younger couple's Mexican and Mexican-American. Under the direction of Cuban writer Rebecca Aparicio, it's quite a collection of those who are called, to the elder characters' disdain, Latinx (a newer term thrown in for a laugh in the play, though the director's use of the word Latiné in the program suggests this could be mined further).
These differences in their background add to the divisions "Native Gardens" playfully exposes of class, age, party affiliation and gardening styles (organic vs. chemical-dependent).
Mostly it comes down to a more concrete division: the property line between the elders' pristine flower-filled garden and the newcomers' leaf-strewn, full of promise backyard. Seeking to replace a fence in preparation for a company barbecue, the young couple realize the property line is actually a few feet into the flowerbeds of their neighbors, who have been using it for years unaware of where the real line should lie.
The small scale border dispute has real consequences - will it eliminate the older couple's chances of winning the local gardening prize? Can the younger couple do anything but not stand up for their property rights?
That it's played for laughs makes all the underlying conflicts easier to take. As do the talented cast. Alina Collins Maldonado is a bright force as the young, pregnant doctoral candidate with big plans of restoring native species to a well-worn backyard dominated by a beloved big oak. As her husband, Victor Salinas is a driven young lawyer trying to break through racial barriers at work even as he navigates relations with the neighbors.
Across the fence, the elder couple is wonderfully played by GALA stalwart Luz Nicolás, who can be counted on to be the standout comic force in anything she's in, only to have met her match in the expansive, sometimes outrageous Juan Luis Acevedo, a New York- based Puerto Rican actor who uses his experiences on stage and TV to expand his character to its widest extremes. Opening night, it seemed his goal was to crack up Nicolás - and he succeeded.
The splendid, side by side backyards in Griselle González' set are as rich and detailed as they are reassuringly familiar. More than just contrasting backyards, they have to be built to take some tearing up, when the hydrangeas start to fly. Alberto Segarra's lighting, swept by shadows from imagined overhead boughs (from projections by Deja Collins), is indoor lights flicking on or off, solidify the neighborhood feel.
Equally effective is Justin Schmitz' sound design, with dogs barking at night and birds tweeting in the morning (but sadly, no chainsaw roar when Nicolás' character charges her neighbor's oak).
As enjoyable as it is to present serious issues through comedy, it's also a bit unsettling when things wrap up happily and quickly at the end - just as they do in sitcoms. It would have been quicker, too, if the play, presented as a speedy one act in its original version, wasn't cut by an intermission and padded with several mimed comic interactions by a grounds crew of Fabián Augustine, Janine Baumgardner, Edwin Bernal and Lenny Méndez.
While some of their antics are amusing, we can assume some were put in to kill time for costume changes or other reasons to stretch between scenes -- though there were other moments of just dead air between scenes, putting a bit of a drag on what is meant to be a breezy tale.
Of course, this could be some first night adjustment for a production that had already been postponed a few days because of a COVID outbreak, supply chain issues and shortages. GALA executive director Rebecca Medrano said at the outset it was "a minor miracle" it opened when it did.
Also on the learning curve are the English supertitles, which mostly kept up with the snappy dialogue, but sometimes inverted the punchlines if they didn't just lag, meaning some of the audience roared at lines others were yet to receive.
Laughter came one way or another though to an audience that seemed thoroughly tickled by the production from its content if not familiarity (I for one was jotting down names of mid-Atlantic invasive species).
Running time: About two hours with one 10-minute intermission.
Photo credit: Victor Salinas, Alina Collins Maldonado, Luz Nicolás and Juan Luis Acevedo in "Jardín salvaje (Native Gardens)." Photo by Stan Weinstein.
"Jardín salvaje (Native Gardens)" continues through Feb. 26 at GALA Hispanic Theatre, 333 14th St NW, Washington D.C. Tickets available online.