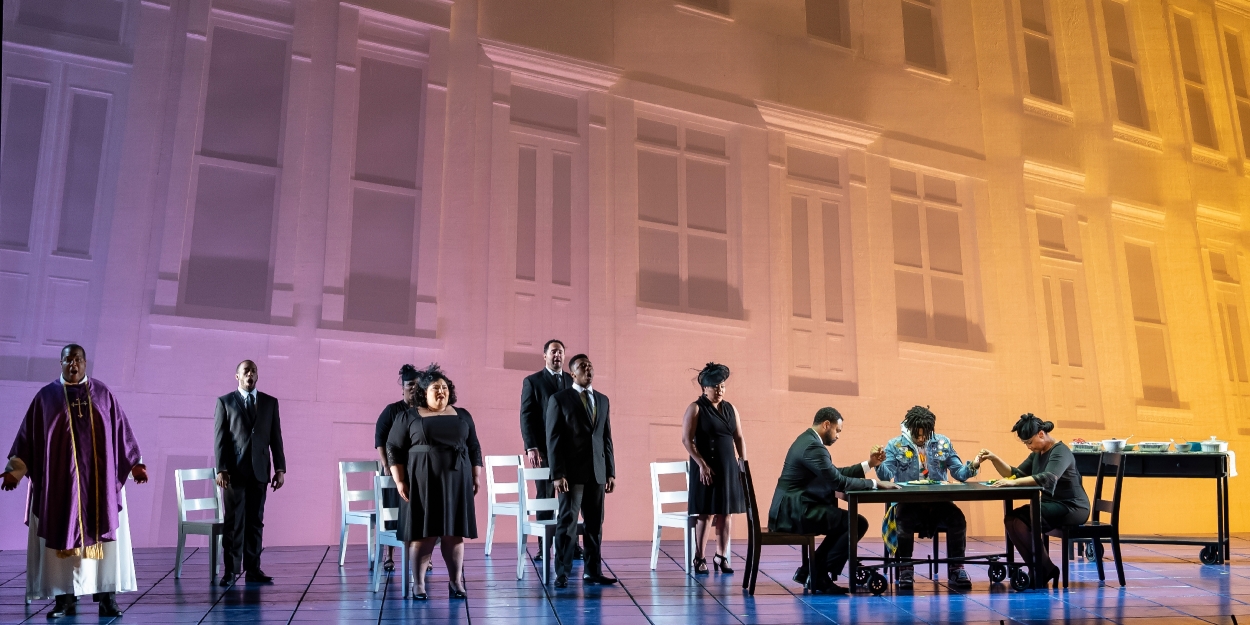 Review: BLUE at Eisenhower Theater
The WNO tackles BLM.
Ten splendid singers perform Blue, an opera with music by Jeanine Tesori and a libretto by Tazewell Thompson, who also directs. Kenneth Kellogg and Briana Hunter skillfully portray a New York City policeman and a Harlem restaurateur--roles demanding both musically and dramatically. Joshua Conyers' soothing baritone brings the pastor of their church to life. Rehanna Thelwell's vivid mezzo-soprano enlivens her work as one of Hunter's character's three "girlfriends." (Kellogg's character has its own trio of "buddies." Their obsession with The Game they watch on TV while their friend tries to tell them about the birth of his son strikes a universal chord and is one of the few light moments in Blue.) Blue is an opera about how terrifyingly dangerous life can be for black men in America.
Thompson's treatment of the plot of Blue resembles Greek tragedy, which is its strength. No guns go off in Blue, and no one dies onstage. Letting the violence happen offstage thickens its power. But the libretto exposes its own weaknesses by only listing elements of black life (collard greens, black-eyed peas, hoodies, tattoos, slave names, Bible texts) without bringing that life to full experience. Because black lives matter, listing their components only minimizes them. Some of the textual silences in Blue speak louder than the actual words such as when Hunter sits paralyzed with grief while her girl group looks after her and when Kellogg silently shakes Conyers' hand, echoing an action from the final moments of Lost in the Stars when Stephen Kumalo decides to stay in his community even if "maybe God's gone away"; Kellogg's character in Blue grapples with very similar loss and estrangement from his faith.
Tesori's score doesn't help. She uses parlando relentlessly along with constant dissonance; while this may make metaphorical sense, it has a numbing effect which keeps the audience out, rather than drawing them in. Tesori has handled difficult subjects before in musical terms (in Violet, Caroline, or Change, and Fun Home) without creating sonic boulders. Briefly in Act II of Blue, she and Thompson create moving and gorgeous canonical hymns, and the talented company soars: too little, too late to sustain deep emotional reaction.
Donald Eastman's simple set design in concert with Robert Wierzel's crafty lighting make a fine environment for Blue. The backdrop of a stately, pre-war Harlem apartment building can shape-shift to indoors when back-lit or to overcast daylight when bled of color. Appropriate furniture provides changes of location, and there's an amazing box of lights when the scene shifts to the pastor's office which evokes every over-lit, overhead, fluorescent office in the world. Jessica Jahn's costumes do more to individualize the characters than does much of the score.
That Blue is not more moving disappoints a contemporary audience which both watches the day's news and knows Porgy and Bess, West Side Story, Rent, Fun Home, Lost in the Stars, and maybe Fire Shut Up in my Bones. Opera as a form can take the weight of the real world and reveal the inner life of the people in it. But Blue drones when it ought to express, blunting its own message and potential power.
Just under three hours, Blue, named "Best New Opera of 2020" by the Music Critics Association of North America, presented in English with English surtitles by the Washington National Opera, runs in the Eisenhower Theater through March 25.
Photo Credit: Scott Suchman