Click Here for More Articles on OPERA - WASHINGTON DC
BWW Review: WNO's Passionate DON CARLO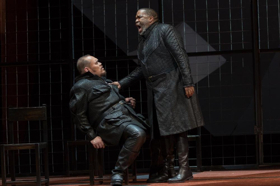 Something may be rotten in the state of Denmark at the Shakespeare Theatre, but across town at the Kennedy Center, turmoil is striking another royal household with Washington National Opera's (WNO) Don Carlo. Giuseppe Verdi's epic opera is being staged for the first time in two decades at WNO and features a sterling cast in a grand production.
While Spain may be at the height of its colonial power in Don Carlo, so are the performances of Eric Owens as Philip, King of Spain; Quinn Kelsey, as Rodrigo, Marquis of Posa; Andrea Silvestrelli, as the Grand Inquisitor; and Jamie Barton as Princess Eboli. In a capital city, such as Washington, brimming with political gossip and intrigue, WNO's production provides us with the opportunity to escape into the grand world of imperial Spain for a story about a family divided over the state of their monarchy.
Whenever one mentions Don Carlo, often the first thing mentioned is the length, and yes, this opera is long. Saturday's opening night performance clocked in at a rousing three hours and 30 minutes with one intermission. But the good news is that this production doesn't feel that long, and Act III is rich with performances and arias that make the opera's length not only permissible, but welcome. So don't let the run time scare you!
Spain's royal court is in turmoil. Don Carlo (Russell Thomas), son of the king, is bereft over the loss of his betrothed Elisabeth (Leah Crocetto). Despite their engagement, his father and the king of Spain, Philip (Eric Owens), has taken her as his wife to create peace with France. Meanwhile intrigue and suspicion run rampant amongst the Grand Inquisitor (Andrea Silvestrelli ) and members of court as Philip suspect's betrayal and infidelity while struggling to deal with unrest in the kingdom of Flanders.
Historically, Verdi's opera was originally performed in five acts. However, numerous cuts and revisions have been made since its 1867 première and WNO's production is four acts, evenly split by an intermission. Joseph Méry and Camille du Locle well-constructed libretto serves dual purposes. The first is to establish King Philip's royal court and Spain's role amongst the European powers. Second, it provides the necessary expository details that allow the third and fourth to crackle with a climax that is riveting. Additionally, Méry and du Locle are successful in never allowing either focus to overpower the other, giving the opera balance and symmetry.
What is not balanced though, and at times quite disruptive, is Andrew Lieberman's set design. Situated on a roughly 15 degree slant, the singular set is meant to convey European opulence along with the trappings of life within the royal court. It is a simplistic approach, but one that fails to convey the grandeur of Verdi's music and the opera's plot. There is seemingly no rhyme or reason as to why the set is situated this way. Additionally, the wire fencing that descends from the ceiling to convey different sections often has the stage resemble a prison. And while the metaphor, that the royal court can seem like a prison, is not lost, we just wished it was displayed with more imagination.
What the set lacks, Director Tim Albery's staging and the cast certainly make up. Owens, whose performance in WNO's 2015 production of The Flying Dutchman dazzled me, is introspective, pragmatic and pensive as Philip. His beautiful bass voice shines in Act III's aria in the king's study which finds him pondering Elisabeth's love. He and fellow bass Silvestrelli are dynamic together when Philip meets the Inquisitor to seek spiritual guidance. In this scene we see Philip's paranoia to retain the throne while not disparaging his divine spiritual advisor. Silvestrelli's performance commands the power and authority of a cleric, with the drive that Spain's monarch not do anything foolhardy.
As the titular character, Russell Thomas is a subdued Carlo, often appearing over-consumed by his character's grief. We don't get a sense of dynamism from him, and while Thomas is a wonderful tenor, his is the only character who we wish gave a richer performance.
Providing the evening with its greatest performance though is Quinn Kelsey as Rodrigo, Don Carlo's friend. What makes his Rodrigo successful is the split loyalty to Don Carlo and service to the crown. We see the struggle, the selflessness, and gravitas in Kelsey but more than that, we see the honor of his character. This is no more apparent than in his scene with the king where he pleads for leadership in Flanders. There is passion and emotion, all the elements that make great opera moments and a phenomenal operatic performance.
The lovely mezzo-soprano voice of Jamie Barton gives the evening some of its lighter moments. Her Act 2 aria showcases the range of Verdi's score from light to foreboding, all masterfully played thanks to conductor Philippe Auguin.
If there is one aspect of Don Carlo that cannot be overstated it is the scope of this production. The sheer size of this production, combined with the magnificence of the orchestra and the chorus and depth of performances, bring alive the grandeur of Verdi's score. And even though the set is hit or miss, watching the machinations of King Philip and his court will hold you in suspense. So if you want to see something epic, do not miss Washington National Opera's Don Carlo at the Kennedy Center.
Runtime is three hours and 30 minutes with one intermission
Washington National Opera's Don Carlo runs thru March 17 at the John F. Kennedy Center for the Perofrming Arts - 2700 F St NW, Washington, DC 20566. For tickets -please call (202) 467-4600 or click here.
Photo: Quinn Kelsey and Eric Owens. Credit: Scott Suchman.
Related Articles