Review: Thought-Provoking and Stunning KING JOHN at Folger Theatre
Political legitimacy and enduring human connections are at the forefront of a gorgeous and spare King John at the Folger Theatre. In the assured hands of Helen Hayes Award-winning director Aaron Posner, and with a dynamic and gifted cast, the production makes a powerful case for bringing King John off the shelf and onto the stage far more often.
"King John has many wonderful gifts, including remarkable characters, brilliantly evocative language, moving scenes, and it speaks to the complicated realities of governance," said Posner in written production notes. The director, marking his 20th Folger production, lets each of these gifts shine. And, he helps modern audiences enjoy the play by adding a brief prequel to usher us in, giving context and a reassuring approachability. We are quickly grounded in the relationships among the characters and in our place in history.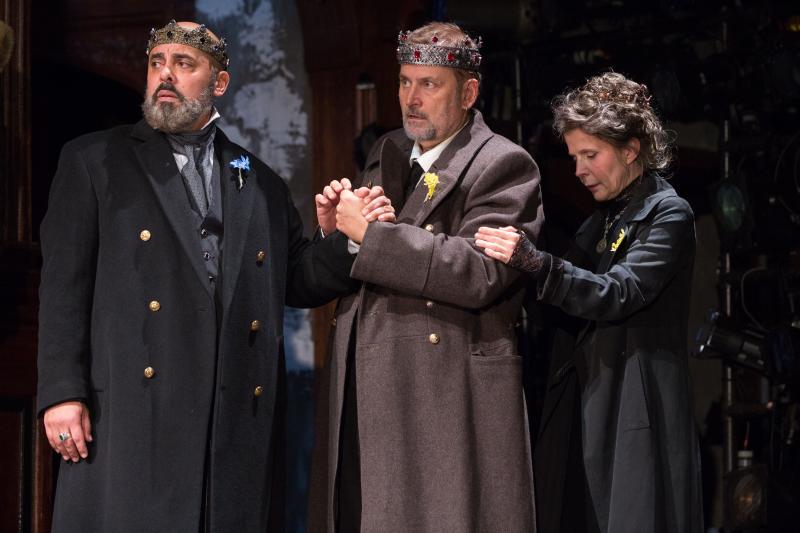 Shakespeare takes us back to the Middle Ages, to the time of the Crusades and Magna Carta. John, son of Eleanor of Aquitaine and Henry II, came to power after the death of his older brother Richard the Lionhearted (and with the additional deaths of a few other intervening brothers and heirs to the throne). John's grip on the throne is tenuous. His claim is soon challenged from within the Plantagenet line, and from outside. The King of France supports the claims of young Arthur, John's nephew. The production, through Posner's lens, digs deeply into flawed leadership and the relentless pursuit of power, juxtaposed with abiding love and raw human emotion.
While the first act is political machinations, the second act is comprised of more personal vignettes of familial connection, power, future, loss, and fear. The brilliant cast makes great work of both.
The play is anchored by three tremendous actors-different in their strengths and approaches, but equally compelling: Brian Dykstra as the uncertain and unraveling king, Kate Eastwood Norris as the astute and observant Philip Faulconbridge "the Bastard," and Holly Twyford as young Arthur's fierce and tragic mother, Constance.
The King John ensemble is filled with memorable turns. Kate Goehring is an imperious and razor-sharp Queen Eleanor. Megan Graves brings a touching innocence to Arthur, groomed for politics but too young to know the lengths to which others will go for the crown. Elan Zafir as Hubert is notable with his heart-rending indecisiveness between conscience and duty. Howard W. Overshown's hubris and power grounds his Philip, King of France. Akeem Davis as Louis the Dauphin, and Alina Collins Maldonado as Blanche of Spain, bring energy and charisma to the young couple that is advantageously matched to cement an alliance. Sasha Olinick pompously stirs up trouble as Cardinal Pandulph. Brian Reisman (Robert Faulconbridge and others) and Maboud Ebrahimzadeh (Austria and Salisbury) complete the skillful cast.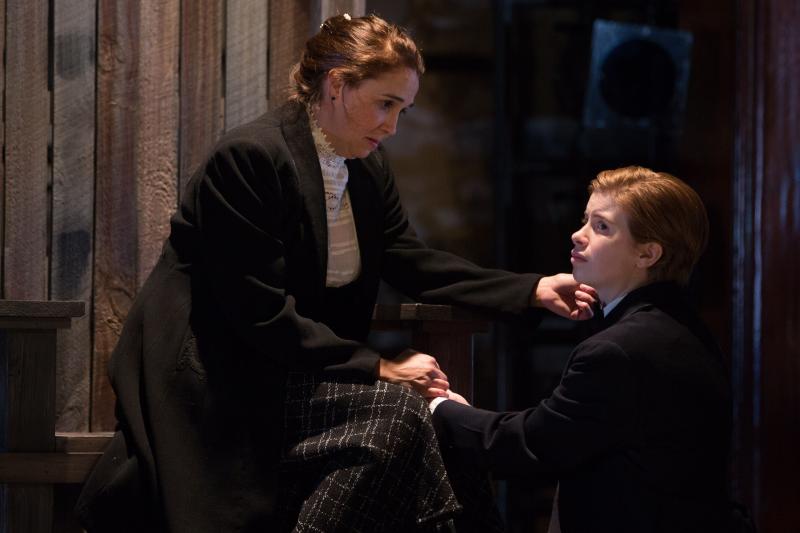 Posner keeps the pace and energy high, with action coming off the stage and into the house. War scenes borrow some of Shakespeare's most memorable lines from the entire canon, reminding us of the ageless and universal agony of battle; lines delivered quickly from one harshly up-lit face to another. In contrast, Constance's unraveling as a mother in despair, or Arthur's bargaining with Hubert, are closer In Focus and have a simmering depth and power in their pain.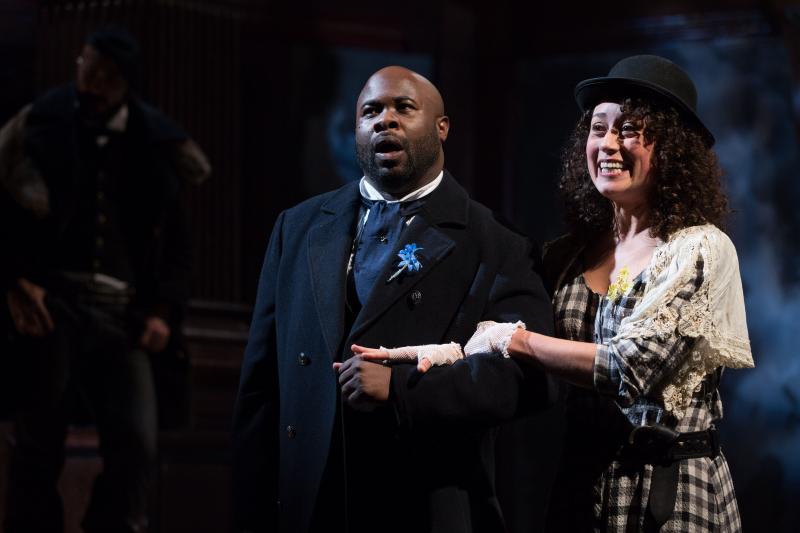 The design elements are potent and spare. Set, lights, sound, and costumes all exhibit a subtle and deft touch; there is nothing fussy or extraneous. The centerpiece of Andrew Cohen's scenic design is a simple hewn wooden throne sitting on a slightly elevated wooden platform. Cohen works with the Folger's traditional Elizabethan theater, leaving most unobscured. Benches surround the stage's pillars. Walls appear to be patched and layered plaster. Floating above it all like a chandelier is a giant metal crown, askew. Lighting instruments are incorporated into the design. Max Doolittle's design uses these lights in startling and effective ways-sometimes to subdue, sometimes to shock and awe. Battle scenes are nearly dark, punctuated only by the ghostly faces of the actors, lit one at a time. Lindsay Jones created the original music and sound design. Sound often builds slowly and subtly, until we become aware of its presence and meaning. The costumes designed by Sarah Cubbage are stunning. Cubbage uses a limited palette of black, white, and gray, punctuated only by flowers of blue and yellow depicting the rival factions. There is a great eye to tailoring, texture, and detail-padded shoulders to convey stature, lines of military buttons on a coat, a flirty lacy leg, or pants hemmed high to expose a military boot.
Although this is 400-year-old work depicting a reign dating back 800 years it remains deeply resonant today thanks in large part to Aaron Posner's expert direction. Posner has assembled an exceptional cast who bring immediacy, depth, and humanity to the production. The Folger Theatre's King John is an important and captivating production that shouldn't be missed.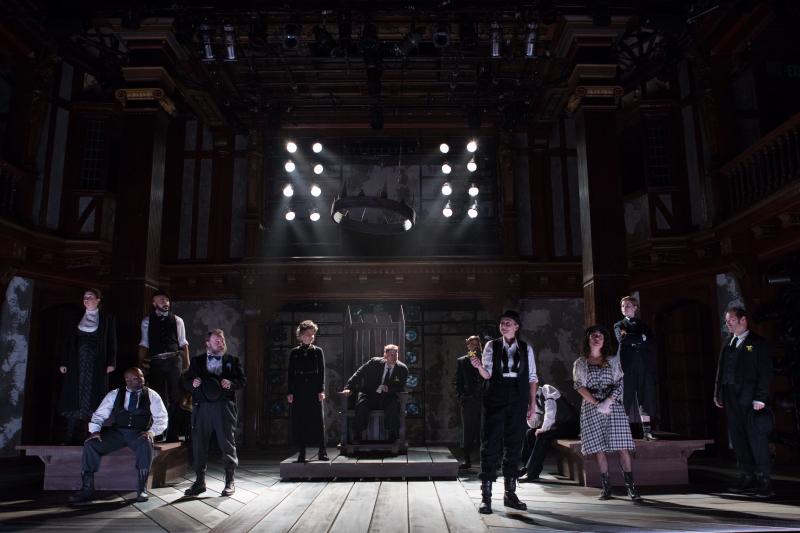 Runtime: 2:30 including one intermission
KING JOHN by William Shakespeare, directed by Aaron Posner, is on stage through December 2, 2018 with performances (select) Tuesdays - Thursdays at 7:30 pm, Fridays and Saturdays at 8 pm, Sunday evenings at 7 pm, and matinees Saturdays and Sundays at 2 pm. There is no performance on Thanksgiving Day, November 22. The production is at the Folger Theatre, 201 East Capitol Street, Washington, DC 20003. Tickets are available online at www.folger.edu/theatre or by calling the Folger Box Office at (202) 544-7077. Information on special performances and supplemental programs are available online at https://www.folger.edu/events/king-john/special-performances.
Photos by Teresa Wood. Top left: Brian Dykstra as King John. Top right (L to R): Howard W. Overshown, Brian Dykstra, and Kate Goehring. Center left: Kate Eastwood Norris. Center right: Holly Twyford and Megan Graves. Next: Akeem Davis and Alina Collins Maldonado. Bottom: the cast of King John.
Pam came to Washington for the politics but instead found a home in its cultural community. For more than 20 years, Pam worked behind the scenes in DC's non-profit theatres as a grant writer ... (read more about this author)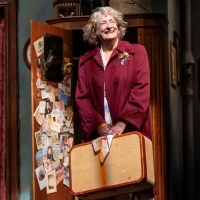 Review: THE TRIP TO BOUNTIFUL at Ford's Theatre

October 2, 2022

The Trip to Bountiful at Ford's Theatre is an incredible showcase for Nancy Robinette, one of Washington's foremost actors, who skillfully drives the production as Mrs. Carrie Watts who yearns to leave the small Houston apartment of her son and daughter-in-law to return to her Texas homeland, Bountiful.
---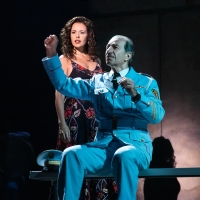 Review: THE BAND'S VISIT at The Kennedy Center

July 10, 2022

What did our critic think of THE BAND'S VISIT at The Kennedy Center?
---
Review: Synetic's lush A MIDSUMMER NIGHT'S DREAM sparkles and pops at Synetic Theater

July 5, 2022

What did our critic think of A MIDSUMMER NIGHT'S DREAM at Synetic Theater? Synetic Theater's wordless A Midsummer Night's Dream is, indeed, a dream to behold. An innovative merging of drama and movement, Synetic's silent exploration of the classic work sparkles and pops. It's full of both belly laughs and tender moments. The power and athleticism of the company along with the lush production elements give a fresh perspective to experience the timeless Shakespearean favorite.
---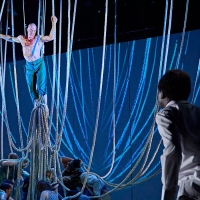 BWW Review: A MONSTER CALLS at The Kennedy Center

May 30, 2022

A MONSTER CALLS, a powerful story of love, loss, truth and self-discovery, is beautifully rendered for the stage. The fantastical tale is highly physical, gorgeous to behold, and packs a potent emotional punch. The production, now touring to the Kennedy Center, was adapted for the stage by visionary director Sally Cookson. Read our critic's review.
---
BWW Review: OUR TOWN at Shakespeare Theatre Company

May 22, 2022

The Shakespeare Theatre Company's Our Town is a triumphant production of vitality, and consequence. Thornton Wilder's classic—a work that captures the universal experience of being alive—takes on new resonance and depth in the capable hands of an extraordinary ensemble. This play is immediate—one to see and share and talk about.
---