Click Here for More Articles on REGIONAL - DC Metro Area Virginia
BWW Review: Synetic Theater's TITUS ANDRONICUS is Beyond Words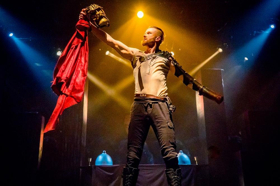 It's strange to think a Shakespeare production could render words unnecessary, but Synetic Theater's most recent wordless Shakespeare play, TITUS ANDRONICUS, gives you the impossible idea that dialogue might ruin the drama. Without speech, and without stage blood, this incarnation of TITUS is a violent spectacle brought to life by impeccable choreography, top-notch acting, and innovative scenic and lighting design (Phil Charlwood and Brian Allard).
This is a classic revenge play. It's not a spoiler to say that it ends with Titus (the dynamic Philip Fletcher) and his daughter Lavinia (the achingly expressive Irina Kavsadze) getting even with Tamora Queen of the Goths (scene-stealing Irina Tsikurishvili) and emperor Saturninus (ruthless Dan Istrate), to determine the future of Rome. This physical theater company conveys the major plot points with ease. A detailed program insert helps with the synopsis and character names. But if that seems too overwhelming to review and commit to memory, know that even those with only limited familiarity with the story will be able to follow what happens onstage.
The grotesque emotions and horrifying interactions are unmistakable. Sprays of blood are illustrated with strategic lighting and flowing scarves, instead of photorealistic gore, but this works beautifully. The ensemble brings forth a shocking combination of color and movement, while the lead actors' pained faces and contorted bodies convey all the melodrama Shakespeare himself could want. Resident composer Konstantine Lortkipanidze's music is relentless and over-the-top - making it completely appropriate for TITUS.
A debate has long existed over the best way to visually present the story of TITUS. Does the use of scarves, for example, romanticize the violence? Does the play lose or gain an edge when its blood and guts appear real? Synetic presents a compelling argument that the absence of stage blood doesn't mean the sense of brutality is lost. I cringed in all the right places. When brothers Chiron (Alex Mills) and Demetrius (Dallas Tolentino) contemplate killing Tamora's baby, represented by a shred of fabric, the tension is palpable. Tamora and Aaron's (Audrey Tchoukoua) forbidden tango summons goosebumps. And the final, cannibalistic scene is as stomach-turning but satisfying as it can possibly be.
Sure, some of the literary nuances are obviously lost in this condensed, verse-less version. However, even the most literary among us should appreciate and embrace this TITUS, which embodies the spirit of what the story should be. Through a series of moving images that burn into your brain, it illuminates madness, horror, war... and isn't that the best of Shakespeare?
Running time: approximately 95 minutes with no intermission.
TITUS ANDRONICUS runs through May 27, 2018, at Synetic Theater, 1800 S. Bell St. in Crystal City, Arlington, VA 22202. Tickets can be purchased at synetictheater.org or by calling (866) 811-4111.
Photo: Philip Fletcher as Titus in TITUS ANDRONICUS; photo by Brittany Diliberto, courtesy of Synetic Theater.