Click Here for More Articles on REGIONAL - WASHINGTON, DC
BWW Review: SHEAR MADNESS at The Kennedy Center Celebrates 30 Years of Killings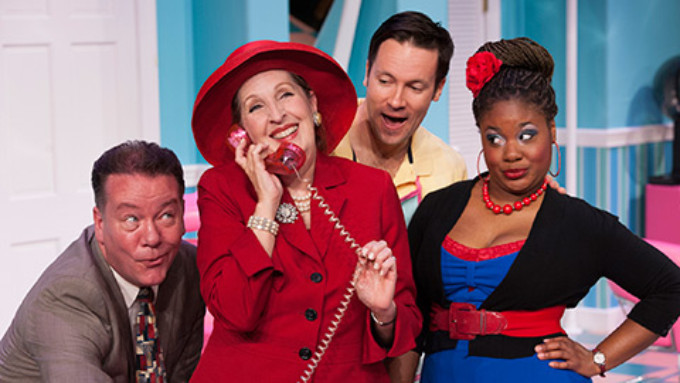 Few productions can claim to be as much of an institution as Shear Madness is to Washington, D.C. Celebrating 30 years at the Kennedy Center, this show has become once of theater's most notorious tourist traps. This comedic caper whose plot can vary wildly each night incentivizes repeat viewings to those who are true converts, proving why more than 3.4 million people have attended this production. And although the stereotype-laden script struggles when viewed in 2018, the immersive whodunnit remains an experience unique enough to justify Shear Madness's continued existence.
Walking into the Kennedy Center's intimate Theater Lab space, it is clear the evening will be a wacky one. The vibrant set decoration (originally designed by Kim Peter Kovac and adapted by Scott L. Hammar) is a treat to look at. Contrasting blues and pinks pop and pull the eyes to a new part of the set every few moments. Coupled with Mr. Hammar's complimentary costumes, the sensory overload is a good primer for the evening.
Set in present-day Georgetown at the Shear Madness salon, chaos is already present from the production's start. The flamboyant hairdresser Tony Whitcomb (Brad Letson, doing his best with questionable material) nearly pulls a Sweeney Todd when he realizes he hasn't shaved a client in years. His co-worker, Barbara DeMarco (Soneka Anderson, in one of the evening's strongest performances) seems apathetic when she ignores a walk-in patron, Eddie Lawrence (Aaron Shields). To top it all off, the rich socialite Mrs. Shubert (a delightful Cornelia Hart) is panicked over her "Donald Trump hair." Very madcap, indeed!
Setting the scene takes about fifteen minutes, and one belabored Hello, Dolly reference from Tony, longer than necessary. Action doesn't pick up until the tenant residing above the salon is discovered stabbed to death. And when detectives Mike Thomas (Zack Powell) and Nick O'Brien (Doug Olear, anchoring the production) note that the killer is still in the building, the whodunnit takes off. But there is one more important character to introduce: the audience.
The middle section of Shear Madness is what makes this the popular attraction it is. Reviewing the previously seen events, Nick asks the "witnesses" (aka the audience) to point out any suspicious activities. This is the one time you should actively hope for a school group to be in attendance at the theater. At Wednesday night's performance, the high school students could barely contain their excitement when interrogations began. Oftentimes, more entertainment came from watching the audience interact among themselves than it was to follow the action onstage.
Such a signature element demonstrates this show's creativity. Nevertheless, much of the action in-scene falls flat. Tony Whitcomb is such an over-the-top stereotype (think Jack McFarland in the original Will & Grace... cranked up a few dozen notches) that he seems out of place now. After all, isn't the entertainment industry pushing to make their spaces more diverse and realistic? If Shear Madness can add jokes about Stormy Daniels, Taylor Swift, and the Tide Pod challenge then why can't it revise problematic material?
Beyond the stereotypical caricatures, much of the dialogue-based humor misses the mark. There's only so many times Detective O'Brien can call a suspect by the wrong name and it still be funny. The slapstick is humorous enough, but high energy scenes like those were few and far between. No matter how entertaining watching the cast run around is, slow-paced scenes of uninspired dialogue were never far behind.
Despite the script's shortfalls, the cast does a noble job elevating the material and commanding an often rambunctious crowd. Younger participants might want to interrogate suspects for hours on end, but audience members hoping for a reasonable bedtime will be thankful for Mr. Olear's time management. As quickly as the audience participation starts, the cast ends it and immediately launches back into scene. The jolt back into performance takes a few moments, however, as many audience members continued talking amongst themselves during the play's conclusion. This can be a little bit frustrating considering the performers can get muffled out easily by unnecessary chatter.
Despite being a mostly enjoyable romp, Shear Madness is far from a work of art. For most patrons in their mid-20s and above, much of the show may disappoint. Being family friendly, however, is always a plus in a city whose artistic juggernauts rarely perform material suitable for teenagers or younger. For a night on the town with young relatives, or even with a large enough group of friends, this show could serve as a suitable choice. Like any salon, there will be customers who don't leave satisfied. Those who enjoy their experience, however, will likely become regular customers.
Running Time: Shear Madness runs approximately two hours with one intermission.
Shear Madness has an open run at The John F. Kennedy Center for the Performing Arts. For tickets through June 10, call (202) 467-4600 or click here.
Photo Credit: Margot Schulman
---
Sam Abney is a Washington, D.C. based arts professional. A native of Arizona, he has happily made D.C. his new home. Sam is a graduate from George Mason University with a degree in Communication and currently works for Arena Stage as a member of their Development team. He is a life-long lover of theater and is excited about sharing his passion with as many people as possible.
To stay up-to-date on reviews from Sam, click here and subscribe to alerts.
Related Articles