BWW Review: SEPARATE ROOMS at 4615 Theatre Company
Silver Spring's 4615 Theatre Company is the little theatre company that could - they grew out of a basement into a full-sized theatre, and have now produced an original play, Joe Calarco's Separate Rooms, to round out their sophomore professional season.
4615 Theatre's previous production of Venus in Fur was wonderful, so I walked into Separate Rooms eager to like it. And I did - well, the first two thirds of it, at least. But I will also say that my disappointments came not from the production, but from the material. Beware, spoilers in the next paragraph - skip it to avoid those.
Separate Rooms opens with an unnamed character reveling in the space in the remote part of update New York where he has secretly built a house to surprise his longtime boyfriend, Josh. Unfortunately, we soon learn that he was killed in a traumatic car accident on his way back to the city for the reveal. We follow him as he observes his sister, Anna, at a gathering in his and Josh's apartment following the funeral - they are joined by Anna's husband and Josh's friend, Bob, and Josh and Bob's old college friend, Melissa, who has dragged along her occasional hookup buddy, Frank (whose presence felt unnecessary and a bit confusing). Their grief manifests in a variety of ways - Anna and Bob fight, Josh seeks solace from a neighbor, Melissa vacillates between comforting others and letting her own anger and grief surface. Janie, another friend from Josh's college days, eventually joins, stirring up old disputes and bringing her own guilt for not visiting frequently enough to have met Josh's long-term - and now deceased - partner. ((SPOILER)) All interpersonal disputes, however, are put aside when a mysterious guest, pulls a gun on the group. In the struggle to disarm her, Janie is shot, and briefly crosses over. It is here that things start to fall apart: until this moment, the show was a great display of how love and loss can affect a group of people - it balanced the raw emotions of the moment with the very human need to push on. When Janie is shot, we believe she is being given the lost opportunity to meet her friend's boyfriend and reveal the home he built (since it is mentioned, rather oddly, in more than one conversation that no will was left behind). Instead, after their meeting, we are treated to an incomplete flashback; Janie cannot remember what was said during her last reunion with Josh, so she is told to improvise, but it's clear that what she says is colored with regret and loss rather than any useful hindsight. When she returns, it's not clear how badly injured she is, but it is clear that no one has bothered to call for an ambulance as Bob argues on the phone about the need for police. The mysterious woman is revealed to have been a coworker who was treated kindly by the deceased; somehow, this is supposed to be his legacy, yet it seems cold comfort that his legacy, which he worried was the dissolution of his sister's marriage, will be that he was once kind to an unstable woman who is now going to be imprisoned for attempted murder. The ending feels as though the characters - and the audience - have been cheated of a profound or realistic ending.
For a show that seems to be, on its surface, about what we leave behind, so much of the focus is not on the deceased character, or even his bereaved sister, but on this group of friends he was loosely linked to through his partner (I say "loosely" since the group is clearly its own, established entity that he and his sister never fully integrated into, particularly since they didn't even meet one of its members until the events of the show). While I personally agree funerals are more about the living than the dead, this show still takes it a bit to the extreme, in which the deceased is almost inconsequential, except as a catalyst for this group of friends. Maybe that's why he seems fixated on what he left behind; it's unfortunate that what he has left behind bears very little connection to who he seems to have been.
My issues with the plot aside, the cast and crew deserve tremendous credit for their work. The talented cast successfully portrays the very real and very complex ways people process grief and trauma; in particular, Jen Rabbitt Ring's Anna is heartbreaking, and her breakdown over the urn in the bedroom is one of the most realistic and heart wrenching moments I've seen in a play. Josh, played with such rawness and vulnerability by Stephen Russell Murray, makes you want to climb on stage and offer him a hug, and Alani Kravitz's brash Melissa brought a wonderful balance of emotion and humor to the show. The rest of the cast creates a group dynamic that is easily believable as the result of over a decade of friendship; the cast works well together as an ensemble, and pulls off an intimacy that really shines. Even during the fights (coordinated by Fight Choreographer Matthew Castleman and Intimacy Director/Gun Wrangler Jonathan Ezra Rubin).
Jennifer Hiyama's scenic design also deserves admiration - the movement of set pieces to transition between rooms and the afterlife was clever and artful, and the pieces themselves were striking while remaining simple. Director Jordan Friend also deserves credit for wrangling such a large group into such a smooth production, and for managing to help the show balance such heavy topics with humor and grace.
Despite some story arc issues, 4615 Theatre Company's Separate Rooms is a touching, intimate, and funny insight into humanity. Just drive carefully on your way to see it.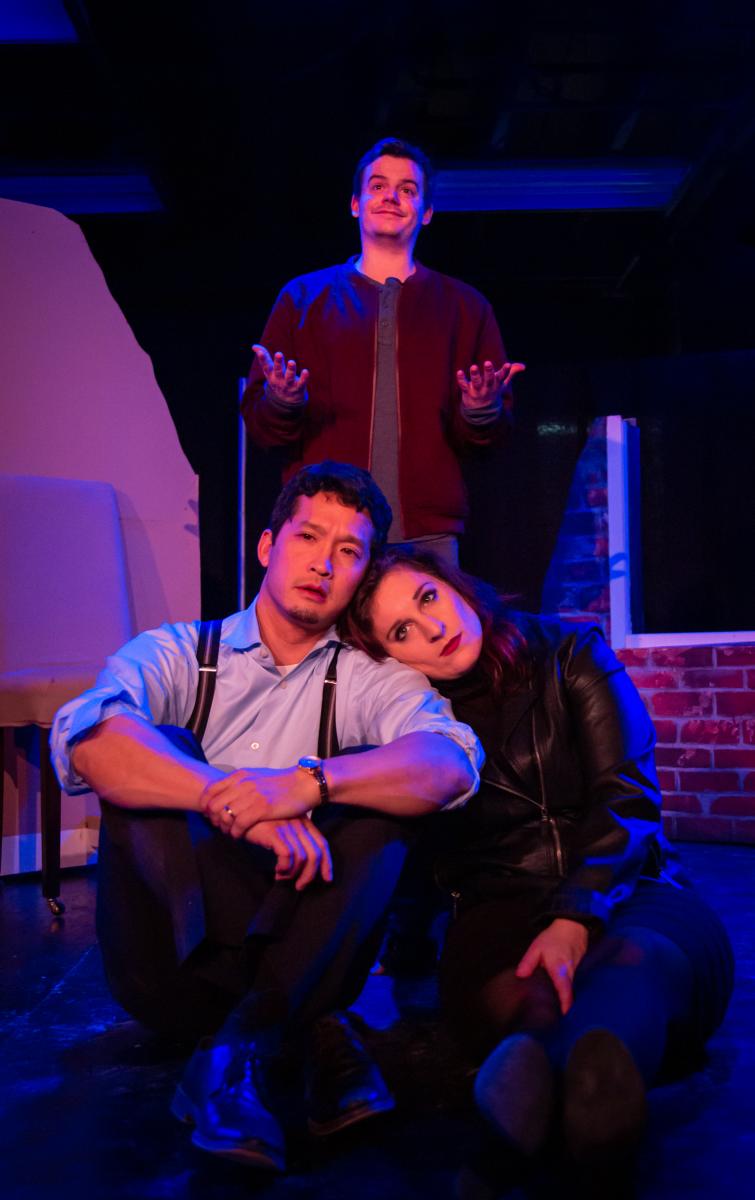 Separate Rooms is playing at the Highwood Theatre through March 17th. The show runs approximately 95 minutes with no intermission, and contains strong language, adult content, and all that other fun stuff that's great for adults only.
Photos courtesy of Ryan Maxwell Photography.