Review: Outstanding Acting Propels WSC Avant Bard's TOPDOG/UNDERDOG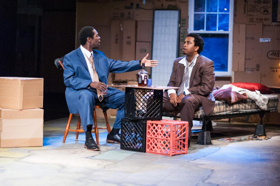 A con job maybe at the heart Topdog/Underdog, but there's no fooling around with WSC's Avant Bard's production of Suzan Lori-Parks' Pulitzer Prize winning play. Featuring two of the best performances I've seen all year in Louis E. Davis and Jeremy Keith Hunter, and with direction by DeMone Seraphin that will make your heart race, the story of two brothers and the card game that bonds them will have you on the edge of your seat.
Two things everyone wants in life are confidence and success. Now, whether one comes before the other is a kin to the chicken or the egg, who really knows. For brothers Lincoln (Jeremy Keith Hunter) and Booth (Louis E. Davis), in this modern retelling of the biblical fable of Cain and Abel, the card game of three-card monte is more than just a way to steal from unsuspecting suckers, it is a fight for dominance.
Now, to state the obvious, yes, Parks has a reason for naming the characters after our 16th president and his assassin. In fact she has a few reasons.
For starters, Lincoln works in an arcade where he is an Abraham Lincoln re-enactor. Interestingly enough, he only gets to reenact the president's tragic final moments. That being said, Lincoln is a reformed-con artist who went back to honest work after his right-hand man on the streets was shot and killed.
Booth, by contrast is a grifter, a hustler, and a compulsive stealer. Ironically, he's the one with the apartment, girlfriend, and who Lincoln comes to live with after his wife left him. So with that setup, Topdog/Underdog makes you think, who's the sucker - the hard working stiff or the hustler?
They poke and prod each other fueling a sibling rivalry where one is always on top, and the other? Well you get it, hence the play's title. In Topdog/Underdog, Lincoln and Booth have more than just the atypical brotherly bond. Hunter and Davis give their characters a swagger, style, and flair that emulates the very street life that comes to define their personalities. Together, they are giving the best performance I've seen all year.
As the older brother Lincoln, Hunter initially has some of the traits we have come to associate with Honest Abe. With a rich voice, his Lincoln is hardworking and the more mature of the brothers. He emanates a genuine care and sense of pride for having left the street life, and that creates an empathy, immediately drawing you to his Lincoln.
In contrast, Davis' Booth has a playful, mischievous side. As the younger brother, he captures the sense of awe he has for his brother, but also some of the jealousy he harbors. We may think we know where Hunter's Lincoln stands, but with Davis' Booth it is anyone's guess.
Parks uses this inherent tension to fuel the play. Like most sibling relationships, there is a constant game of one-upmanship, as if they're still trying to play favorites for their parents, who have long abandoned them. That relationship only grows in intensity as we learn what happened to Lincoln's marriage and Booth's girlfriend, and when they try to see who of the two is better at coning the other in three-card monte. Suddenly, the con is no longer just a game, but a deep internal battle of souls fighting for dominance.
Hunter and Davis dig deep. Their nuanced performances capture every emotional and intellectual element in Park's intelligent script. They understand that Lincoln and Booth represent more than just brothers, they represent the lifestyle choices and conflicts that everyone faces. We see the dignity of work with Hunter as his character goes to work day-in and day-out, and yet we also see the easy-living apathy of Davis' Booth who seems content to lie, steal, and cheat for whatever he needs. His Booth has medicine (Jack Daniels), stacks of pornographic magazines and a bed, who could want anything more?
Perfectly capturing the pace of street life, the heart racing action of a perfect con, and the annoyance that is sibling relationships is DeMone Seraphin's direction. He has Hunter and Davis stalk the stage like lion's in a cage, leaving the audience waiting for them to strike.
Nephelie Andonyadis' set design is quite ingenious. Immediately upon walking in, the audience gets a feeling - we know that Lincoln and Booth are not homeless, but yet live in a less than desirable situation. A reference to their apartment not having a bathroom gives that away. So cardboard boxes line the walls of Andonyadis' set, while milk-crates come to serve as a table, chairs, and most importantly, the board for three-card monte.
Lighting plays a key role in this production thanks to John D. Alexander whose design captures the inner turmoil, rage, and ambition of both men. With a series of sharp colored filters, the lighting serves as a gateway into the inner turmoil filling both in a way that enhances Parks' words, Hunter and Davis' acting, and Seraphin's direction.
Seventeen years have passed since Topdog/Underdog won the Pulitzer Prize for Drama and it seems as fresh and fast now as when it first debuted. The fact that WSC Avant Bard's production features some of the finest performances seen this year, only makes an outstanding evening at the theatre even better. For once, being conned is all it is cracked up to be. Now, pick a card, any card...
Runtime is two hours and ten minutes with one intermission.
Warning: Features adult language and situations.
Topdog/Underdog runs through April 14 at WSC Avant Bard - 2700 South Lang Street, Arlington, VA 22206. For tickets please click here.
Photo: Jeremy Keith Hunter and Louis E. Davis. Credit: DJ Corey Photography.