Click Here for More Articles on REGIONAL - DC Metro Area Maryland
BWW Review: JUNIE B. JONES IS NOT A CROOK at Adventure Theatre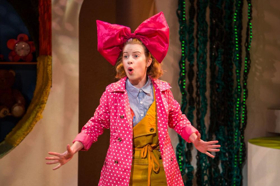 WOWEE WOW WOW!! Junie B. Jones and all of her friends are inhabiting Adventure Theatre this summer for a fun-filled tale of missing gloves, true loves, and fast feet. Fueled by a super colossus performance from pint-size dynamo Megan Graves in the title role and helmed by master director Rick Hammerly, Junie B. Jones is Not a Crook proves that you can enjoy a Theatre for Young Audiences (TYA) show at any age.
The lesson-filled script is written by Allison Gregory and based on the popular series of books by Barbara Park.
When you are a kindergartener everything is a big deal. For Junie B. Jones, whose real name is Juniper Beatrice (Megan Graves), this couldn't be truer. In her head, clowns are not normal people and roosters can peck your head into a nub. With thoughts like that at age five it's no wonder that when she expresses her affection to a boy named Warren (Elliott Kashner) he thinks she is a nut ball.
Junie has two friends named Lucille (Sophie Schulman) and Grace (Natasha Gallop). Lucille is energetic and peppy and Grace possesses the fastest feet in any county thanks to her parents giving her a pair of sneakers with lightning bolts on them.
Junie's other classmates in classroom nine are Ricardo (Chris Galindo) and the class meanie Jim (Marquis Gibson). Junie's teacher in simply called Mrs. (Jessica Lauren Ball) and she has tons of patience with her students. You need it with a student like Junie B. Jones.
Junie can't get enough of the pair of fuzzy gloves that her Grandpa Frank (Keith Richards, yes that is his real name) gave her. She wears them everywhere, including to school. However, Mrs. has to take them away from her when they become a distraction during class. Ultimately Junie's gloves go AWOL. Mrs. sends Junie to the office (a common occurrence apparently) to see if they made it into the lost and found box set up by her principal (also played by Richards). In the meantime, Ricardo has lost his favorite pen. It is one of those multi-color ones that you might remember having multiple tabs on them to change the color. Junie finds it by the water fountain and, for a while, considers keeping it because in her head, finders keepers, losers weepers. After one of Junie's epic nightmares that involves jail time, I'm happy to say good sense prevails and all is right again in the world of Junie B. Jones.
The production elements create the immersive and super spectacular world that Junie and her friends inhabit. Douglas Clarke's set includes school swings, monkey bars, and all types of toys for the décor. It's bursting with bright colors. The set is enhanced by Jason Arnold's terrific lighting. Eric Able's eye-grabbing costumes include Junie's signature huge hair bow and an outfit for the school secretary that is something out of a horror movie.
Performance wise, everyone knocks it out of the park, but for me there are two standout performers.
Natasha Gallop as the fast-footed Grace personifies the kind of friend we all wanted to have growing up. Her preshow warm up gives us five seconds to find various objects all over the set.
To say that Megan Graves is a whirlwind as Junie B. Jones would be a huge understatement. Her performance includes throwing herself on the ground and running every which way. The energy pouring off of this young lady is awe-inspiring. On three show days, I don't know how she does what she does.
Other high-end performances include Jessica Lauren Ball as Mrs. and Junie's Mom. Two distinct characterizations put forth by an enchanting actress.
Elliott Kashner as the heartthrob Warren gives us that dreamboat persona that makes the young girls swoon.
I very much enjoyed Sophie Schulman as the high-energy Lucille and Keith Richards in the dual roles of Grandpa Frank and Principal. Marquis Gibson and Chris Galindo, as Jim and Ricardo, also deliver great performances in their supporting roles.
Director Rick Hammerly has given us a hugely fun and educational experience. I always say theatre is meant to educate as well as entertain and Junie B. Jones is Not a Crook definitely does both. The lessons of doing the right thing and making the right choices are front and center while giving the audience an eye-popping treat with tons and tons of energy.
Walk, run, fly, take the Ride On 29 bus, or do whatever you have to do this summer to get to Glen Echo Park and Adventure Theatre's production of Junie B. Jones is Not a Crook. No need to rent a kid if you don't have one. Regardless of age, just go and enjoy.
Running Time: 65 minutes with no intermission.
Junie B. Jones is Not a Crook runs through August 14, 2017 at Adventure Theatre which is located at 7300 MacArthur Blvd (Glen Echo Park) in Glen Echo, Md. For tickets, click here