Review: Folger's Ambitious Restoration MACBETH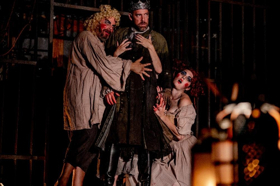 You might think the notion of updating, altering or otherwise changing the setting of Shakespeare plays is strictly a modern development.
A vivid historical work at Folgers Shakespeare Theatre shows it's been going on for hundreds of years.
Back in the Restoration Era, when the theaters were finally reopened after an ordered shutdown during the English Civil War, dramatic styles internationally had shifted sufficiently for leading director Sir William Davenant to infuse "Macbeth," then only 60 years old, with all manner of alterations.
Suddenly, the witches didn't merely cackle about double, double, toil and trouble, they sang about it.
That women were allowed in the casts (rather than men in dresses) added some realism. But Davenant was confident enough in his skills to trim some Shakespeare speeches, add more scenes, especially between the Macduffs, and otherwise infuse what was long known as "The Scottish Play" with his own verve.
A success in its time, there seems to have been little reason to revive his Restoration Era version of the play since the 18th century, until a international group of Shakespeare scholars got together four years ago to begin discussing what it would have been like.
The resulting "Macbeth," then, is the culminating event of the international research project Performing Restoration Shakespeare, funded by a $250,000 grant from the Arts and Humanities Research Council in the UK and Queen's University Belfast.
Yet it's much more vibrant than a mere study would have been and comes with its own twist - it's set just outside the clanky bars of London's notorious insane asylum, whose very name gave became a descriptive word for craziness: Bedlam.
There, the actors are trotted out by jail keepers, dirty and in rags, muttering, laughing to themselves or too shy to even look up. Instructed to perform, they do, and though the jail doors clang in entrances and exits, the madness makes way for an impassioned, typically anguished "Macbeth" that is at once familiar and new for all of the changes.
The asylum certainly explains the existence of the witches (Rachael Montgomery, Emily Noël and the disarming Ethan Watermeier in a dress and menacing grin), who hang around much more than they used to.
Their singing and solos are accompanied by the terrific live music of the Folger Consort, playing harpsichord, strings and bagpipes as needed, but always providing a tense undertow of sound in the dark screeches of the bow to string as the dark action unfolds. With musical direction by Robert Eisenstein, the sextet is as historically accurate as the action on stage, using John Eccles's 1695 score, augmented by works from Henry Purcell, Matthew Locke and others. As such, "Macbeth" is as much a musical event as a theatrical one, with a cast under the direction of Robert Richmond, that is at the top of its game.
Ian Merrill Peakes shines as the titular king, flattered by the promised rise to the crown, but shattering under its weight and the blood it brings. Kate Eastwood Norris' Lady Macbeth is less scheming than most versions, but is still brought to madly scrubbing her hands.
The emphasis on the Macduffs (Chris Genebach and Karen Peakes) is welcome and interesting; the two actors bring a human quality to a work of naked ambition. It adds a lot that there is a hollow-eyed youth cavorting in the action in young Owen Peakes. (And to have three members of a single family in the production is an unusual delight).
Tony Cisek's stage design makes the most of the kind of rag-tag curtains that would be thrown across the stage at an asylum, with Andrew F. Griffin's moody lighting, dependent on low lanterns make way for haunting shadows above them. Eventually the action takes up the entire theater, as the madness grows.
There's more of a political focus in Davenant's "Macbeth," and that it is taking place literally in the shadow of the Capitol adds an intensity the makes the work riveting and immediate to today even as it takes exacting steps to show it it might have been presented 350 years ago.
Running time: Two and one half hours, with one 15 minute intermission.
Photo credit: Ethan Watmerier, Ian Merrill Peakes and Rachael Montgomery in Folger's "Macbeth." Photo by Brittany Dilberto.
"Macbeth" plays the Folger Theatre, 201 East Capitol St SE, through Sept. 23. Tickets at 202-544-7077 or online.