Click Here for More Articles on REGIONAL - DC Metro Area Maryland
BWW Review: DICKENS'S DAVY COPPERFIELD at Imagination Stage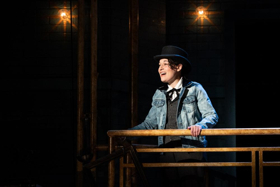 Over the years, Charles Dickens' works have been turned into many stage and film adaptations. I'm sure we've all seen A Christmas Carol or Oliver Twist in one form or another. While both are set against some bleak backdrops, they feature some larger-than-life characters that make them ripe for theatrical presentation.
David Copperfield doesn't have an Artful Dodger or a Scrooge and therefore may not necessarily be as engaging for a mainstream audience. A Broadway musical called Copperfield back in 1981 only lasted for thirteen performances.
Imagination Stage's Artistic Director Janet Stanford and the very talented DC-based composer/lyricist Timothy Guillot have made a valiant effort with Dickens's Davy Copperfield - currently playing in rep with Anatole: Mouse Magnifique at Imagination Stage in Bethesda, MD - to make the material palatable for the stage. The show features a freely adapted book by Stanford and a delightful score by Guillot. Stanford also directs and Guillot is the production's musical director and orchestrator.
As you might remember Davy Copperfield (Sophie Schulman) had it bad right out of the womb. His Aunt Betsey (Jessica Lauren Ball) always wanted his mother Clara (Alexandra Palting) to have a girl. Upon finding out the child's sex, Betsey decides she will have nothing to do with him. Did I mention Davey's dad passed away before he was born? Clara then marries the all too controlling Mr. Murdstone (David Schlumpf) who promptly sends Davey away to boarding school. Davey always had a love of reading ever since he read with his mom and their maid also named Clara (Emily Kester). Unfortunately, when his mother passes away, Mr. Murdstone sends Davy to work in a bottling factory. Davy loves his host family the Micawbers, but they unfortunately are forced to leave London due to debts. This leaves Davy alone again. Ok, that's enough doom and gloom for now.
Stanford's adaptation is well written but doesn't necessarily grab the attention of the target audience. It certainly didn't at my performance. Some things are just meant to stay on the page.
I have always enjoyed the work of Tim Guillot. After all, this is the guy that very successfully musicalized The Agony and Ecstasy of Steve Jobs. My gripe with this show is that there aren't enough songs. This is more of a play with music rather than a full-blown musical. That's too bad because Guillot's songs give the show a well needed punch. Songs like "Will I Be the Hero" and "Alone in the Dark" really help tell the story and really nails the characters musically.
Stanford assembled a very talented cast and there are some very strong performances to be sure.
Sophie Schulman has plenty of heart as our hero Davy Copperfield and definitely carries the show. Emily Kester also gives a strong performance as the maid Clara. I expect nothing less from one of the area's best. Jessica Lauren Ball also makes a strong showing as the heartless (or so it seems) Aunt Betsey.
David Schlumpf gives an appropriate "you just want to throttle him" type of performance as Mr. Murdstone.
Alexandra Palting (as Davy's mom Clara) and Jaysen Wright (in various roles) throughout come off shining as well.
The production elements are of a high quality and exactly the kind you expect to see at an Imagination Stage production.
Andrew Cohen's unit set captures the bleakness of Dickens' world. Katie Touart's period costumes are spot on and Max Doolittle's lighting is appropriately moody. Justin Schmitz works his sound design magic yet again.
The team at Imagination Stage should be very proud of the work they have done with Dickens's Davy Copperfield but in the end the source material put them in a no-win situation.
Running Time: 75 with no intermission for school performances. 90 minutes with one intermission for public performances.
Dickens's Davy Copperfield runs through March 31, 2019 in rep with Anatole: Mouse Magnifique at Imagination Stage, which is located at 4908 Auburn Ave, Bethesda, MD. For tickets, click here.
Related Articles