Click Here for More Articles on REGIONAL - DC Metro Area Maryland
BWW Review: CINDERELLA at Imagination Stage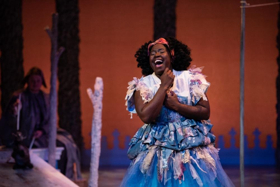 The story of Cinderella has been presented in many forms throughout the history of entertainment. Each has enchanted audiences of all ages. There was the classic Disney cartoon, the Rodgers and Hammerstein television adaptation that has since become a stage musical, a few television remakes, and the famed London pantomimes. No matter which version of the story you've seen, there is something about a common girl's quest for true love that gets us every time.
Imagination Stage's season opener brings yet another new twist to the story of Cinderella. In this case, it's all about the shoes.
Cinderella (Awa Sal Secka) is a common girl living with her stepmother (Evan Casey) and stepsisters Temperance (Angeleaza Anderson) and Grace (Amanda Leigh Corbett). Her stepmother and sisters always attend the annual winter ball, but Cinderella cannot attend because she doesn't own a pair of shoes. Her stepmother has told her that her feet are an unusual size and therefore no pair of shoes will fit her feet. As we know from other retellings, things are not always what they seem to be.
Prince Jason (Jay Frisby) and his assistant Wesley (Michael Wood) meet Cinderella when they happen upon her house after they get lost on their way back to the palace. I think you know what happens next. With the help of Godmother (Tracy Lynn Olivera) and a rat turned human named Ratford (Chris Stinson) Cinderella gets her wish to go to the winter ball in a beautiful dress with an equally gorgeous pair of shoes. I think you've got enough plot so now it's time to talk about this production as a whole.
The adaptation by Alyn Cardarelli (also the lyricist) adds a few new twists to the story. Aside from the shoes being even more important than before, Cinderella has some backbone to her. She actually stands up for herself a few times. Wait till to see the fancy fight work by Tuyet Thi Pham.
Secondly, Director Kathryn Chase Bryer's choice to make the stepmother a male is a double plus. It pays homage to the London pantomimes where men commonly play women. More importantly, it heightens the tension between Cinderella and her stepmother.
Then there is the way we meet Godmother. She starts off as a silverbird puppet and then magically appears with wind chime wand and all.
The score written by Alyn Cardarelli and Steve Goers (Music) features some nice tunes and clever lyrics. One of my favorites would have to be the stepsister's "The Prince Has Got it Bad (But Not For Me)". Awa Sal Secka's "A Barefoot Stepdaughter's Lament" is another standout moment. Musical Director Elisa Rosman's work is superb. The singers sound great and are in perfect sync with the production's recorded music track. I do wish, however, that the track didn't sound like something from 1995, complete with unnatural sounding synth strings and brass. I haven't heard MIDI sounds like that in a very long time. I'm well aware the average six or seven year old wouldn't be bothered by this, but I'm ornery sometimes when it comes to that sort of thing.
Scenic genius Paige Hathaway winter-themed set proves yet again that she is one of the area's best designers. You have to see how the ballroom staircase is represented. It is minimalist yet grand.
Ivania Stack's costumes range from opulent to appropriately dowdy. Any designer that can make Evan Casey look good in a dress and high heels gets my vote. Her dresses for the stepsisters are pretty incredible too.
William K. D'Eugenio's excellent lighting and Joseph Payne's sound completes the design package.
Performance wise Awa Sal Secka definitely carries the show as our heroine Cinderella. With her strong singing voice and matching acting talents you're rooting for her from beginning to end.
I have often said that Tracy Lynn Olivera can read the phonebook and it would be special. Anytime she is onstage it's a definite plus for a production. Her performance as Godmother is no exception.
Angeleaza Anderson and Amanda Leigh Corbett, as the spoiled rotten stepsisters Temperance and Grace, show exactly what happens when bad parenting skills prevail. They are both deliciously annoying.
Chris Stinson is snazzy looking as Ratford in his top hat and (wait for it) tails. A little godmother magic goes a long way.
Michael Wood has an evil edge to him as the prince's assistant Wesley. You'll have to see the show to understand why. The reason is not what you may think.
Jay Frisby as Prince Jason makes the perfect love interest for Awa Sal Secka's Cinderella. They look so cute together.
What can I say about Evan Casey as Stepmother? His performance is subdued and passive aggressive at times. In other words it's a different and brilliant approach to the character. Did I mention he looks great in high heels and a dress?
As an added bonus, check out the new interactive lobby where your kids can view costume pieces and write down who they think helped Cinderella.
Cinderella at Imagination Stage hits big. Put it on your holiday viewing list for sure.
Running Time: 65 minutes with no intermission for school performances. 80 minutes with one intermission for public performances.
Cinderella runs through January 6,, 2019 at Imagination Stage, which is located at 4908 Auburn Ave, Bethesda, MD.
For tickets, click here.
Related Articles