BWW Review: BRIGHT COLORS AND BOLD PATTERNS at Studio Theatre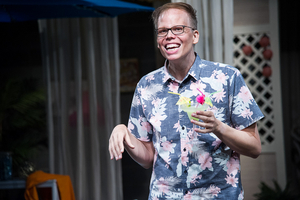 Gerry is the kind of guy who arrives at a party like an explosion, talks a mile a minute, has an opinion about everything, exudes outrageous hilarity and hardly lets anyone else get a word in. With him around, why even cast other characters at the party?
So Drew Droege's "Bright Colors and Bold Patterns," a one-man show dressed for summer at Studio Theatre, is a one-man show (even at a time of one-man overkill at Capital Fringe).
Droege, known for his online impersonations of Chloe Savigny, originated the role off-Broadway with big name actor Michael Urie directing. Replacing him there was the engaging rapid-fire wit of Jeff Hiller, familiar from popping up in shows from "30 Rock" to "Unbreakable Kimmie Schmidt," who renews the role in pink shorts and floral shirt at Studio (Urie, conveniently playing Hamlet this summer a couple of blocks away as part of the Shakespeare Theater Company's Free for All, directed here as well).
Bursting with funny lines and cutting asides, Hiller directs his nonstop monologue to a couple of deck chairs alongside a Palm Springs pool and does so so realistically we can almost picture his two hapless listeners are lounging, nodding their heads (and probably laughing a lot). One is an ex-lover who brought his much younger new flame, and Gerry is out to make a big flamboyant impression at first.
The occasion is the marriage of another friend, whose parents sent out an invitation intending to tamp down the imagined excess of a gay wedding, asking guest to avoid clothes with the kind of bright colors and bold patterns that provides the title of the piece.
Hiller wags the offending invitation like good prop humorist and goes off on a family that would seek to beige-down such nuptials. There's a reason that in the pride rainbow there is no color khaki, he says.
Both Droege and Hiller are products of Upright Citizens Brigade, who can expertly match timely zingers with terrific timing for full comic effect. Hiller's body language, from a raised eyebrow to arms fluttering wide, also helps make him a character one can't easily ignore.
Ultimately, as so often happens at these kinds of evenings that begin so super-charged, there is a come down. Here, it comes after a series of blackouts involving cocaine, dancing and much more liquor, as Hiller falls into a dark confessions and self-doubt.
The play, unfortunately has the same trajectory, its concluding march to poignancy undermining the comic heights of the first half. By the play's end, it's sunrise on the day of the wedding in question and one wonders whether the night's events were even worth it.
Still, the energy and zest at the start of "Bright Colors and Bold Patterns" - and how well it's done by everyone involved make seeing the work as refreshing (and sometimes as salty) as one of the umbrella-festooned margarita he downs.
For a one-man show, Dara Wishingrad has created a detailed Palm Beach poolside (where he can also recede and fix another drink), while technical director Jeffrey Martin does what he can to reflect shade of the unsparing desert sun and reflections of the pool.
As there is for the other selections in the Studio's summer Showroom series of which this is a part, a full bar has been installed. And we're spared too much realism - the theater space, where seats have been replaced by cabaret tables, is air conditioned.
Running time: About 80 minutes, no intermission.
Photo credit: Jeff Hiller in "Bright Colors And Bold Patterns" at Studio Theatre. Photo by C. Stanley Photography.
"Bright Colors and Bold Patterns" runs through July 28 at Studio Theatre, 1501 14th St NW. Tickets online.