BWW Review: American Ballet Theatre Delivers a Simple HARLEQUINADE
When the American Ballet Theatre came to Washington, D.C. last year, they served up a delectable Whipped Cream at the Kennedy Center. In 2019, the company has returned with a similarly infectious Harlequinade which, even when viewed independent of Whipped Cream, never reaches the technical heights expected of such a revered company. At Tuesday's performance, the murmurs I overheard at intermission were largely mixed with one audience member calling the dance "enjoyable but so thin it was like looking through cellophane." Harlequinade is a fun evening-but it plays more as an introduction to ballet then as a truly triumphant production.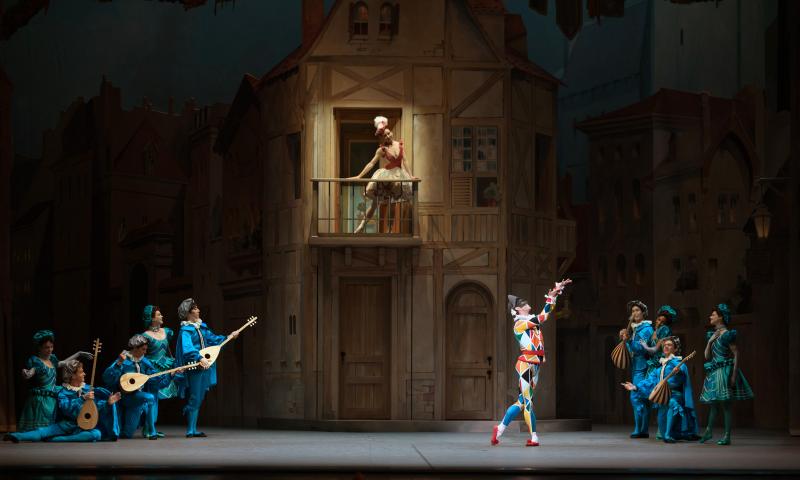 The plot unfolds in stereotypical Commedia dell'arte style with mischief, mayhem, and romance galore. Columbine (Isabella Boylston) and Harlequin (James Whiteside) are deeply in love but are thwarted by her father-keeping her locked away in a tower so she can marry a wealthy suitor. Thankfully, the poor boy is granted aid by the Good Fairy, who bestows wealth upon him and enables he and Columbine to pursue their romance. The second act is where their wedding unfolds without much conflict but with a series of divertissements that give the dancers a chance to demonstrate their technical prowess which, unfortunately, is largely missing from the evening.
As Harlequin, James Whiteside provides many of the evening's highlights. In an act-two solo, Mr. Whiteside dazzles in a short combination accenting his athleticism, flexibility and stage presence. It's a shame that the number is so short as each move is more thrilling than the last when he is dancing. The rest of the company are on an even level, although Thomas Forster certainly stands out for his comedic turn as Pierrot. For all his comic stylings, however, Mr. Forster is never really given an opportunity to demonstrate his own technical abilities.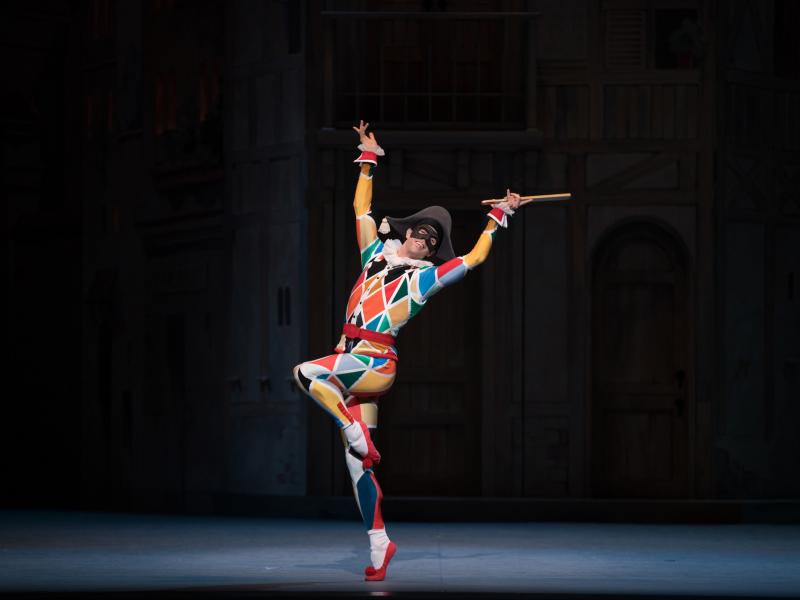 And the lack of technicality is the biggest issue one can take with Harlequinade. The evening is enjoyable for sure, but the performance feels less like a ballet than an extended miming or silent comedy show. I was consistently chuckling during the first act, but I don't remember being particularly wowed by any combinations during that time. Even when the dancing picks up at Harlequin and Columbine's act two wedding, there is such an emphasis on wedding guests and young ensembles that the most experienced dancers in the company are never given a real opportunity to stretch their legs (pun intended) and dazzle the audience.
Even while the dancing proves hit-or-miss, the production design for Harlequinade is a consistent delight. Commedia dell'arte is consistently revered and celebrated in every set piece, prop, and costume that finds itself on the stage of the Opera House. Robert Perdziola has evoked so much inspiration from classic comedies that the costumes almost feel lifted directly out of a stage comedy. In fact, if it weren't for the pointe shoes, these could be used in any Commedia dell'arte production. Similarly, Mr. Perdziola's set design has evoked the grandeur of classic ballet while giving a softer touch to avoid the pieces from being a too-grand behemoth.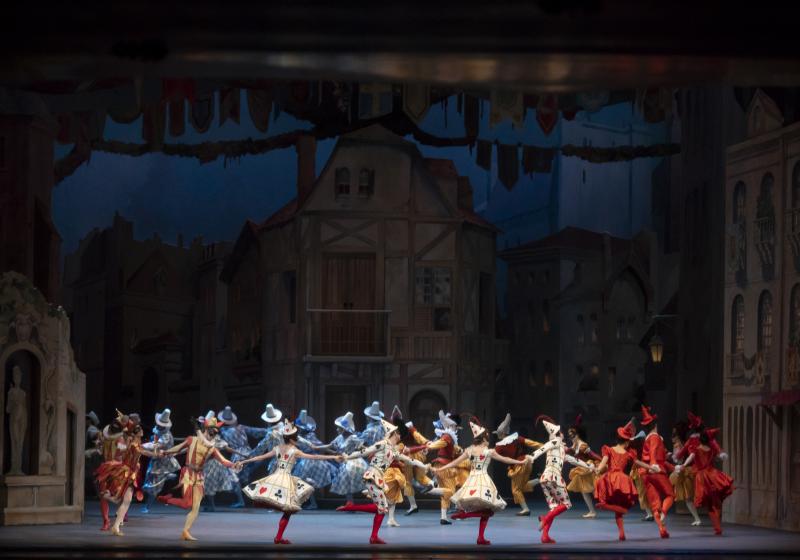 The only technical aspect that seemed out-of-place was the lighting used in act one. Yes, the scene takes place at night and lighting design by Brad Fields accounts for this with a wash of blues and complimentary cool colors. This decision, however, causes much of the vibrancy from the costumes to be drained and limits the effectiveness of the entire design. When the scene is brightened in act two, proper reverence can be given to the impeccable design. It's a shame that the first act didn't have the same vibrancy of light reflected in the light and breezy costuming.
Obviously ABT is a force to be reckoned with in the ballet world and the precision and poise of their entire ensemble is proof of that fact. At the end of the day, however, Harlequinade is a ballet that isn't worthy of their immense talents. If you love ballet and have friends you would like to introduce to the art form, this would likely be a good production for them to enjoy. But if you're looking for high athleticism and technicality in your ballet you're better off waiting for ABT's return in the 2019/20 season.
American Ballet Theatre's Harlequinade is playing at the Kennedy Center's Opera House through Sunday, February 3. For tickets and more information, click here. For additional information about the Kennedy Center's ballet programming, click here.
---
Sam Abney is a Washington, D.C. based arts professional. A native of Arizona, he has happily made D.C. his new home. Sam is a graduate from George Mason University with a degree in Communication and currently works for Arena Stage as a member of their Development team. He is a life-long lover of theater and is excited about sharing his passion with as many people as possible.
To stay up-to-date on reviews from Sam, click here and subscribe to alerts.