Click Here for More Articles on REGIONAL - WASHINGTON, DC
BWW Review: AIDA at Constellation Theatre Company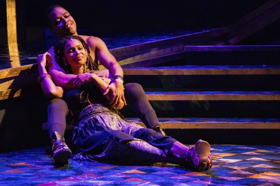 Over the past few years DC's Constellation Theatre Company (CTC) has branched out from its mostly classical offerings by presenting a few musicals. They include the blockbusters Avenue Q and Urinetown and one lesser known entity - the Andrew Lippa version of The Wild Party. In all three cases, the shows fit perfectly into CTC's home at Source.
As for the company's latest offering, Elton John and Tim Rice's Aida, the question becomes whether or not it's possible to take a large-scale musical with a big story, sweeping score and - at least on Broadway - a grand production design and strip it down so that it works just as well (if not better) in a black box theater. Upon seeing the show, I would suggest the answer is both yes and no.
The book by Linda Woolverton, David Henry Hwang and the show's original director Robert Falls is focused on a love triangle between an Egyptian soldier named Radames (Jobari Parker-Namdar), the Nubian Princess turned slave who he falls in love with named Aida (Shayla S. Simmons), and the Pharaoh's (Kaylen Morgan) looks-obsessed daughter he is promised to marry named Amneris (Chani Wereley). The relationship between Aida and Radames - the slave and the captor - is not acceptable and if the two were to be found out, there would be serious consequences. If Radames marries Amneris, he is sure to become the next Pharaoh as Amneris' father is in bad health. Against this backdrop of war and conquest, Aida and Radames must decide whether their love is worth the numerous costs. Aida, in particular, must decide whether to act on her feelings for Radames or do what she can for her people.
I mentioned that the production succeeds in some ways but not as much in others. I'll start with the good.
If Aida doesn't have a strong Aida and Radames you are basically sunk going in. CTC's production boasts Shayla S. Simmons and Jobari Parker-Namdar and we shall thank the gods for that.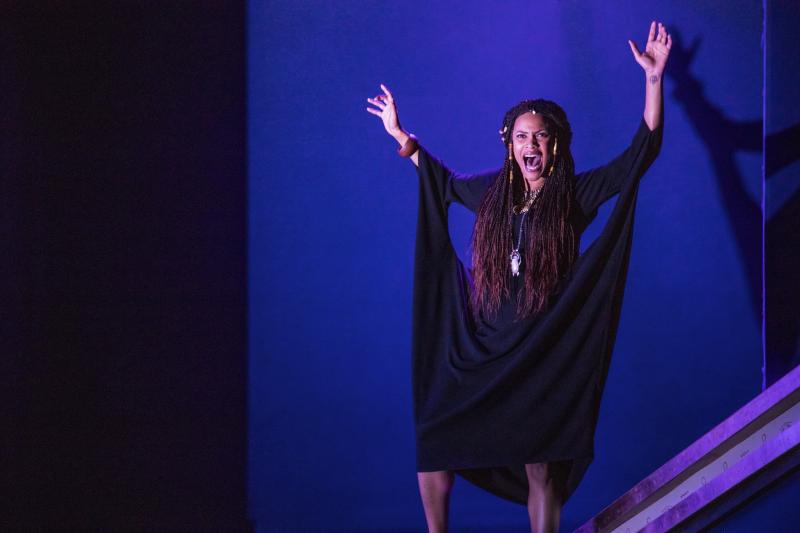 Ms. Simmons stops the show cold with "Easy as Life" in the second act. Her strong presence commands the stage throughout. The chemistry between her and Parker-Namdar in one of the big love duets ("Written in the Stars") is palpable and the vocals are first-rate. The same can be said for their rendition of "Elaborate Lives" although I was perplexed that the night I attended the song got no applause. I almost started it myself.
Parker-Namdar is vocally commanding in such numbers as "Fortune Favors the Brave." With his portrayal of Radames, this young talent proves that he can compete with any leading actor type in town.
Greg Watkins, as Radames' father and Chief Minister Zoser, delivers another one of the production's standout performances. His big song, "Another Pyramid." is a definite highlight.
Unfortunately, the same cannot be said for Chani Wereley as Amneris. Her performance on opening night was underwhelming and she lacked the pure power needed to put over Amneris' two big numbers "My Strongest Suit" and "I Know the Truth." The character is written as being very much into herself, and in my opinion, the character needs to be larger than life. Wereley just isn't that - at least on the night I attended.
The ensemble delivers Tony Thomas II's choreography with a lot of energy. It also delivers vocally.
I highly revere director Michael J. Bobbitt and I admire what he has done to bring this version of Aida to fruition. However, I actually wonder - with Source being a flexible playing space - if the show would have looked a little less cramped in another configuration. That said, I don't fault Bobbitt or set and lighting designer A.J. Guban for this at all. It's clear Bobbitt worked really hard to get the show looking good and he should be very proud of the outcome. I'm sure his partner Steve Miller is beaming. I just feel that with such a big story to tell the show needed a little more space to breathe.
Now, I understand space limitations and budget when it comes to orchestra size. On Broadway, Aida had a fifteen-piece orchestra. You obviously can't fit that many players into Source, but I do feel that Musical Director Walter "Bobby" McCoy could have done more with what he had to get a bigger sound for the show's orchestrations, which are quite sweeping in sections. With only two keyboards, percussion, bass, guitar and a lone reed player (playing six instruments) the music is missing that extra 'oomph.' To be clear, McCoy (Conductor/Key 1) Marika Countouris (Key 2/Associate Musical Director), Mila Weiss (Flute, Alto Flute, Bamboo Flute, Oboe, English Horn, and Alto Sax), Jaime Ibacache (Guitars), Jason Wilson (Bass), and Manny Arciniega (Drums and Percussion) are all fine musicians. I just wish there were more of them. The lack of any string instrument and French horn makes the score sound small and it's not.
Overall, though you have to applaud all involved with Constellation Theatre Company's production of Aida for putting everything they've got into this production. With Bobbitt's staging and two strong leads in particular, this Aida might not have the scope, but has a lot of heart.
Running Time: Two hours and fifteen minutes with one intermission.
Aida runs through November 18, 2018 at Source, which is located at 1835 14th St. Washington DC. For tickets, click here.
Related Articles