BWW Interview: ON YOUR FEET!'s Christie Prades Talks Playing Latin Music Icon Gloria Estefan and Upcoming Performances at Kennedy Center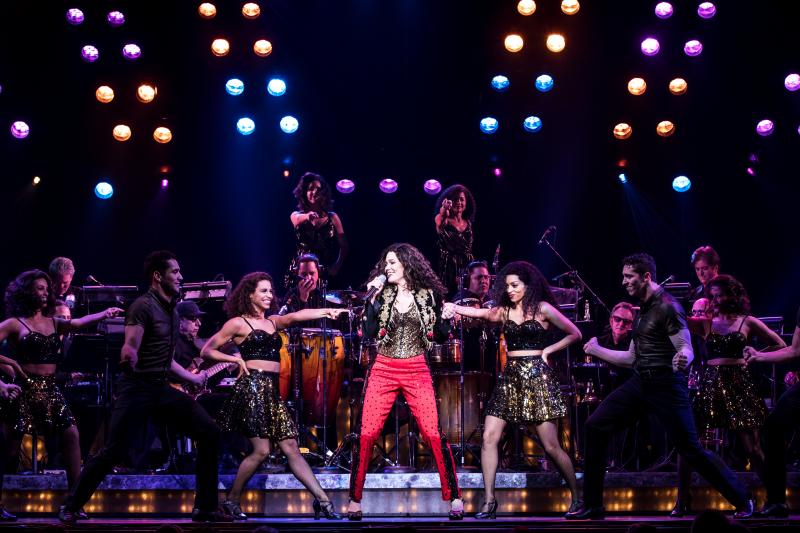 Christie Prades is no stranger to ON YOUR FEET! She understudied the role of Gloria for the Broadway production and also took on almost every other role at some point throughout the production as a swing. She is also no stranger to the stage, with past regional credits including IN THE HEIGHTS (Vanessa - BroadwayWorld Award winner), WEST SIDE STORY, and THE D*WORD. Ms. Prades graciously took time out of her schedule to answer some questions about playing the legendary Gloria Estefan and how her Cuban-American background plays a prominent role in her portrayal of Gloria.
Here's the exchange:
How does it feel to be playing one of the biggest Latin music icons on stage and telling her story?
"It's such a tremendous responsibility but I'm so appreciative, I'm so honored and honestly grateful to play someone that in all respects I've looked up to growing up. Especially being from Miami and being Cuban-American, I definitely grew up listening to her music as if it were a Bible...I [found] her [to be] such an inspiration and such a role model to me growing up...an example of who I could be. So I definitely feel excited to portray this individual. I...have to pinch myself once in a while because it feels kind of crazy that I get to call myself Gloria Estefan for two and a half hours, eight times a week. But it's wonderful, and I'm definitely appreciative..."
You've been involved in the entertainment industry for a long time, but how did you prepare for this specific role? Did you feel like your Cuban-American background gave you a deeper understanding for the role?
"I was definitely spoiled in the sense that I got to portray someone who kind of makes me go back to my foundation, which is my family...my culture...my upbringing...Miami...everything that I know. Being part of the music industry and part of the Broadway world, we always feel like we have to embody something totally different other than ourselves, so getting this role and getting to play Gloria, I feel like it brings me back to one, it brings me back to just being myself and being as honest as possible as a human being. And as a Cuban girl from Miami, it's honestly the best feeling in the world to...get to just be myself on stage. It's such a breath of fresh air...this is a role that I get to just kind of be me while being Gloria. Being me is being Gloria, so I think that's a beautiful thing to say."
What have you enjoyed most playing Gloria and what have you found most challenging about it?
"The best part about playing Gloria...I get to live my dream for two and a half hours in the sense that I get to be this global superstar. Everybody already knows the music and one of my dreams has always been to have songs sung back to me from the audience and when I play her, it's beautiful to get to go to different cities and everybody in all these cities is singing these songs back. I see them mouthing it and I get to live that dream that I've always wanted [to fulfill] since I was a little kid. So I get to see that every single night, which fuels me for the next show. The most challenging thing [about playing Gloria]: she's very much alive....a lot of people know her as well as Emilio so this isn't a musical where we're playing people who have passed or are no longer with us where...the actors have to kind of figure it out on their own. This is an individual that is...very approachable, so a lot of people get to know her. And her sound is so specific, so it always has to be up to par....people are coming here to listen to that sound to see if [the individual playing Gloria] 'either has it or she doesn't, there's no way around it'. So the most challenging thing is to keep that in mind and to always remember that as much as I want to sing like how I sing, there's an individual with a specific sound that needs to be executed. I wouldn't say it's the most challenging because I've had a lot of time to work on it, but it definitely is, as far as doing the show eight times a week, [a consistent challenge], [as well as] making sure that everything feels new, that it sounds right, and that it's portrayed in the best light and as accurate as possible."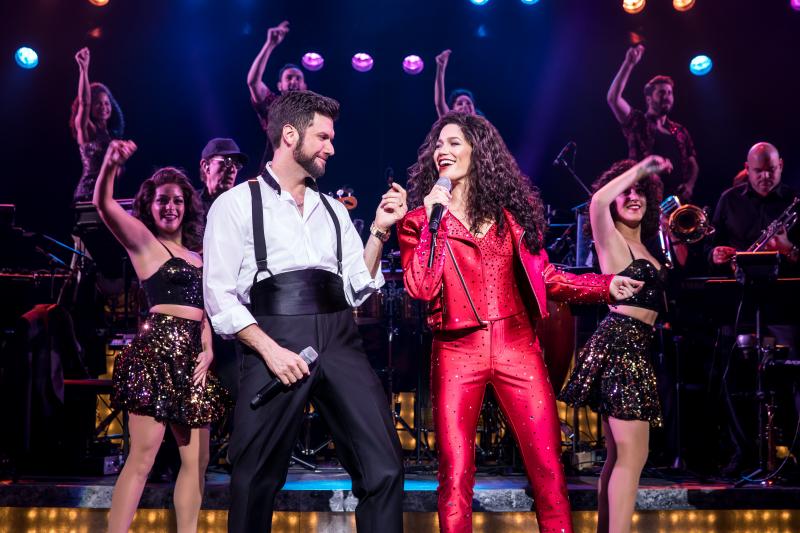 What can audiences expect from ON YOUR FEET! and what do you hope they feel?
"I definitely hope they feel, as far as for [the role of] Gloria, a sense of this woman, [who] yes, is a global superstar, [but] I hope that they see that she is [also] a human being like us....She went through her struggles. There is a person who went through tribulations,..struggles with family,...[and] struggles in trying to break that barrier for all of the present Latin artists as well as other French, Italian, [and] German artists that are coming into the English market. [The Estefans] are the pioneers that really built that foundation for all of us, so I hope [audiences] get that reminder, but that they also see that throughout that process, [Gloria] was also a human being and she was also someone who was going through issues...just like all of us. I hope that [audiences] get to see a sense of that regular person going through these very big challenges. She wasn't ready for all [the challenges] at the time. So you definitely get to see her uncomfortable and see her...breaking through her own head and I hope that people get a sense of seeing her as comparable [to] us."
What does being a proud Latina mean to you and how do you hope to inspire other Latinas by sharing the story of the Estefans?
"In a sense I did, but I never really thought I'd be the one to be inspiring others, which is really lovely. I...hope that for at least Latin artists...they see that there is opportunity, that there is a chance for our voices to be heard. We're sharing this story that is very much needed now, to be shared around the world and around our country....I hope that by us sharing this story and this light around the nation, Latinos from all over the country especially.... [in places like Greenville, South Carolina, for example], where there is a very small population of Latinos....we get to be that voice and I get to be that voice for these people...so it's nice to have that reminder [that they also have a voice] come straight to them. And I just want them to know that there's a shot for us. We're so capable and we're so talented and people love who we are. They love our culture, they want to learn....so I want to be that example of... 'I'm here, [so] you can be here too'."
What's your favorite song by Gloria Estefan?
"It's so hard to choose! If there was...a top 3, because I can't choose one: Get On Your Feet is always inspirational to me and I get so hyped just hearing it. 1,2,3 I think is fantastic as well, every time I hear it I get so excited and I love Wrapped. It's one of the songs in the show. I love it in English but I love it even more Spanish, it's called Hoy, which [means] "today" and it's so beautiful. I also like Tradición....[and] Mi Tierra brings me back to home. [I also like] Con Los Años Que Me Quedan which [translates to] 'the years that I have left' [and] is a beautiful love song that is [in the show] as well."
ON YOUR FEET! will play at The Kennedy Center for the Performing Arts - 2700 F Street NW, Washington, DC 20566 - from January 9th until January 28th. Tickets can be purchased here, or by phone at 202-467-4600.
Interview Icon: Christie Prades as Gloria Estefan, Adriel Flete and Company; ON YOUR FEET! © Matthew Murphy