Click Here for More Articles on Stream Now
UP, UP, UP & AWAY! is An Online, Interactive Children's Show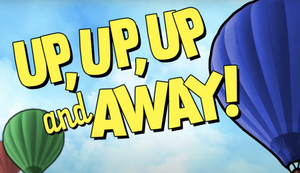 A group of actors from a London cooperative agency, City Actors Management, have come together to form a new company, with the goal of telling stories, entertaining children, and finding new streams of income after the industry shut down overnight.
Their live, interactive Zoom theatre show, Up, Up, Up & Away! is currently being performed in partnership with Oxford's Creation Theatre, and the Carriageworks Theatre in Leeds, both in schools and to the public.
The show expands the capabilities of the medium, combining new technology (Zoom) with traditional theatrical forms - puppetry, original music, illustrated backdrops, magic - to bring the story of Captain Calamity and his able Apprentice flying off on an adventure in their big blue hot air balloon to life. It puts the audience at the heart of the experience, engaging families at home who have lost out on the active participatory engagement that theatre allows, and telling stories in new, fun, and innovative ways.
The company's overarching goal is to continue building their 'virtual tour', whereby regional theatres can make a digital offering to stay connected to their audiences whilst their building is closed. This is a new way of producing that combines elements of the traditional tour, with a highly accessible new approach to sharing theatre with audiences who have a preexisting relationship with their venue.
Amidst the chaos and uncertainty of recent months, the brilliant receptions we've had with critics and audiences alike displays the resourcefulness of artists to create work even in the direst of circumstances, and keep the magic of theatre alive using new technologies. We risk a mass exodus of talent from the industry if this is not supported, and need to continue making work that proves the value of theatre, and maintains the live, community and participatory joy fostered by being in a shared act of complicit storytelling.
Cast:
The Apprentice: Ryan Duncan (The Tempest, Alice, Creation Theatre; Play in a Week)
Captain Calamity, Timoflea, The Great Zucchini: Rowland Stirling (Hobgoblin Theatre; Mating in Captivity)
Creative Team:
Writer and Live Vision Mixer: George Rennie (English Theatre Company; Mating in Captivity)
Music Composition and Performance: Jessica Dives (Selladoor; Eastern Angles; Grosvenor Open Air Park Theatre)
Dramaturgy:
Mark Collier
(The Handlebards; Blunderbus; The News Revue)
Creative Development Producer: Katy Withers (Boxtale Soup; Hammerpuzzle)
Executive Producer: Grace Alexander-Scott (Animalcolm, Story
Pocket Theatre
; Educating Rita, English Theatre Hamburg)
Puppet Animation:
Ryan Duncan
Background Design: Alex Wood and
Wilson Smith
Marketing Design: Neil McNair Box Office: Creation Theatre: 01865 766266 |
boxoffice@creationtheatre.co.uk
https://www.creationtheatre.co.uk/whats-on/up-and-away/
Carriageworks Theatre: 0113 376 0318 |
boxoffice@leeds.gov.uk
https://www.carriageworkstheatre.co.uk/whats-on/family/up-up-up-and-away/6297