The Belgrade Theatre Announces a Season of Live Music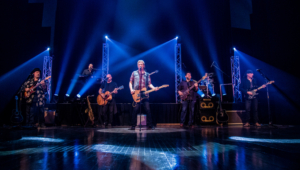 As the summer holidays come to a close, the party is just beginning at the Belgrade Theatre, with another great live music line-up kicking off the Autumn 2019 Season.
On Wed 11 Sep, audiences at The Sound of Springsteen will be the first to experience a live performance in the Belgrade's newly revamped Main Stage, following a big refurbishment over the summer.
Performed by an experienced seven-piece band, this exhilarating tribute to "The Boss" was born out of a genuine passion for Bruce Springsteen's music. Formed in 2017, the band have already made huge strides in the industry, winning over the hearts of music lovers from all walks of life.
Then on Thu 12 Sep, The King is Back at the Belgrade as number one Elvis tribute Ben Portsmouth brings his world-famous live show to Coventry. Having grown up on a diet of Elvis songs since early childhood, Portsmouth has absorbed the King's charisma, attitude and singing style into his very DNA.
In 2012, Ben made history as the first artist from outside the USA to win the prestigious title of Ultimate Elvis Tribute Artist at the Elvis Presley Enterprises contest in Memphis. Audiences at his concerts frequently report that they at times believe they're watching the real thing. Come along and find out why he's regarded as the best in the business at the Belgrade Theatre this autumn.
On Fri 13 Sep, The Edwin Starr Band invite you to join them for a soul and Motown party in Northern Soul Live, packed with non-stop classic hits from "War" to "H.A.P.P.Y" and from "Higher and Higher" to "Stand By Me". Accompanied by special guest Lorraine Silver - an original Northern Soul artist - the band that backed Edwin for all of his live shows until his passing in 2003 are now by on the road with his brother Angelo taking over on lead vocals.
Finally, on Sat 14 Sep, get ready to enter the House of Fun when Complete Madness head to Coventry, the original home of 2-tone music. Expect a musical rollercoaster ride through the story of one of Britain's most fun and memorable bands, complete with all the crazy costumes and chirpy banter that make every Madness show a riot from beginning to end.
Tickets to all of these shows and more are available to book now by calling the box office on 024 7655 3055 or visiting www.belgrade.co.uk where prices are cheaper. Book for two or more participating shows at the same time to claim 20% off your purchase.