Sheffield Theatres Announce New Supported Artists Of The Bank Cohort 2023
The Bank is a dedicated hub for talent development; this is the third cohort to be supported by Sheffield Theatres.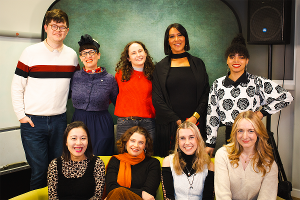 Sheffield Theatres has announced the nine artists, including writers, producers, directors and theatre-makers, who will be supported for the next nine months as members of The Bank Cohort for 2023. The Bank is a dedicated hub for talent development; this is the third cohort to be supported by Sheffield Theatres.
The artists will be offered bespoke support, training, artistic opportunities and professional development.
Joining the Writing Group are: Eleanor May Blackburn, Tania Ferreyra, and Abby Vicky-Russell, who will benefit from masterclasses and mentoring as well as having the opportunity to undertake a research and development process with their writing.
Joining the Producing Group are: Natalie Chan, Rachael Halliwell and Joe Thompson, who will receive mentoring, as well as seed funding to develop an idea, event or production using The Bank as their base, drawing on the support of the producing team at Sheffield Theatres.
Joining the Directing and Theatre-making Group are: Beth Knight, Jessica Millward and Rebecca Solomon, who will enjoy a host of opportunities including working as an assistant director on a Sheffield Theatres' production.
Anthony Lau, Associate Artistic Director of Sheffield Theatres said:

"This third iteration of our Bank Cohort deepens our connection with some of the brilliant artists across our region, and all nine of them are based in and around the city. They have demonstrated a commitment to making work here and are uniquely exciting voices with a range of specialist interests. Evidence of the efficacy and success of The Bank Cohort programme can be seen in the continued employment and engagement of previous members, with several of them writing, producing and directing for our stages. We are so excited to see where our relationship with this next cohort takes us, and I am looking forward to all of the extraordinary new work that we will create together this year."
The Bank, which is located adjacent to the Crucible on Tudor Square, is a creative space for local artists and theatre makers to develop their work, skills, collaborations and careers with the support of the staff and creative teams at Sheffield Theatres. Over the next nine months, the supported artists will be based in The Bank where they will be able to access a Writers Room and library which offers a quiet space for artists to develop and write work, as well as a larger space for group work including research and development, rehearsals and scratch performances.
The Bank and artists are generously supported by Jo and Chris Hookway.