Nevill Holt Festival Celebrates Tenth Anniversary in 2023
The festival returns in May.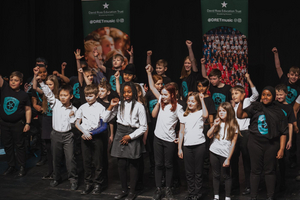 Nevill Holt Festival is celebrating their tenth anniversary in 2023. This year marks a decade of outstanding work in opera, education and community, and this season will see an expanded Festival with their most ambitious projects to date. Nevill Holt Festival's home is the stunning medieval Nevill Holt estate, which houses the Festival's RIBA award-winning theatre, beautiful gardens and an extensive sculpture collection for audiences to enjoy. The tenth anniversary artistic programme will showcase everything that Nevill Holt Festival embodies: excellence in music and an array of remarkable established and rising British operatic talent, as well as children from Malcolm Arnold Academy in Northampton.
In 2023, Nevill Holt will continue to broaden their geographical impact, encompassing a broader area in and around the East Midlands, from the Nevill Holt estate to Lincoln, Corby, Northampton, Bridlington, Rugby, Grimsby and Hull to Manchester and Gateshead. Alongside their illustrious artistic partners, Manchester Camerata and Royal Northern Sinfonia, Nevill Holt has grown its audiences by 15% each year, and in 2023 over 9,000 children, young people and adults will participate or see their work.
Nevill Holt have done excellent work engaging the local community's children and young people to help them take their first steps on the stage - some of whom have gone on to train in higher education for a professional career in the opera industry. After the success of A Night at the Opera in 2022, which involved over 1,000 Year 5 Primary school students from the East Midlands, Nevill Holt will again partner with the David Ross Education Trust and the Royal Opera House for an abridged version of Mozart's The Magic Flute. Performances will take place in six towns and cities across the East Midlands: Hull, Northampton, Grimsby, Corby, Bridlington Spa and Rugby. The project will run for the whole spring term, and began in the first week of January with continuous professional development (CPD) training for primary teachers. Alongside Nevill Holt's delivery team, these teachers will train the students with arrangements of Mozart's famous music, culminating in the performances in March 2023. Up to 35 children will perform at each venue alongside Nevill Holt Associate Artists and a professional orchestra.
Nicholas Chalmers, Artistic Director of Nevill Holt Festival, comments, Since the foundation of the company in 2013, we have wanted to show a pathway to the operatic stage and industry for young people. We put all our energies into fulfilling that ambition and we are so proud to have a cohort of students who were on our stage at Primary School, whom we have supported through their teenage years, and are now at specialist music colleges at degree level, and are back on our stage as Associate Artists. We believe that this ethos will help broaden the appeal and support for our art form, and our growing audiences and body of work indicate the merits of this long term investment.
2023 will see an exciting opera season, with three operas being performed on the Nevill Holt stage from May - July. The season will commence with an incredible double bill: Pagliacci by Leoncavallo and Gianni Schicchi by Puccini, performed with Manchester Camerata. The double bill welcomes back the creative team that worked on Nevill Holt's acclaimed staging of La bohème in 2022: director Mathilda du Tillieul McNicol (Jette Parker Artistic Director at Royal Opera House, 2022-23; Arianna a Naxos, Royal Opera; Valkyrie, ENO) and designer Basia Bińkowska (Watch on the Rhine and Love and Other Acts of Violence, Donmar Warehouse; Il Piccolo Principe, La Scala; SM - Syn Marnotrawney, Poland tour). NHO's Artistic Director Nicholas Chalmers will conduct Manchester Camerata.
Running at Nevill Holt in June before transferring to Sage Gateshead, at the beginning of July is Rossini's La Cenerentola. Dionysis Grammenos (La bohème, English Touring Opera; Eroica, Konzerthaus Berlin; New Year's Gala, La Scala) will conduct the Royal Northern Sinfonia in his Nevill Holt debut. Also at Nevill Holt for the first time are director Owen Horsley (Associate Artist, RSC; A Midsummer Night's Dream, Garsington Opera; Don Giovanni, LaMaMa, New York) and designer Simon Wells (My Night with Reg, Donmar Warehouse and Apollo Theatre; Dirty Rotten Scoundrels, Savoy Theatre and UK tour; The Wind in the Willows, London Palladium). General booking for the Nevill Holt opera season opens on 23rd February.