HeadFirst Productions Presents a Ten Day Multi-Arts Festival A FESTIVAL OF SEX, LOVE AND DEATH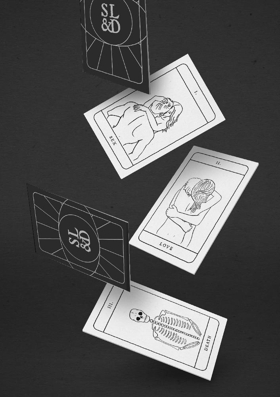 HeadFirst Productions presents a new multi-arts festival at The Pleasance Theatre, titled A Festival of Sex, Love and Death. The festival brings five events from eight companies, including three double bills, to Islington for ten days this autumn. The programme champions the work of young emerging creatives working all over the UK in a range of genres including opera, dance, cabaret, physical theatre, new writing and spoken word. Each piece will demonstrate a unique response to the festival's themes, sex, love and death - arguably the thematic foundations of the festival's flagship production: Mozart's 18th century masterpiece Don Giovanni.
HeadFirst Productions' Artistic Director, Sophie Gilpin, says, "Sex, love and death are key forces that drive how we perceive and experience our lives. The festival serves to express varying perspectives on the fundamental aspects of life that make us who we are, and showcases the work of some incredibly exciting and innovative theatre companies. It's wonderful to be able to bring such a diverse range of events to Islington's already thriving arts scene, and in particular to introduce opera to the Pleasance for the very first time."
Artists will come together under a single umbrella to respond in a unique and thrilling way to the festival's themes, with a particular focus on female-led, POC-led and LGBT+ narratives. Companies and theatre makers involved are Liver and Lung Productions, Ella Mesma Company, Ruby in the Dust Theatre, Created a Monster Theatre, Hatch It Theatre, Oskar McCarthy/Rob Keeley and David Levesley/Juliet Clark. Each production team will make use of a single, highly adaptable set designed by Anna Bonomelli; the visual through line will contribute to an artistic and thematic cohesiveness whilst the flexible design will enable - and encourage - each company to utilise and respond in its own unique way.
The festival will enable the cross-fertilisation of audiences through its varied yet complementary programme and affordable ticket prices - for as little at £10 each - all delivered at a carefully selected venue with a proven track record of presenting high-quality contemporary work.
Box Office: pleasance.co.uk
020 7609 1800
info@pleasance.co.uk
Tickets: £12-15 (£10-12 concession)
More information: headfirstproductions.org/current-production
PROGRAMME
Sex, Love & Death: Don Giovanni
This operatic masterpiece grapples with the complexity of human nature; contradictions, hidden desires, and darkest fears. By exploring the conflict between immorality and amorality, and - crucially - by telling the story from the women's perspective, this production will steer away from the opera's traditionally male gaze, and leave the audience questioning their preconceptions. Returning to London after 4* and 5* reviews for La Bohème in 2014, HeadFirst Productions promises provocation, dark humour and sensuality. Sung in Italian with English surtitles and performed with a small orchestral ensemble. (HeadFirst Productions - OPERA)
When: 26th, 29th (6pm), 30th October & 1st, 3rd November at 7.30pm
Sex: Submission & Ladylike
Submission tells the story of Sameer, a young British Pakistani, who struggles to reconcile his sexual desires with a religion he values, admires and cherishes. Told through the contrasting lenses of spoken word, multi-role play and naturalistic dialogue, Submission is a powerful, poignant and purposeful piece of new writing. Shedding light on highly relevant issues, Submission screams what needs to be said in a time when integration and tolerance is needed more than ever. (Liver & Lung Productions - DRAMA/SPOKEN WORD)
Ladylike is an absurd, comical, and emotionally charged ritual of dance theatre. In a landscape of Afro-Latin and Hip Hop, four females cluck, fight & undress our preconceptions of what it is to be 'ladylike'. Each explores our personal experiences of sexuality, pleasure and consent, and they come together to challenge & celebrate one another as the heroine in the ultimate hen party. (Ella Mesma Company - DANCE)
When: 2nd November at 7.30pm
Love: The Extraordinary Cabaret of DorIan Gray
Set in the last few delirious hours of his life, DorIan Gray watches as his decadent life flashes before him. What he glimpses is a far cry from the opera houses, the salons and the gentlemen's clubs. Join him as he delves into the darker, murkier underbelly of London: the cabaret clubs and opium dens, where sex and death share the same bed. And where love dare not speak its name. Descend into his world - the real picture of DorIan Gray - beneath his youthful mask. Adapted from Oscar Wilde's only novel, tracing the life of one of literature's most notorious characters, the tale reveals each character's quest for love: the ultimate sensation! With original music performed by a cast of actor/musicians and cabaret artists. (Ruby in the Dust Theatre - CABARET/NEW WRITING)
When: 27th October & 4th November at 7.30pm
Death: Buried Alive & Mortgage
Buried Alive is a semi-staged recital of 14 poems by Gottfried Keller (1819-1890) with music by Othmar Schoeck (1886-1957). In 1927 Swiss composer Othmar Schoeck adapted the poetry of his fellow countryman Gottfried Keller to produce the song cycle Lebendig Begraben [Buried Alive] which tells the story of a man who awakes to find he has mistakenly been buried. Firstly he panics and hopes that his girlfriend or a friendly grave robber will come to his rescue; then he begins to reminisce in his coffin about his childhood, youth and first love; finally he casts his soul into eternity in an acceptance of his fate.
A furiously visceral show, Mortgage tells the unbearably tragi-comic story of the painfully abused and miserable short and boring life of Beatrice Gunta Mortgage - Stage Manager. In this collaboration between Created a Monster and the David Glass Ensemble, Mortgage will attempt to overcome madness, misery and possession in a piece of dynamic new performance that explores a culture of managing art, hopelessness and the will to overcome all. Inspired by Peter Brook's notion of living and deadly theatre, Artaud's 'Theatre of Cruelty', magic, and sacrifice, Mortgage will see Lecoq-trained performer Briony O'Callaghan collaborate with David Glass to create an inspiring, visually arresting and moving new work about the violent and necessary relationship between creation and destruction. (Created A Monster Theatre - PHYSICAL THEATRE)
When: 28th October at 7.30pm
Sex & Death: Whalebone & Silent Meat
Whalebone is about bodies: who takes up space, how much, and why. Three puppeteers stand awkwardly in corsets. A woman decides to take control of her body - deleting it, piece by piece. Reimagining Lolita's lesser-known sister, Nabokov's Laura, Whalebone collides puppetry and physical theatre in a world where bodies are painted, tucked, tightened and taught, where shadows are embarrassing and silhouettes become stencils. Irreverent feminist theatre, narrated by a talking vagina. (Hatch It Theatre - PHYSICAL THEATRE/PUPPETRY)
A gay couple meet in what feels like a destined encounter, only for their ideas of faith to be put to the test. An American PR executive searches for the answers to the death of a girl she's never met. An elderly woman tries to reconnect with her childhood friend before euthanising herself with Mexican pet barbiturates. And, in Tel Aviv, a peppy Canadian vlogger moves in with her Israeli holiday fling, only for him to be called up to fight in Gaza. What does it feel like to discover your partner died via a google search? Why do people become obsessed with unsolved deaths on Reddit? What happens when moving in with your boyfriend means being accused of war crimes on Facebook? Set across three continents, Silent Meat is an exploration of what it feels like to love, lose and feel alone in the 21st century. (David Levesley & Juliet Clark - NEW WRITING)
When: 31st October at 7.30pm