Final Shows Announced and On Sale Today For Weston Studio Spring Season
Learn more about the lineup here!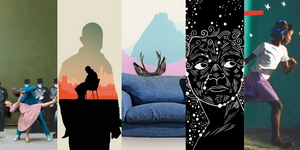 Bristol Old Vic has announced the final shows of The Weston Studio's spring season are on sale now. This is a packed-to-the-rafters programme, bringing a wild mix of theatre-makers from across the spectrum straight to the Studio floor. And with the new multibuy offer, people can see more for less this season.

The Winston Machine by multi-award-winning theatre company Kandinsky joins the line-up from 21-25 Mar. Nominated for Best Production, Off West End Awards, this epic, intimate saga received huge critical acclaim for its exploration of the distorting power of nostalgia.

From 5-15 Apr, the internationally acclaimed Bristol Old Vic Associate Company, Ad Infinitum return with their latest powerful and moving production If You Fall. Devised with the company and based on real-life testimonies, it uses acapella singing and Ad Infinitum's signature style of physical theatre to explore older people's care in all its complexities.

From 12-13 May, Cardboard Citizens, in collaboration with Stage Award-winners Alphabetti, take over the Studio exploring the housing and homelessness crisis affecting young trans people in Faun. Written by South West artist Vinnie Heaven, it delves into the issues with honesty, humour and a sprinkling of magic realism.

From acclaimed clown and emerging idiot Frankie Thompson comes an anarchic one-woman adaptation of Cats (the musical) from 16-20 May. "Hysterically funny" (Time Out), CAttS is a lip-sync ballet through our distractions and obsessions and was named one of the top 5 comedy shows of 2022 by The Guardian.

This is followed by the hugely original Stars, a two-hander written by Alfred Fagon Award-winner Mojisola Adebayo. Described as a "concept album on stage" it is a multi-sensory Afrofuturist odyssey about an old lady who goes into outer space in search of her first orgasm. Running from 23-27 May, Stars is supported with a workshop exploring the power and politics of pleasure.

We Need New Names, is a coming-of-age story from Fifth Word and New Perspectives theatre companies, adapted from the novel by NoViolet Bulawayo (shortlisted for the Booker Prize in 2013). Following the life of a young girl named Darling, who emigrated to USA from Zimbabwe where the fabled promise of a new life conflicts with her reality. This powerful new work is adapted by Alfred Fagon award-winning playwright, Mufaro Makubika and directed by Monique Touko, Artist Associate with tiata fahodzi. Running from 30 May-3 Jun.

They join, Feb Half Term's dance show Little Murmur (from 16-18 Feb) by Aakash Odedra for ages 7+ and their families; Help! I think I'm a Nationalist (1- 3 Mar), a one-man comedy show about identity, second homes and nationalism by Cornish artist Seamas Carey; theatre-company YESYESNONO's 5 star hit we were promised honey! (15-18 Mar), and North Somerset's legendary Living Spit return with their musical comedy One Man and His Cow (24 Apr-5 May).

The Weston is also home to the theatre makers of tomorrow, and we're delighted to welcome back the nationwide Youth Theatre festival NT Connections, returning from 28-31 Mar. The Weston Studio will host eight local theatre companies from schools and communities across the region as they perform a selection of the NT Connection scripts for 2023, specifically written for Young People.

Hot on its heels, Springboard returns with its annual celebration of Bristol Old Vic's enormous and hugely talented theatre groups. The day-long event takes place on 1 April and will include special performances from the theatre's full Young Company (over 300 young people participating aged 3 to 25), joined by 100 participants from Bristol Old Vic's Adult Company, Community Choir and Oi Polloi.

Tanya Follett and Ruby Gilmour are part of the Producing Team at Bristol Old Vic and responsible for the Studio season this year:
"The Weston Studio continues to offer audiences the future of theatre; exceptional new work from artists across the UK, toe-to-toe with some of our most exciting homegrown talents. The Studio is the classic great night (or day!) out; in this season you will find work that is by turns silly, heartbreaking, mind-expanding and deeply joyful. Come join us in this noisy underground corner of Bristol Old Vic and we hope you might encounter a myriad of voices, expansive stories innovatively told and bold new connections in a programme of work that offers something for everyone.