Stratford Festival to Stream THREE TALL WOMEN Featuring Theatre Legend Martha Henry in Her Final Role
The production premières on Sunday, October 16, at 2 p.m. (2:30 NT) on CBC and will also stream free on CBC GEM. 
One of the most significant Canadian theatrical events is coming to the screen this month. The Stratford Festival's 2021 production of Edward Albee's Three Tall Women, featuring Martha Henry in her final, tour-de-force performance, will be available for a limited time in Canada on CBC, CBC Gem and Stratfest@Home.
"Martha's final transcendent performance was given in the face of her own death," says Artistic Director Antoni Cimolino. "It is a potent distillation of her strength, fierce intelligence and boundless talent. Sadly we shall not look upon her like again."
At the height of the pandemic Henry starred in an unforgettable production of Three Tall Women. It was to be her final performance; she died just 12 days after the production closed on October 9. Now this remarkable performance is available for home viewing for a limited time directed for the screen by Barry Avrich and produced by Melbar Entertainment Group.
"To immortally capture this powerful final performance by theatre royalty was a privilege and undoubtedly one of the most emotional experiences of my career," says Avrich.
Directed for the stage by Diana Leblanc, and also featuring Lucy Peacock, Mamie Zwettler and Andrew Iles, the production was captured live on September 16, 2021.
As the stage production occurred during pandemic restrictions, only three thousand people were able to see the play live in Stratford. Now the Festival is able to bring this unforgettable production to all of Canada, through a one-time special arrangement with the Estate of Edward Albee in acknowledgment of the final performance of Martha Henry.
The production premières on Sunday, October 16, at 2 p.m. (2:30 NT) on CBC and will also stream free on CBC GEM.
It will be available on Stratfest@Home, the Festival's subscription-based streaming platform for 12 months beginning on October 16.
Subscribe to Stratfest@Home for just $10 a month and gain access to the best in Canadian digital theatrical productions, including the Stratford Festival's acclaimed Shakespeare films, selected productions from the 2021 and 2022 seasons, original digital content, and selected events from the Festival's Meighen Forum, along with documentaries and original content from across the country.
Support for the filming of Three Tall Women is generously provided by Sandra & Jim Pitblado.
Production support for the stage production of Three Tall Women was generously provided by Sylvia D. Chrominska, Dr. Desta Leavine in memory of Pauline Leavine, Sylvia Soyka, The Westaway Charitable Foundation and by Jack Whiteside.
CBC Gem is Canada's streaming service, offering more than 6,500 hours of live and on-demand Canadian programming and a curated selection of acclaimed, best-in-class content from around the world, including more than 800 documentaries, 500 hours of ad-free content for kids and tweens, and a collection of over 200 Canadian feature films. CBC Gem is available free as an app for iOS and Android devices and online at CBCGem.ca, and on TV screens via Apple TV, Google Chromecast, Amazon Fire TV and Android TV.
More Hot Stories For You
Tweed & Company Theatre Announces 2023 Season

December 4, 2022

After announcing the addition of a third venue (the Tweed & Co Outdoor Stage) just last week, the company is now revealing a season of five major theatrical productions across their venues, on sale now to the general public.
---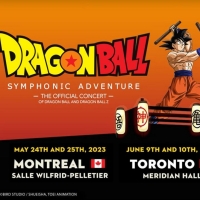 Tickets Now On Sale For The Canadian DRAGON BALL SYMPHONIC ADVENTURE Concerts 

December 2, 2022

Tickets are now on sale for the official "Dragon Ball Symphonic Adventure" concerts coming to Canada in 2023. Attendees will relive the storylines of both the original "Dragon Ball" and "Dragon Ball Z" TV shows on screen in high-definition with fellow fans, while experiencing the music of both TV series powered by a renowned 60-person orchestra and the music of legendary Japanese composer Shunsuke Kikuchi.
---
COC Celebrates Return To The Stage With Sold-Out Shows And Revitalized Programming

December 2, 2022

Canadian Opera Company's 2021/2022 season was marked by sold-out shows, an average mainstage attendance capacity of 94%, and impressive growth in the company's online community as reported yesterday by COC Board Chair Jonathan Morgan and COC General Director Perryn Leech.
---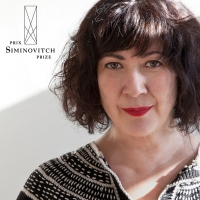 The Siminovitch Prize Announces Winner For 2022, Marie Brassard

December 2, 2022

Montreal-based director, artist and author Marie Brassard is this year's winner of Canada's most generous theatre award. For over two decades, the Siminovitch Prize has celebrated groundbreaking theatre artists whose work has strengthened the Canadian theatre landscape and advanced the art form. Marie Brassard, the 23rd Siminovitch Prize Laureate, has chosen Philippe Boutin as Siminovitch Prize Protégé. 
---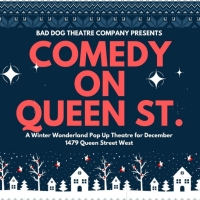 Bad Dog Theatre Company Presents COMEDY ON QUEEN STREET, A Winter Wonderland Comedy Pop- Up To Celebrate The Holiday Season

December 1, 2022

The Bad Dog Theatre Company present Comedy on Queen Street, an electrifying new winter wonderland comedy pop-up theatre to celebrate the holiday season from December 1st – 30th at the Assembly Theatre (1479 Queen Street West).
---