CONSTELLATIONS Opens At Santa Paula Theater Center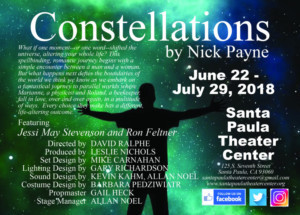 The Santa Paula Theater Center will present Nick Payne's time-bending CONSTELLATIONS from June 22 through July 29 on its Main Stage at 125. South 7th Street, in historic downtown Santa Paula. Performances are Fridays & Saturdays at 8 pm and Sunday matinees at 4 pm. Tickets are $24.00 for adults, Seniors/Students $22.00. Reservations may be made online at www.santapaulatheatercenter.org or by calling our Box Office at 805.525.4645
Roland is a beekeeper. Marianne is a quantum physicist. What are their odds of falling in love? With infinite moments that can change the trajectory of a life, it's anyone's guess how cosmic collision is possible. Nick Payne's Olivier and Drama League nominated hit is a charming, devastating and profound exploration of the universal truth of finding and losing love. A play that balances on the question of "what if" is, at its core, a poignant picture of "what is."
What if one moment--or one word-shifted the universe, altering your whole life?
This spellbinding, romantic journey begins with a simple encounter between a man and a woman. But what happens next defies the boundaries of the world we think we know as we embark on a fantastical journey to parallel worlds where Marianne, a physicist and Roland, a beekeeper, fall in love, over and over again, in a multitude of ways. Every choice they make has a different, life-altering outcome. CONSTELLATIONS is a charming, and sometimes devastating and profound, exploration of the universal truth of finding and losing love. Colorful language-recommended for audiences 17 and above
CONSTELLATIONS is directed by SPTC's Artistic Director, David Ralphe. Cast Members include Jessi May Stevenson and Ron Feltner. Leslie Nichols produces with support from Artistic Design Team Mike Carnahan-set, Gary Richardson-lights, Barb Pedziwiatr-costumes, and Gail Heck-props. Alan Noel is the Stage Manager.
CONSTELLATIONS with successful runs in London, Broadway, and Los Angeles was nominated for both Drama League and Olivier awards. The Santa Paula Theater Center Production features Jessi May Stevenson and Ron Feltner as Marianna and Anthony with David Ralphe, SPTC's Artistic Director, directing. They are supported by Producer Leslie Nichols, Set Designer Mike Carnahan, Lighting Designer Gary Richardson, Costume Designer Barbara Pedziwiatr, Properties Mistress Gail Heck, Sound Designer Kevin Kahm, and Stage Manager Allan Noel.
Related Articles View More Thousand Oaks

Stories

Shows
More Hot Stories For You