BWW Review: Andrea Lepcio's STRAIT OF GIBRALTAR at American Stage - Is It a Love Story or a Thriller?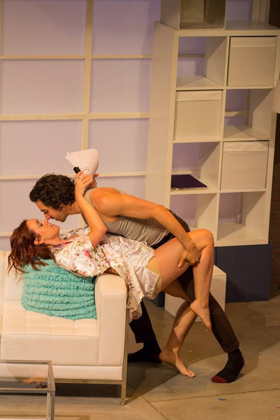 "We come to each other from different worlds/Drawn to each other by the love inside of us/We give to each other our different worlds/As long as we can do it, life is gonna breeze right through it..." --from "Different Worlds," the theme song to the TV series "Angie"
"And you'll think love is to pray/But I'm sorry I don't pray that way..." --from "Tainted Love," a version of which played near the beginning of American Stage's production of STRAIT OF GIBRALTAR
There have been memorable works about interfaith relationships, from Enemies: A Love Story to The Way We Were, from the iconic Annie Hall to the TV series "Bridget Loves Bernie." But rarely do we see one featuring a Jew and Muslim (the play Disgraced and the book Red Star, Crescent Moon: A Muslim-Jewish Love Story come immediately to mind). But that's the central relationship of Andrea Lepcio's fascinating if flawed new play, STRAIT OF GIBRALTAR, a love story with an edge that turns into a somewhat terrifying thriller.
Miriam and Sameer come to each other from different worlds. She's Jewish and he's Muslim, but they are going to make it work. She suspects that he may have other motives to his courtship with her, but not even that will deter their love. And when the plot changes at the end of Act 1, and we are suddenly watching a very different play, even then their love does not diminish. In its American Stage production and Florida premiere--its second full production ever (it played in Atlanta earlier)--STRAIT OF GIBRALTAR feels like two very distinct One Acts. It's as if Act 1 should be titled "When Sameer Met Miriam," and Act 2 should be called "What If Kathryn Bigelow Wrote a Play!"
Although I have major issues with Lepcio's plot, her ear for dialogue is uncanny. Abrupt sentences, fragments, thoughts that are spoken and suddenly cut off; it's good stuff. The play is also extremely up-to-date; a comment ripped from the headlines about moving the embassy to Jerusalem is thrown in for good measure. Act 1 succeeds more, because Sameer and Miriam's relationship is interesting to watch as it goes through its rocky whirlwind, not unlike the love as rollercoaster cliché that is the basis of so many works. Then again, any relationship would be more interesting than a diatribe against the Patriot Act, which is really what Act 2 turns out to be. And we keep wondering throughout: Who is Sameer, and is he or isn't he shady, or worse?
Everything in Act 2 seems forced and way too pat. The plot twists unravel but it's all too much, too ham-fisted. Regarding the characters we have come to know, by Act 2, we think one is much dumber than suspected and the other becomes less likable. The ending seems sped up, as if someone had ordered, "You have two minutes to wrap this whole thing up--GO!" I left the theater glad that I went, and certainly entertained and moved by the strong performances in this beautifully mounted production, but in the end it left me unsatisfied.
The performances could not be better. Jordan Mann is quite real, heartbreaking, as Miriam. She's like so many people we know in life, and she really shines in the scenes with Sameer; it's a wonderful, memorable performance. Although she's powerful in Act 2, it's just not as interesting or layered seeing someone in a state of constant distress (it becomes one note, but at no fault of the actress). Joe Joseph is equally fantastic as Sameer. He's a real find, and we can't take our eyes off him. We want the relationship to succeed, and yet, he remains a question mark. Could this be our own prejudices at work, or did the playwright deftly, sneakily make the character's motives murky at times in order for us to question ourselves? Whatever the answer, Joseph is nothing short of brilliant as he leads the stellar cast.
Angela Bond is loving, and purposely irritating, as Miriam's loving, irritating, xenophobic mother. It's always a treat seeing Bond's performances (it's been since Annapurna in 2015 when I last saw her onstage), and once again she's a standout here. Mari Vial-Golden is just as strong in her two parts--as a no-nonsense (and unnamed) Female Agent and as Amina.
Chris Jackson showcases his versatility here. Jackson, one of our area's finest actors, was wonderful as a long-hair slacker prince in last year's The Aliens at Stageworks and miscast in Jobsite's Three Penny Opera, but here, he is at the top of his game. Like Vial-Golden, he plays two parts--Tripp, a fey lawyer friend of Miriam's, and a testosterone-fueled (unnamed) Male Agent. Both parts are so different from each other, both of them with distinct mannerisms, that if we weren't sitting so close, we wouldn't even suspect that it's the same actor.
STRAIT OF GIBRALTAR is Jim Sorensen's American Stage directorial debut, and he has strongly guided this first-class production with the help of his top-flight cast. Pacing always falls on the director, and the pacing of this production is fast without being too fast (except at the very end); Sorensen has led us on quite an entertaining ride at just under two hours.
Stephen Jones' set is functional and appropriate with its Kubrickian white-on-white mod sterility (especially in Act 1). Katrina Stevenson's costumes suit the show (watch how a mere costume alteration can change an entire character, especially when it comes to Jackson and Vial-Golden). Chris Baldwin's lighting works well (red lights on the overhead boxes signifying passion may seem too easy a choice, but they succeed here). Jerid Fox's projections (slides and videos also appearing on the overhead white boxes) work overall, such as in the slides that read "Equal" on one box, "Justice" on another, and "Under Law" on a third. But sometimes--as in the showing of an office space--the slides seem superfluous. And the dangling boxes may be way too high for the people in the front rows to see them without uncomfortably craning their necks.
My reservations about the script aside, the folks at American Stage have built a Grade-A production. Make sure to see it, to debate it. Unlike me, you may prefer the thriller aspects of the show to the more human, easier-to-swallow sections that I responded to (at times it's like pairing an offbeat version of The Heartbreak Kid with Zero Dark Thirty). There's only one way to find out how you'll respond...See it for yourself.
Andrea Lepcio's STRAIT OF GIBRALTAR plays until June 17th. For tickets, please call (727) 823-PLAY (7529).