BWW REVIEW: A Decade later, SHE RODE HORSES LIKE THE STOCK EXCHANGE Looks At A Different Side Of The Global Financial Crisis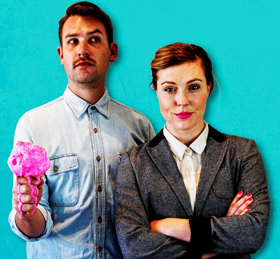 Wednesday 1st November 2017, KXT Kings Cross Sydney
Whilst Australia was relatively protected from the worst of the Global Financial Crisis fallout, for those that did feel it, SHE RODE HORSES LIKE THE STOCK EXCHANGE is a pithy and poignant tragi-comedy. In a world where gender equality is still to be achieved and global politics could trigger another crisis, the Australian debut of American based Australian playwright Amelia Roper's new work has a currency as it shines a spotlight on the challenges for women in the corporate world and the risks of overextending based on blue sky forecasts.
Roper's 75 minute one act work centres on the meeting of two couples in a nice park in an affluent leafy suburb in North America's New England. Amy (Matilda Ridgway), a very successful young Investment banker with control issues, and paediatric nurse Henry (Tom Anson Mesker), her very accommodating sweet natured partner are trying to enjoy "Funday Sunday" reading the paper, eating icecream, and watching the dogs in the park from the comfort of their big blanket. Their excitement over a new home, recently acquired by Amy without Henry's input, is quickly disrupted by the arrival of Amy's former colleague, the obnoxious and arrogant Max (Dorje Swallow) and his WASP wife Sara (Nikki Britton). Despite their efforts to avoid the couple bearing bags and a standard lamp, good manners dictate that the younger couple welcome Max and Sara to join them on the hillock which is when tensions rise and truths come out. Judgements, prejudices, and power struggles play out as past resentments, secrets and lies bubble to the surface as the quartet try to appear to be playing nice whilst being ready to try to cut each other down to size.
Designer Isabel Hudson has given Director Nell Ranney an rolling astroturf hill with a big blanket for the afternoon to play out in the intimate KXT where the stage is the focus of two opposing banks of audience seating. Henry and Amy are attired in comfortable, casual, somewhat hipster clothes in keeping with their intent to spend the day enjoying the park whilst the slightly older Max and Sara are definitely not dressed for an afternoon picnic. Sara is dressed for an afternoon at a gallery or a cocktail party, glittering with diamonds and tottering in heels whilst Max is uncomfortable corporate in suit and tie.
Matilda Ridgway presents Amy as a precise and powerful young woman who has learnt to survive in a male dominated corporate world. She expresses that Amy has had to struggle to be recognised for her ability, not her fashion or figure, and has built a resentment to the corporate society that overlooked her because of her gender. Ridgway ensures that the audience sees that the dynamics of Amy and Henry's relationship is inverted from the traditional with Amy being more direct and dominating whilst Henry is the heart and care of the couple. Tom Anson Mesker ensures that the audience sees Henry as more compassionate whilst also being somewhat subservient to Amy as she inadvertently emasculates him. He also exhibits Henry's more peaceful and innocent nature in his acceptance of Max's sly insults.
Dorje Swallow presents Amy's fellow investment banker Max as the cocky, conceited investment banker who has lapped up the limelight for so many years but has recently had something change to put his confidence off kilter. He ensures that the audience view him with suspicion, never really trusting him, making it easier to see him as ineffective and incompetent. Like Amy, Max is callous and calculating, doing what it takes to achieve his success but unlike the younger woman, he isn't as smart, riding on good looks and gender bias to get ahead. He is countered by the coiffed, bejewelled socialite Sara, his wife who came from a wealthy family that once had the luxury of owning horses who Nikki Britton presents with a saccharine sophistication of a socialite who has never worked and is accustomed to never having to want for anything. Swallow and Britton ensure that Sara and Max are presented with the traditional stereotypes of masculinity and femininity in contrast to Amy and Henry's relationship.
Having been part of the corporate banking world for a decade, including during the GFC, the BWWSydney Senior Editor can confirm that the characterisation of Amy and Max is very realistic. The suddenness of change that Sara and Max found themselves in, whilst not manifested in Australia in quite the same way because we weren't engaging in the same type of lending as the US, still occurred in our Banking sector particularly as the Banks sought to grow their books once the worst of the GFC was over as those in Risk management, the sector of the industry that protected the Banks from the level of failure that occurred overseas, were downsized. As depicted by Max's experience, the American banking sector believed banks were "too big to fail" but inexcusable risks were taken without the risk management measures to prevent them. With a political climate that could trigger another unstable economic environment, a continuing issue with gender equality where men are still paid more than the female counterparts, women are still regarded for their appearance over the capability, and men in traditionally female roles are regarded with scorn, the issues that Roper depicts as existing in 2007 are still relevant. Whether the GFC touched your life or you simply watched on and got through it relatively unscathed, SHE RODE HORSES LIKE THE STOCK EXCHANGE is a captivating and compelling work that challenges us to be better, more caring, more inclusive, more fair and more responsible.
SHE RODE HORSES LIKE THE STOCK EXCHANGE
Kings Cross Theatre
20 October - 11 November 2017
Photos: Clare Hawley, Asparay Photography
Related Articles View More Australia - Sydney

Stories

Shows
I am an International Flight Attendant with a love of Cabaret, Musical Theatre, and Live Performing Arts in general. I try to see as many (read more...)