Student Blog: Top 5 Christmas Musicals
Who doesn't love a Christmas musical?! Here is a list of 5 iconic and timeless Christmas musicals.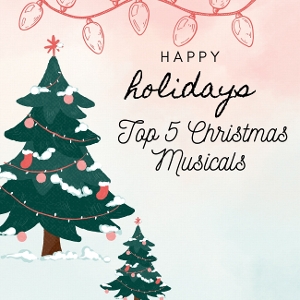 Who doesn't love a timeless Christmas musical?! Here are 5 musicals that are fun, heartwarming, funny, and full of Christmas cheer!
1. White Christmas is a sure Christmas classic! White Christmas is a 1954 musical film starring Bing Crosby, Danny Kaye, Rosemary Clooney, and Vera-Ellen. Two singers Bob Wallace and Phil Davis (Played by Bing Crosby and Danny Kaye) join together with Betty and Judy Haynes, a sister act, (played by Rosemary Clooney and Vera-Ellen) to perform a show in Vermont. They find out that their General from World War Two is having financial problems with the inn that he owns in Vermont, so the team decides to perform at the inn to help financially.
2. Holiday Inn is a musical with the libretto by Gordon Greenberg and Chad Hodge and music and lyrics by Irving Berlin. Holiday Inn was originally a 1942 film starring Bing Crosby, Fred Astaire, Marjorie Reynolds who play actors who work together and plan to quit to start running a hotel. I personally enjoy this movie, but my favorite version of the musical is the 2016 Broadway production which I recommend listening to the 2017 cast recording.
3. A Christmas Story is a hilarious Christmas comedy film that came out in 1983. The musical had its original production in 2009, with it opening on Broadway in 2012, book by Jospeh Robinette with music and lyrics Pasek and Paul. The story follows Ralphie, who wants a Red Ryder BB gun for Christmas, but is not allowed to have one because his mother does not want him to shoot his eye out. The musical definantly shows a lot of creativity with Ralphie's imagination and has many of the iconic moments of the film.
4. Elf: The Musical is always a safe choice for a Christmas story that everyone loves! The movie came out in 2003 starring Will Ferrell as Buddy. The musical opened on Broadway in 2010. The musical is a fun little escape from reality and had some catchy tunes in the show.
5. How the Grinch Stole Christmas film starring Jim Carrey as the grinch was released in 2000. The Broadway production of How The Grinch Stole Christmas opened in 2006. This musical has the iconic feel of a Dr. Seuss book and the songs are fun to listen too.
In the end, these are just a few of the many holiday themed musical that are out there to enjoy. Happy holidays and have a great new year!