BWW Review: Boys will be Girls in this Glorious LE CAGE AUX FOLLES
The New Line Theatre is such a reliable source of great musical theater. Now they have opened a very fine production of what, curiously, has become something of a beloved old standard--La Cage aux Folles, the 1983 hit by Jerry Herman and Harvey Fierstein. The plot is a very ancient one: young lovers whose choice of spouse is unacceptable to the parents. This theme was used by playwrights long before Romeo and Juliet, and extends through Abie's Irish Rose and Guess Who's Coming to Dinner. Usually the story ends with a resolution of the entrenched hostility between the families.
But Cage aux Folles tested the boundaries. Fifty years ago it surely would have been banned in Boston. The families involved are not just Capulets and Montagues, not just Irish Catholic and Jewish, not just black and white.
We find ourselves in La Cage aux Folles, a very classy drag club in St. Tropez on the French Riviera. Anything goes here. Here you might meet your mistress and your boy-friend and your wife. Georges (Robert Doyle) is the master of ceremonies. His star and life partner is Albin (Zachary Allen Farmer). On stage, in wig and sequins, Albin becomes "Zaza", the grand drag diva of the Riviera. Young Jean-Michel is Georges' son, the result of an experimental one-night-stand with a chorus girl, who takes no interest in her son. All these years Jean-Michel has been lovingly mothered by Albin.
Now Jean-Michel wants to bring his fiancée--and her parents--to meet the family. But the girl's father is an arch-conservative politician who has vowed, if elected, to sweep the Riviera clean of the filth of homosexuality. Albin will be an embarrassment. He is unkindly dis-invited.
And hilarity ensues.
I've seen Zachary Farmer in many New Line productions and have always been impressed. His voice is simply sublime: rich and smooth as warm cream, with a power that never seems even to approach its limits. A rather portly, slightly balding gent of middle years, he was perfect six years ago in the role of Charles Bukowski, the drunken derelict "poet laureate of low-life". How could such a man become an icon of real feminine glamour? How could Farmer be "Zaza"? Amazingly he triumphs in it! Sensationally gowned and wigged, with quite superb make-up and just a pinch of corsetry, he attains that strong-jawed Joan Crawford beauty--but instead of the hard cruelty of Crawford, Mr. Farmer fills Zaza with deep love and genuine emotion. He's stunning. He makes Cage aux Folles belong to Zaza as much as Gypsy belongs to Mama Rose--but unlike Mama Rose, Zaza is a character we can readily love.
Bravo! (Brava!?)
The supporting cast is filled with the fine talent we expect at New Line. Robert Doyle is suave and confident as Georges; Kevin Corpuz and Zora Vredeveld do lovely work as the young lovers; Kent Coffel and Mara Bollini make the comic most of the girl's parents (and double as charming restaurateurs). Lindsay Jones, with a great Broadway voice, makes restaurant-owner Jacqueline bright and clever. Joel Hackbarth, as Francis the stage manager, bears his injuries smilingly as his relationship with Hanna, the whip-carrying leather-bound dominatrix chorus-"girl" gets serious.
Le
s Cagelles (the delightful chorus "girls") are wonderfully invested in their feminine personae. These lovelies are portrayed by Jake Blonstein, Dominic Dowdy-Windsor, Evan Fornachon, Tim Kaniecki, Clayton Humburg and Ian McCreary. All great singers and dancers, they are the life of this party. They vary from rather stocky, mannish guys-in-drag to true lovely-limbed Hollywood glamour. One petite beauty has underarms that have never known a razor-but we readily accept this as just another idiosyncratic expression of Gallic glamour.
Finally, I must praise Tiéler Cheatem who s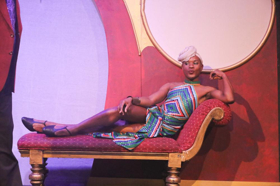 teals the show as Jacob, Albin's butler. (He prefers the title "Maid".) In delicious high camp, Cheatem prances through the show with marvelous grace and agility and with hilarious sass and attitude.
New Line's wonderful La Cage aux Folles continues at the Marcelle through March 23.
Related Articles View More St. Louis

Stories

Shows