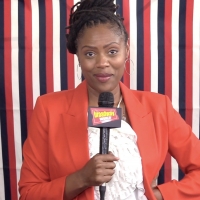 by BroadwayWorld TV - Nov 6, 2019
BroadwayWorld is checking in with the cast to uncover some little known facts about the political giants they play onstage. Today, watch as Nikkole Salter gives us a lesson on Coretta Scott King and Geraldine Whittington.

by BroadwayWorld TV - Sep 19, 2016
Drama Desk nominee Jonathan Rockefeller debuts a brand new tribute show entitled That Golden Girls Show! - A Puppet Parody that will have its world premiere in NYC. This limited run begins performances tonight, September 19, with an opening set for Monday, October 3, and runs through December 11, 2016 at DR2 Theatre (103 East 15th Street). Click below to watch highlights from the show and meet the girls!